In April, iron ore prices jumped to above $70 a ton, a level not seen since early 2015. Iron ore prices had been on a downward trajectory since 2014 amid a slowdown in demand and oversupply in the global seaborne iron ore market.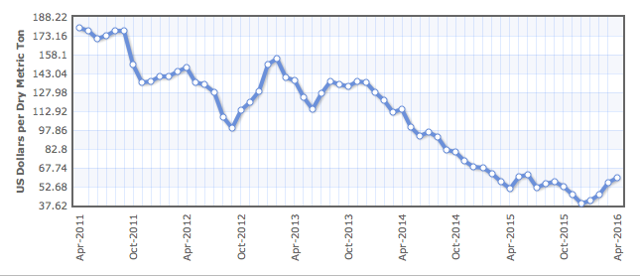 Source: Indexmundi.com
The five-year price chart shows prices peaking in 2011 and then seeing a sharp decline from 2013 onwards. By late last year, prices were well below $40 per ton. The rebound in iron ore prices began at the start of this year. The rally lasted until mid-April.
The rally was sparked by strong demand from China. Chinese policymakers have implemented several stimulus measures since late 2014 amid concerns over a hard landing. These measures included infrastructure spending, which boosted demand for steel. Iron ore is a key steelmaking ingredient. Iron ore prices also got a boost from supply disruptions at the start of this year. But another important factor that contributed to the price rise was speculation.
In a report last month, Goldman Sachs had warned about the speculative trading in iron ore futures in China. According to Goldman Sachs analysts Matthew Ross and Jie Ma, iron ore volumes traded on the Dalian Commodity Exchange rose more than 400% from a year ago. The chart below shows the surge in volume.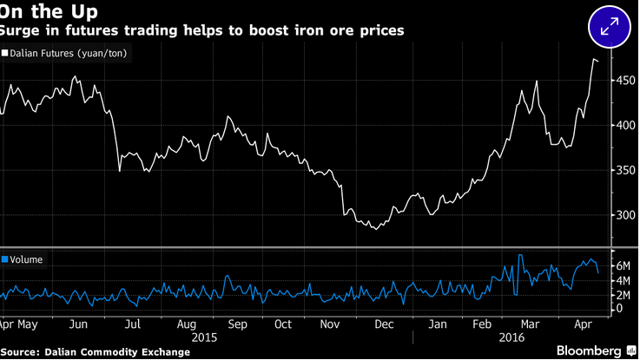 Source: Bloomberg.com
Indeed, the iron ore rally was unsustainable and prices have come down as fast as they went up. However, there is likely to be more pain ahead. Concerned about the speculative activity in the iron ore and steel, Chinese regulators have placed curbs by increasing margin requirements and transaction fees. This has already had an impact on trading activity as can be seen by the price action. Iron ore prices are once again starting to reflect the fundamentals, which of course remain weak. Unless regulators ease restrictions, speculative activity is unlikely to fuel another rally.
What about the demand in China? While speculative trading activity did push prices back to early 2015 levels, the initial rally was sparked by demand from China. However, the steel demand seen earlier this year was seasonal. In fact, demand in China is already seeing a slowdown. The demand though is weakening just as more production is coming online.
The surge in steel and iron ore prices due to speculative activity allowed many struggling steel mills in China to turn in a profit, the Wall Street Journal, citing MySteel, noted in a recent report. These mills are likely to increase production to capitalize on prices as long as they stay high. But with demand weakening, we are once again looking at a situation where there will be overcapacity. I believe that we could see further 15%-20% downside in iron ore prices as a result of this excess capacity in China. Goldman Sachs, in its report last month, had noted iron ore prices could drop back to $35 per ton. That would mean another 30% downside from current levels.
As I have noted in earlier articles, pullback in prices is not such a bad thing for majors. If higher prices had sustained for a longer period, it would have allowed high-cost miners to continue to operate. For majors such as BHP Billiton (NYSE:BHP) and Rio Tinto (NYSE:RIO) that would not have been good news. The majors' strategy is to continue to increase supplies even in the low-price environment and gain market share. The idea is that low prices will eventually move high-cost miners out of the market and there was evidence of this last year.
Of course, this strategy would mean near-term pain for BHP and RIO. We have already seen BHP scrap its progressive dividend policy and RIO cut its dividend this year. However, I continue to believe that the strategy could create value for shareholders in the long-term.
Disclosure: I am/we are long BHP, RIO.
I wrote this article myself, and it expresses my own opinions. I am not receiving compensation for it (other than from Seeking Alpha). I have no business relationship with any company whose stock is mentioned in this article.