Offshore drilling company Seadrill Ltd. (NYSE:SDRL) does all it can to manage the sector downturn, and that means cutting costs and deferring newbuilds to control capital expenditures. Seadrill has to put up with unfavorable market economics, an oversupply of drillships, and lower contract rates which reflect the dire state of the offshore drilling market. Despite such unfavorable market conditions, Seadrill has recently achieved a victory by negotiating credit facility amendments with its lenders that included credit facility extensions and covenant relief. A lot of companies pursued this strategy in light of their overburdened balance sheets, trying to get concessions from banks/noteholders to provide temporary relief in order to facilitate a restructuring. Seadrill managed to extend the three nearest credit facilities and pushed out their maturities, I have discussed this in another piece on the offshore drilling company at the beginning of the month.
Cost Re-alignments
Seadrill is doing something else to manage the downturn, other than asking its banks to do their part. Seadrill is deferring the delivery of newbuilds, thereby deferring capital expenditures and conserving cash, and cutting operating costs...there is not much else the company can do to react to the drastic decline in commodity prices, and the resulting reduction in capital budgets across the sector.
Seadrill's operating revenues slumped ~28 percent Y/Y to $891 million, reflecting the consolidation that is taking place in the offshore drilling market, and that needs to be expected to continue for a while longer. Seadrill's operating income crashed even more than revenues, ~53 percent to be precise, but largely because its year-ago results included a $186 million disposal gain. Seadrill's revenues missed the consensus estimate of $902 million.
Seadrill has made progress in terms of controlling vessel and rig operating expenses, a key cost position for the offshore driller. Vessel and rig operating expenses decreased ~35 percent from $446 million a year ago to $290 million in the 1st quarter of 2016. Controlling vessel/rig expenses is key for Seadrill to keep its head above water during this downturn.
High Debt Load
Seadrill has still a LOT of debt sitting on its balance sheet, even though it is not as much as last year. Seadrill said its net debt at the end of the March quarter was ~$9.65 billion, a substantial amount by any measure, and a key contributing factor why Seadrill's shares have gotten clobbered over the last year or two.

Wild Ride
Seadrill was the benefactor of a gigantic short squeeze and speculative buying in March when news spread that billionaire shareholder and shipping tycoon Fredriksen was preparing a lifeline for the struggling offshore company. Seadrill further surged on recovering oil prices before collapsing on profit taking.
Investors need to factor in sharp price swings in Seadrill's shares, particularly if crude oil prices move in either up or down.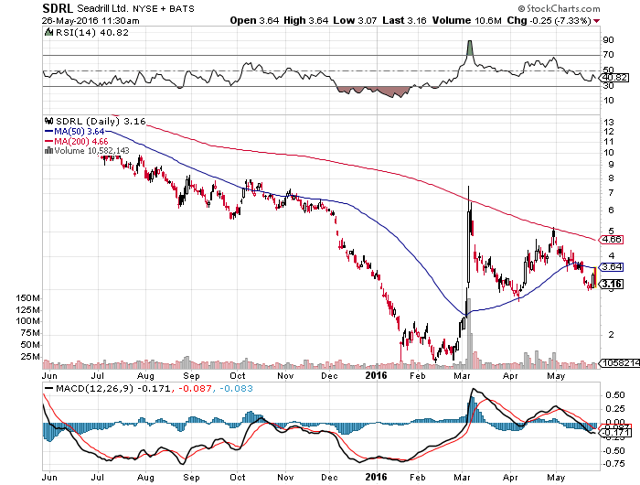 Your Takeaway
It was not a great quarter for offshore drillers, including Seadrill, that continue to feel the fallout from declining dayrates and cutbacks in investment spending in the sector. Seadrill does what it can to counter the deterioration in fundamentals, but it is a difficult game to play: Seadrill must cut operating costs further and reduce its significant debt load in order to manage the downturn. Despite the rather weak 1st quarter, I continue to hold on to my Seadrill position for now because I think the company can work out a restructuring deal with its lenders.
Disclosure: I am/we are long SDRL.
I wrote this article myself, and it expresses my own opinions. I am not receiving compensation for it (other than from Seeking Alpha). I have no business relationship with any company whose stock is mentioned in this article.