For some time now, there have been reports that some companies are planning to increase their drilling activity now that oil prices are on the rise once again. In particular, this charge has been leveled by businesses like Pioneer Natural Resources (NYSE:PXD), which intends to increase drilling should the oil environment continue as is. However, while I do suspect that some players in this space will behave accordingly, the data thus far suggests that they are likely the exception, not the rule, which should prove bullish for investors in the United States Oil ETF (NYSEARCA:USO), other oil-related ETFs, and oil-related companies in the long run as the market continues to balance itself out.
Production is due to drop quite a bit in the U.S.
So far, the picture in the U.S. from an output stance is looking quite attractive for investors who are long oil and oil-related companies. In the graph below, for instance, you can see what the EIA has projected in terms of oil production through 2017 in the U.S. (the graph is from April's Short-Term Energy Outlook but I will disclose May's data in what follows, which only has a difference of 0.13 million barrels per day in 2017).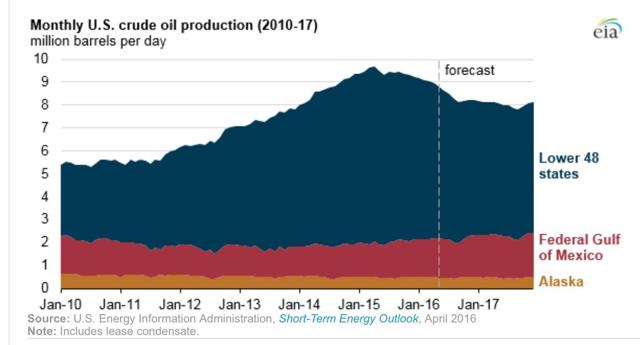 What this graph shows is that the major drop in the U.S. oil rig count over the past year and a half should have a material impact on production but that, thanks to improved technology and the nature of decline rates, that impact is delayed and nowhere near as large as the overall drop in the rig count. In 2016, it's forecasted that oil output in the U.S., which includes production from the Gulf of Mexico and Alaska, will come out to 8.60 million barrels per day. This implies a year-over-year decline of 830 thousand barrels per day from 2015's 9.43 million barrels per day and is, by itself, a net positive for the oil market.
This trend should continue into 2017 as well. If the EIA (Energy Information Administration) is correct about the relationship between rig counts and output, as well as the trend that rig counts will take, production next year should be only 8.19 million barrels per day. This is higher than the prior month's forecast of 8.04 million barrels per day but does suggest that overall output here at home will be down approximately 410 thousand barrels per day compared to 2016's estimates.
Part of this drop will be driven by lower output in Alaska but most of it will be driven by falling production in the Lower 48 states. While this number stood at about 7.41 million barrels per day in 2015, it's forecasted to fall by 940 thousand barrels per day this year, followed by a drop of 580 thousand barrels per day in 2017 to 5.89 million barrels per day. Meanwhile, some of this will be offset by an increase in production in the Gulf of Mexico. Previously, I published a piece on that region, which you can find here. I do not find it accretive to repeat much of the same analysis here since my focus on this piece is more on rigs onshore than it is production there.
Oil production increases are unlikely to take place
Of course, we need to be cognizant of the fact that this is very much oil price dependent. At the time the graph was made, the EIA had assumed that Brent oil prices (not sure why Brent was used as opposed to WTI) would average $35 per barrel in 2016 and $41 per barrel in 2017. While it is hard to tell what the future will hold, oil prices have been consistently above $40 per barrel since April 8th and has been hovering around $50 per barrel recently. Interestingly, though, while we have seen some areas where the rig count has started to rise recently (like the Permian Basin last week), the general trend has still been down. On April 8th, we had 354 oil rigs operating onshore in the U.S. Now, however, that number is down to 318, a decline of 36 rigs, which suggests a drop of around 5.1 rigs per week since oil prices increased.
The simplest explanation for this is that some oil producers are likely increasing output but the drop in activity from other players is more than offsetting this for now. When you consider the fact that drilling wells is expensive and that smaller players are unlikely to have the capital needed to engage in this activity when they are already struggling, this theory makes sense. In the image below, for instance, you can see that costs associated with drilling in major oil-producing regions likely bottomed in 2015 and will see a gradual increase over time, which may make it harder, despite rising oil prices, for producers to kick things into gear.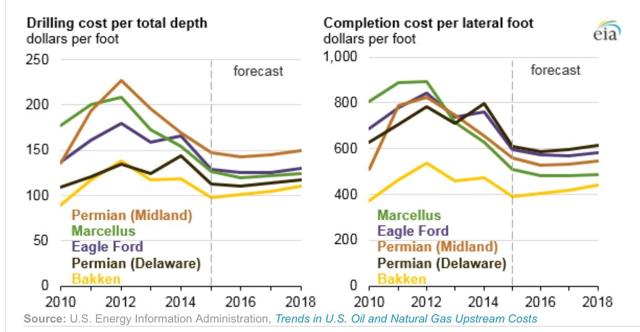 If the IEA's (International Energy Agency) chief, Fatih Birol, is correct, then it may take a lot more time and higher energy prices before activity really picks up again. In the image below, you can see a quote from him from a CNBC article where he mentioned that the IEA believes we will need to see oil at between $60 and $65 per barrel and up to one year of activity before shale can show signs of recovery.

Takeaway
At this moment, oil seems to be moving gradually higher and much of this is driven by the fact that fundamentals are improving in many (but not all) key areas. One thing holding oil back appears to be the fear that an increase in prices will cause the glut to continue growing as opposed to shrinking but, as we've already discussed, data suggests that output in the U.S. cannot rise materially and will likely fall as current prices are not enough to prop up rig activity. Sure, there is the likelihood that it could force the rig count to level off or to fall at a slower pace than we would otherwise see, but a material resurgence in the rig count appears unlikely given the information we have today.
Disclosure: I/we have no positions in any stocks mentioned, and no plans to initiate any positions within the next 72 hours.
I wrote this article myself, and it expresses my own opinions. I am not receiving compensation for it (other than from Seeking Alpha). I have no business relationship with any company whose stock is mentioned in this article.