A lot has been written about Elon Musk - probably a profound understatement. He is one of the great entrepreneurs of our generation. He founded SpaceX, whose future remains a question mark. He is a key investor in SolarCity (SCTY), in our view, a real business, but one that is finally priced liked the utility/real estate play that it is. And he is the CEO and chief visionary at Tesla (NASDAQ:TSLA), which is valued at $30 billion, and has consistently lost money.
Recently Tesla completed another financing led by Goldman Sachs and Morgan Stanley, in which Musk took some of his stock off the table.
There has been an abundance written about Tesla and the potential profitability (or lack thereof) of its cars. Our personal view is that we don't understand the economics of how the company will ever be profitable. Having spent much of the last 20 years researching technology (broadly, including things such as batteries) and semiconductors (specifically), we don't see how the company can cost reduce with increased volumes to offset the lower price of the Tesla 3. (Yes, there are 400,000+ reservations... and the reservations cost 1/5 what was required for the X... and the similarly functional S at twice the price is a money loser).
Again, much has been written about Tesla's finances (typically the focus of what we'd write about) with a divergence of views. So we thought we'd put something in the public domain where we've done some proprietary work, albeit with a small (~36 people) sample size.
At the outset, we acknowledge that we currently hold no long or short position in Tesla. Our bias is to be short, but currently we hold no position.
We recently read Ashlee Vance's biography of Elon Musk.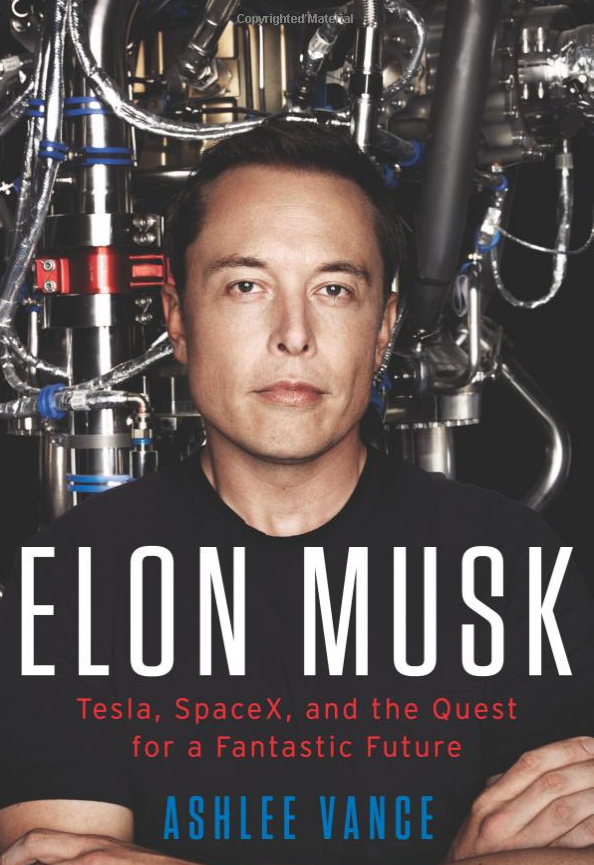 According to the book, which was authorized by Mr. Musk (although not edited or modified by him), he transferred to the University of Pennsylvania in 1992, before graduating in 1995 with degrees from Wharton and the College of Arts and Sciences (in Physics). (Wikipedia states similar facts)
As a fellow Penn alum (with a degree from Wharton in 1993), I never met Mr. Musk. While reading Mr. Vance's book, I found page 52 particularly interesting. Specifically, it states:
The lackluster social scene did not live up to Ressi's expectations, and he talked Musk into renting a large house off campus. They got the ten-bedroom home relatively cheap, since it was a frat house that had gone unrented. During the week Musk and Ressi would study, but as the weekend approached, Ressi in particular, would transform the house into a nightclub. He covered the windows with trash bags to make it pitch black inside and decorated the walls with bright paints and whatever objects we could find. "It was a full-out, unlicensed speakeasy," Ressi said. "We would have as many as five hundred people. We would charge five dollars and it would be pretty much all you could drink - beer and Jell-O shots and other things."
As someone who graduated Penn in 1993, and spent much of my last semester going out nightly, if there were a place where I could get all I could drink for $5, I or one of my 11 housemates, would have heard of it.
To put into context the idea of 500 people attending a party - that's 5% of Penn's entire undergraduate population (and I assume some students rarely went out, didn't drink, had steady boyfriends/girlfriends, etc.). If they received $5 a head, that's $2500 (not including their costs on alcohol, decor and security). In 1993, I lived off campus in a house for 12 at a cost of $4000 collectively per month. They must have been holding numerous parties to cover costs, since Mr. Vance describes Musk as a scholarship student, not coming from the best of financial circumstances.
Mr. Vance says he interviewed over 200 individuals in the course of his biography - of course, across a wide variety of areas in Mr. Musk's life. Over the last 3 weeks, I've spoken to approximately 3 dozen Penn students (students that went out, were social, etc. - i.e. the ideal party candidate) who graduated from '93-'97 and asked them if they recall ever attending a regularly scheduled off-campus party where they could get all they could drink for $5 (in an off campus location with black garbage bags over windows - or even without such bags). Beyond the fact that not a single one was aware that Elon Musk went to Penn, none were aware that such a party existed (the average reply - "a regularly scheduled all you could drink party for $5, yeah I would have been there.")
Again, we have no horse in this race. We have no position in Tesla.
According to Quora.com the parties were quite the event.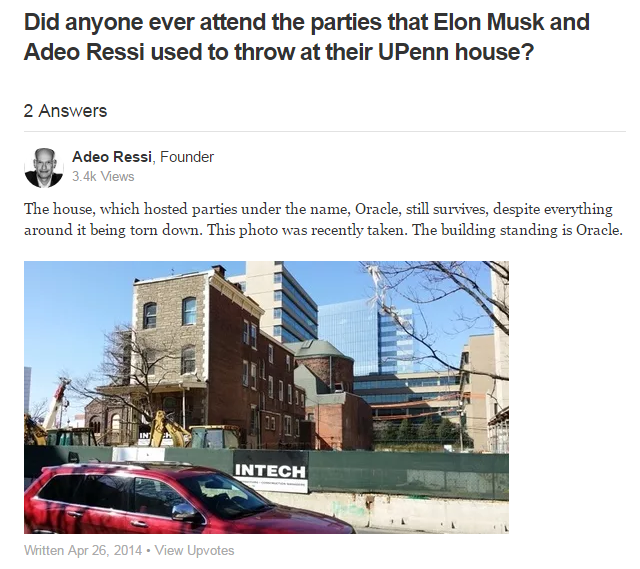 Source: Quora.com
The first response comes from none other than Elon Musk's roommate. The only other from a gentleman with the fairly common name, Steve Ross. We don't know Mr. Ross.
We're sure some of you might read this and say, "so what?" In our view, the ability of Tesla to cost reduce over time is uncertain. The ability for the company to eventually become profitable due to higher volume production or create revenue from driving data, or alternative revenue streams is all uncertain.
We would attribute much of Tesla's valuation, and its ability to continue to finance significant losses, to the personality of Elon Musk.
If any readers attended Musk/Ressi parties at Penn, we'd love to know more - as we have stated, our sample size is limited. Again, we have no position, but as someone whose path with Musk could have crossed, we're intrigued observers.
Disclaimer: This article was provided for informational purposes only. Nothing contained herein should be construed as an offer, solicitation, or recommendation to buy or sell any investment or security, or to provide you with an investment strategy, mentioned herein. Nor is this intended to be relied upon as the basis for making any purchase, sale or investment decision regarding any security. Rather, this merely expresses Dane's opinion, which is based on information obtained from sources believed to be accurate and reliable and has included references where practical and available. However, such information is presented "as is," without warrant of any kind, whether express or implied. Dane makes no representation as to the accuracy, timeliness, or completeness of any such information or with regard to the results to be obtained from its use should anything be taken as a recommendation for any security, portfolio of securities, or an investment strategy that may be suitable for you.
Dane Capital Management, LLC (including its members, partners, affiliates, employees, and/or consultants) (collectively, "Dane") along with its clients and/or investors may transact in the securities covered herein and may be long, short, or neutral at any time hereafter regardless of the initial recommendation. All expressions of opinion are subject to change without notice, and Dane does not undertake to update or supplement this report or any of the information contained herein. Dane is not a broker/dealer or investment advisor registered with the SEC, Financial Industry Regulatory Authority, Inc. ("FINRA") or with any state securities regulatory authority. Before making any investment decision, you should conduct thorough personal research and due diligence, including, but not limited to, the suitability of any transaction to your risk tolerance and investment objectives and you should consult your own tax, financial and legal experts as warranted.
Disclosure: I/we have no positions in any stocks mentioned, and no plans to initiate any positions within the next 72 hours.
I wrote this article myself, and it expresses my own opinions. I am not receiving compensation for it (other than from Seeking Alpha). I have no business relationship with any company whose stock is mentioned in this article.