Dubai/Pakistan Travel Report - April 2016
In line with our process of being on the ground in the countries we invest in, Thomas Hugger and Ruchir Desai traveled to Dubai to attend a Pakistan Investor Conference.
Though we usually write travel reports when we visit one of the countries we invest in, this time we traveled to Dubai to meet Pakistani companies. Not that we would not like to visit Pakistan (which we have done in the past) as the investor conference was a good way to meet a number of companies in a span of two days.
Before writing more about Pakistani companies or about the country, Dubai is quite a well-organised place (think Singapore) and the Dubai International Financial Centre "DIFC" where the conference was held is very conveniently located which is about a twenty minute drive from the airport. The DIFC has attracted a fair number of businesses to set up shop there and one can see a pretty big expat population at the DIFC. Dubai gets a large number of tourists so there are more than enough hotels to choose from. The Burj Khalifa and the adjoining Dubai Mall are amongst the major attractions, the former because of it being the tallest building in the world and the latter because it is so huge! Also, construction activity on new buildings was quite evident in the areas close the DIFC and the Dubai Metro seems to be a good way to get around although we did not get a chance to use it since our hotel was walking distance from the venue and luckily at this time of the year the weather was extremely pleasant to walk in.
Quite a bit of construction activity in Dubai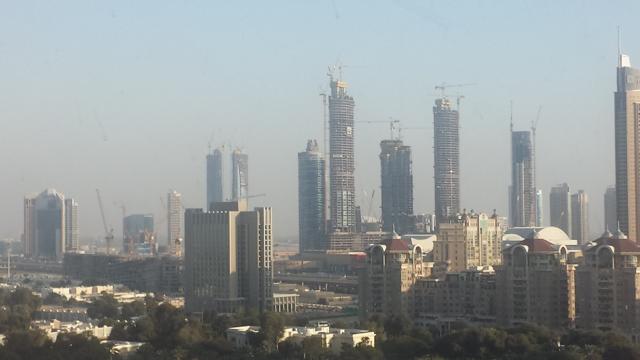 We met a diverse set of thirteen companies across the auto, banking, cement, consumer staple, insurance, media and power sectors and the mood amongst the corporates and other investors regarding the Pakistani economy in general was positive. There are a few reasons for this positive mood. Lower crude oil prices has been a huge positive for Pakistan as crude oil accounted for ~26% of total imports before the drop in oil prices and this has helped bring down the country's import bill and strengthen its foreign reserves position. Foreign reserves currently stand at about USD 20.3 billion which is an import cover of ~5.5 months. This is a much more healthy position than mid-2013 when foreign reserves covered only around 2 months of imports.
Lower crude oil prices and that of commodities in general has helped bring down inflation and interest rate to record lows and this has led to an increase in sales of consumer discretionary goods as consumer disposable incomes have improved. Further, the low interest rate environment has led to a pick-up in construction activities which has led to a double-digit growth in cement volumes over the past nine months.
Macro Positives for Pakistani Consumer Discretionary and Cement Companies
Source: Pakistan Automotive Manufacturers Association, All Pakistan Cement Manufacturers Association
Besides these positive tailwinds for the economy, another long-term positive for Pakistan could be the China Pakistan Economic Corridor "CPEC" which will eventually connect Gwadar in Southwest Pakistan with the Xinjiang province in Northwest China. The CPEC is a part of China's One Belt One Road initiative and it consists of investing a total of USD 45 billion over a fifteen year period in power, road and port projects. The majority of investment is expected to be in the power sector with a total of ~USD 34 billion to be spent on putting up new power capacity primarily using coal-based power plants. These new power projects are expected to lead to an increase of ~17,000 megawatts in generation capacity and this can go a long way in resolving the power deficit that Pakistan currently faces. Any improvement in the power situation will only be a positive for economic growth as there is a power deficit at present due to the mismatch between generation capability and demand.
The other CPEC-related investments are linked to infrastructure projects such as highways, rail networks and ports. An important infrastructure initiative within the CPEC is the Gwadar port related project which besides further developing the port also includes an international airport and a highway. The CPEC could be a big positive for the Pakistani economy and though there is execution risk, the project is expected to be geopolitically important to both China and Pakistan.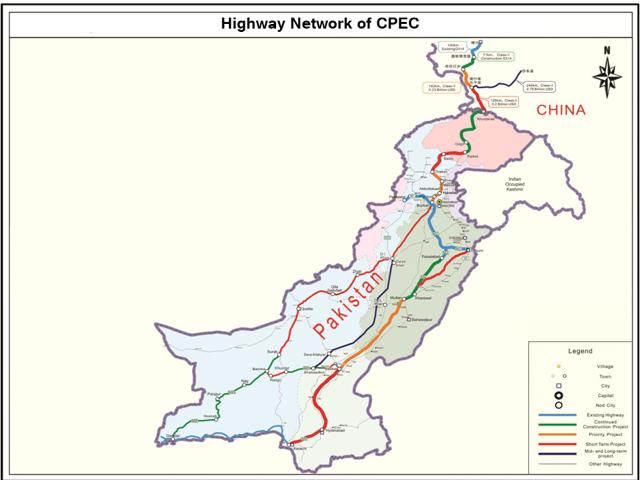 Source: Planning Commission of Pakistan
Some of the companies we met were existing holdings and some we were meeting for the first time. From our existing holdings, the company which we like and which we met with is "The Searle Company Ltd.," a pharmaceutical company which focuses on generic products. It is amongst the Top 10 pharmaceutical companies in the country in terms of revenue and it has a strong presence in the cardio vascular, gastro and cough syrup space. Revenues and profits for the company have grown at a CAGR of 17% and 30% over the last five financial years respectively. This company is the fund's second biggest position and has been amongst the top performers for the fund over the past two years. The other sector which we find interesting is the cement sector and both the cement companies we met were extremely positive about the outlook and this is not surprising given the growth in cement sales as mentioned previously. The fund is currently invested in two Pakistani cement companies and one of them has been a leading contributor to performance over the past year.
Another interesting company we met was "Shifa Intl. Hospitals," a hospital chain company which currently operates a hospital in Islamabad and Faisalabad and plans to expand capacity into Lahore. Besides this, the company also has a laboratory business which it could expand in the future. The fund is currently invested in this company. There was one bank present at the conference and the outlook for the Pakistani banking sector is soft as their margins are expected to come under pressure due to the reinvestment risk they face as a large portion of their government bonds are expected to mature in 2016. Having said that, most Pakistani banks are fundamentally sound in terms of loan loss coverage ratios and capital adequacy ratios.
We also met with one of the leading auto companies in Pakistan, "Indus Motor Company Ltd." and their sales growth over the past year has been in double digits leading to capacity constraints which they plan to overcome in the short run but they would need new capacity in the long run. The Pakistan automobile market does hold a lot of potential as car penetration in Pakistan at 13 per 1,000 people is lower than India which is 18 per 1,000 people. A new auto policy recently passed by the government could bring more investment into the country and may also lead to more competition which could possibly lead to new model launches by the existing players and this can be positive for overall growth of the industry.
The government appears to be keen to reform as it looks to privatise certain state run entities, improve the law and order situation and reduce the power deficit through greater investment via the CPEC. Though these are longer-term themes, in the near term, the country is in a better position relative to 2013 given low commodity prices, inflation and interest rates which are expected to have a positive impact on the cement and consumer discretionary sectors. We do worry though about the impact of overseas worker remittances from the Middle East as these account for ~65% of total remittances. Pakistan received ~USD 19 billion of remittances and a significant slowdown would be negative not only for its current account deficit but could also dampen consumer spending.
We recommend to invest via MSCI Pakistan ETF (NYSEARCA:PAK) or through the AFC Asia Frontier Fund, which has currently 20.6% of the fund invested in Pakistan.
Disclosure: I am/we are long THE SEARLE COMPANY LTD., SHIFA INTL. HOSPITALS, INDUS MOTOR COMPANY LIMITED.
I wrote this article myself, and it expresses my own opinions. I am not receiving compensation for it. I have no business relationship with any company whose stock is mentioned in this article.