Sears Holdings (NASDAQ:SHLD) reported Q1 2016 earnings that were similar to past results. Sales continue to decline inexorably. Sears also continues to talk about cost cutting its way to profitability, but isn't really making any headway in that area. Sears's adjusted EBITDA during the last four quarters has declined $266 million to negative $876 million once the additional Seritage rent expense is factored in. Due to this poor operating performance, Sears has only managed to reduce its net debt by around $301 million versus last year despite selling a large portion of its best owned real estate.
More About The Q1 Earnings
It is pretty hard to find positive news about Sears's earnings report. However, I suppose that its -5.9% comparable store sales number was actually a bit better than I expected. Other department stores encountered a March/April slump that affected their sales by 3% to 4%, so if Sears was affected similarly, its adjusted comparable store sales decline would only be around -2% to -3%. As well, -5.9% is in itself Sears's best comps since Q4 2014. It may be that Sears's rate of comparable store sales decline is slowing since Sears has already driven off all but its most loyal customers.
Despite slowing its rate of its comparable store sales decline, the rate of its sales decline combined with additional gross margin decreases are still more than enough to offset the impact of its SG&A cuts. Sears reduced SG&A by $176 million in Q1 2016 compared to Q1 2015, but its adjusted EBITDA still declined by $40 million (including the Seritage rent expense that Sears excludes from its slides) to negative $181 million for Q1 2016.
Brands And Home Services
Sears is also exploring options for its Craftsman, Kenmore and Diehard brands and its Home Services business. However, Sears has watched the value of these items decline for years without doing anything before. Sears is getting desperate for ways to generate additional funds, but will receive much less for these items than a few years ago.
The sharp decline in its Home Services business can be seen in Sears's reports. For example, Sears made over 15 million service and installation calls in 2011. This declined to "over 12 million" in 2014 and has further declined to "nearly 12 million" in 2015.
Sears's brands have similarly declined, with Kenmore's share of the major appliance market declining to 12.7% in the 12 months ending March 2016, compared to 17.4% in 2012. Craftsman has also shown significant market share declines, although it remains the leader in hand tools and accessories.
Shop Your Way
One interesting thing is that Sears is no longer talking about growth for Shop Your Way, as the percentage of eligible sales made to Shop Your Way members has plateaued at 73% to 74%. It now talks about increasing engagement, and points to items like the 25% increase in redemption sales as a percentage of member sales and the 74% increase in points issued as evidence of increasing engagement. However, my read on this is that Shop Your Way is not doing much to boost Sears's revenues, but is increasingly harming Sears's gross margins. Redemptions and points issued have increased substantially while Sears's sales are continuing to fall. Sears notes in its 10-Q filing that Shop Your Way expenses have adversely affected its gross margins.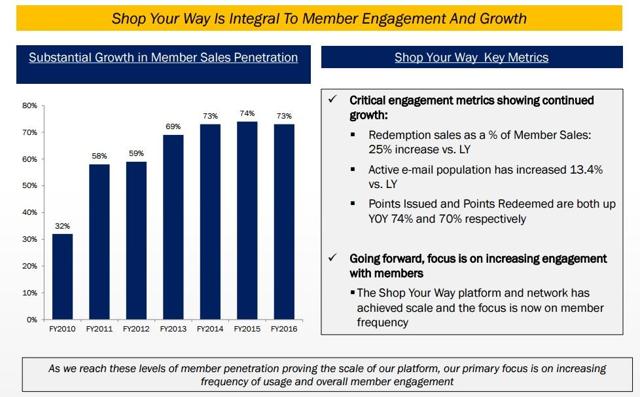 Source: Sears Q1 2016 Presentation
Conclusion
Sears continues to be unable to halt its decline in sales, while it appears to be increasingly reliant on handing out points via its Shop Your Way program to keep customers and prevent an even greater decline in sales. This has the effect of decreasing Sears's gross margins, so that even with continued major cost cutting efforts, Sears's adjusted EBITDA is getting worse if you include its Seritage rent expense.
Sears may be able to monetize its brands and Home Services business, but the value of those items have diminished substantially over the last few years. As well, any money generated from selling/licensing those items will likely just be consumed by the massive losses of its retail operations. Sears is essentially burning its clothes to stay warm. It can probably keep going for a while longer by continuing to sell assets, but the end result is inevitable without a rescue plan that involves a miraculous retail turnaround.
Note From The Author: If you found this article informative, please scroll to the top of the article and click on "Follow" to see my newest articles as they are published.
Disclosure: I/we have no positions in any stocks mentioned, but may initiate a short position in SHLD over the next 72 hours.
I wrote this article myself, and it expresses my own opinions. I am not receiving compensation for it (other than from Seeking Alpha). I have no business relationship with any company whose stock is mentioned in this article.