The biotech sector has held its recent gains over the past week and a half despite a few major blowups in the sector on Thursday (see below). Helping sentiment is M&A rumors, and speculation seems to be picking up after a few deals over the past two weeks. Bloomberg reported both Celgene (NASDAQ:CELG) and Gilead Sciences (NASDAQ:GILD) are contemplating bids for oncology concern Medivation (NASDAQ:MDVN) after that company has rejected Sanofi's (NYSE:SNY) $9.3 billion offer. A takeout north of $10 billion could really juice the speculation on which mid-cap plays could be the next target of the drug giants. One of which is offered up in today's spotlight section.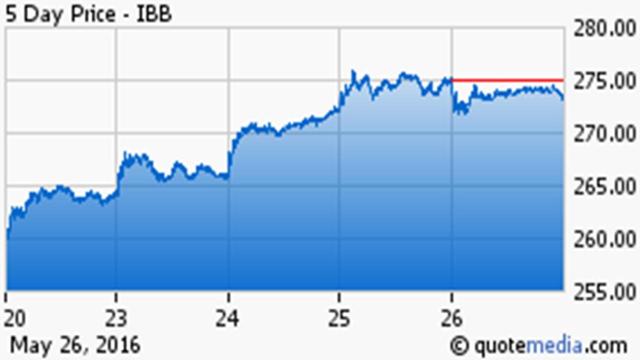 Based on pre-market futures, it is looking like a pretty flat opening. Barring a major sell-off today, it appears the biotech sector will post its second strong week in a row after three straight weeks of declines.
Note: To get these Biotech Forum Daily Digests as soon as they are published, just click on my profile and hit the big orange "follow" button and choose the real-time alerts option.

Ionis Pharmaceuticals (NASDAQ:IONS) was the disaster "du jour" in the biotech sector on Thursday. The stock lost some 40% on the day after its developmental partner GlaxoSmithKline (NYSE:GSK) decided to put its plans for a Phase III trial on a back burner for an experimental drug for a rare cardiac condition. This unexpected event was triggered by safety issues related to severe declines in platelets - thrombocytopenia - which also recently appeared unexpectedly among some of the patients enrolled in a separate ApoCIII trial for another drug called volanesorsen.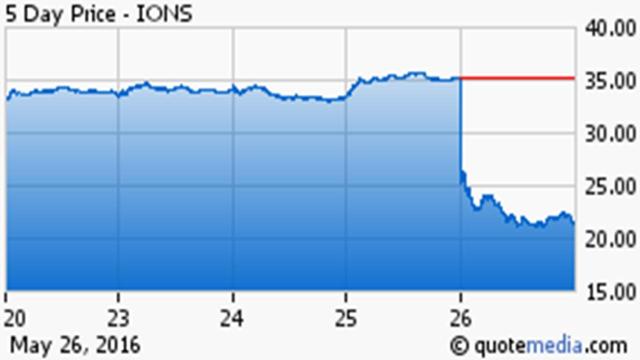 Although the company has a diverse late-stage pipeline, investors worried that the safety problem could extend to the whole platform at Ionis. The problem seems to have occurred at the highest dosage levels and it is going to take several weeks if not months to straighten out. If this turns out to a be a permanent problem, it would have seemed to come out of left field after the company collected over $300 million in milestone payments in 2015 from partners for the advancement of its pipeline. I bought a few additional shares in the implosion in trading Thursday, but it is still a tiny stake until we see if Ionis can recover from this major setback.
Ionis was not the only debacle in biotech on Thursday, OvaScience (NASDAQ:OVAS) dropped almost 30% as the company announced it would raise almost $50 million at a significant discount to where the stock was trading before the secondary was announced. It appears that Leerink Swann and Oppenheimer were prescient in the past two weeks as they slapped Hold ratings on the stock before Thursday's decline. Credit Suisse was even more pessimistic with its Sell rating earlier this week.
On Wednesday, Relypsa (NASDAQ:RLYP) filed a supplemental New Drug Application (sNDA) with the FDA seeking a labeling change for the hyperkalemia drug Veltassa (patiromer) reducing the current six-hour dose separation requirement from six hours to three. Its filing is based on the results from 12 Phase 1 drug-drug interaction studies, which showed no meaningful reduction in absorption for the majority of drugs tested when separated by the shorter time frame. Relypsa has been profiled on these pages a few times an attractive small-cap biopharma play.
More importantly, its potential competitor in the hyperkalemia market "ZS-9" got a complete response letter ("CRL") from the FDA involving an inspection of its manufacturing facilities. While this does not kybosh the approval sometime this year, it certainly delays it. It also puts some egg on the face of AstraZeneca (NYSE:AZN) which bought out ZS-9's creator ZS Pharma (NASDAQ:ZSPH) for $2.7 billion in November of last year, which included a large premium. It also gives Veltassa from Relyspa at least a few more months of having the market to itself. Look for buyout rumors, which have been on and off again for months; to be rekindled on this news.

As one can imagine, the bad news at Ionis caused a few analysts to offer up their view on the prospects on the company after the bad news broke. Needham and Piper Jaffray reiterated their Buy ratings with $55 and $35 price targets on the former mid-cap, although Piper did lower its price target from $60 previously. Cowen & Co. reissued its Hold rating.
Small-cap gastrointestinal concern Synergy Pharmaceuticals (NASDAQ:SGYP) is getting some notice from analysts this week. Rodman & Renshaw reiterated its Buy rating Monday and $15 price target on the stock, noting recent positive Phase III trial results around its primary drug candidate plecanatide. Roth Capital reissued its Buy rating and $6.50 price target on Synergy Thursday. Plecanatide has a New Drug Application filed with FDA for chronic idiopathic constipation ("CIC"), pending an answer by the end of January.
Flexion Therapeutics (NASDAQ:FLXN) has had a good week. The FDA informed the company that its primary drug candidate Zilretta delivered enough trial results for the treatment of pain associated with osteoarthritis of the knee acceptable to support a New Drug Application ("NDA") on Thursday. This compound is an intra-articular injection based on microsphere technology that combines a polymer with a corticosteroid to provide long-term pain relief.
Cantor Fitzgerald immediately reiterated its Buy rating and $44 price target on Flexion and expects the company to file this NDA in the fourth quarter now that no additional data is needed. Needham also got into the act on Thursday by reissuing its own Buy rating and raising its price target from $28 to $34. All these positives helped Flexion soar 50% in market action yesterday to just over $17 a share. This is not a name I follow closely, but I will note that insiders had good timing on this one. Since mid-May, numerous insiders in myriad transactions added about $200,000 in stock to their holdings at $10.50 or under a share.
Despite a Wall Street Journal report stating that Japanese drug giant Takeda (OTCPK:TKPYY) had teamed up with private equity firm TPG to make joint bid for embattled Valeant Pharmaceuticals (NYSE:VRX), which was rejected, analysts have not changed their tune on this drug pariah. Wells Fargo reissued its Sell rating early in the week and Mizuho Securities did the same yesterday. This echoes my own long-held view on Valeant, which it is just too murky a situation to get involved in at this point.
Note: New analyst ratings are a great place to start due diligence, but nothing substitutes for deeper individual research in this very volatile sector of the market. Many of the small-cap names highlighted in the "Analyst Insight" will eventually appear in the "Spotlight" section, where we do deeper dives on this type of promising but speculative small-cap concern.

As promised earlier in the week, out spotlight feature today is on Alnylam Pharmaceuticals (NASDAQ:ALNY). It is fortuitous timing as the stock was up more than 10% on Thursday as it is a potential competitor to Ionis in the same core area. Investors were better that it could potentially benefit from that company's travails and both are focused on developing products using RNA interference.
Company Overview
Alnylam Pharmaceuticals is a Cambridge, MA-based biopharmaceutical company developing novel therapeutics based on RNA interference, or RNAi. The company is using the translation of RNAi as a new class of innovative medicines with a core focus on RNAi therapeutics as genetic medicines. Alnylam's genetic medicine programs are RNAi therapeutics directed toward genetically-defined targets for the treatment of serious, life-threatening diseases with limited treatment options for patients. This mid-cap biotech play has a market capitalization just north of $6 billion after Thursday's big rally and sells for just over $70 a share.
Pipeline
Alnylam is focusing its RNAi therapy efforts in three key areas:
Genetic Medicines, with a broad pipeline of RNAi therapeutics for the treatment of rare diseases.
Cardio-Metabolic Disease, with a pipeline of RNAi therapeutics toward genetically-validated, liver-expressed disease targets for unmet needs in cardiovascular and metabolic diseases.
Hepatic Infectious Disease, with a pipeline of RNAi therapeutics that address the major global health challenges of hepatic infectious diseases.
The most advance of a diverse lineup of trial development is in the area of hereditary ATTR amyloidosis. Hereditary amyloidosis is one type of the systemic amyloidosis diseases that are caused by inheriting a gene mutation. This mutation then produces an amyloid protein (transthyretin) or TTR that forms into an abnormal shape. These abnormal "misfolded" amyloid proteins can be deposited and cluster in the body's nerves and other organs, and once they build up, this may affect and harm tissue and/or organ function. Even for an individual born with a gene mutation, normally the harmful deposits don't occur until adulthood. Further complicating this area is that there are over 100 different genetic variations of ATTR. Without intervention, survival after ATTR disease onset is 5-15 years. Orthotopic liver transplantation, which removes the major source of variant TTR production and replaces it with normal TTR, is the major treatment for ATTR amyloidosis.
The company has a few compounds entering late-stage development, targeting two of the most common forms of hereditary ATTR amyloidosis that affect some 50,000 people worldwide using two compounds (Patisiran and Revusiran). In an ongoing Phase II study, Patisiran was associated with a statistically significant, approximately 77% median improvement in nerve fiber density. The compound was also found to be generally well tolerated out to 25 months of treatment. The company plans to complete enrollment of Revusiran Phase 3 ENDEAVOUR trial in late 2016 with a data readout in mid-2018. Fitusiran which is aimed at hemophilia should start a Phase III study in a few months. The rest of the company's pipeline is in much earlier stage of development.
Balance Sheet & Analyst Outlook
The company ended 2015 with approximately $1.2 billion in cash and marketable securities. It believes it will end 2016 with some $1 billion in cash, so no funding needs seem to be on the horizon. As noted in a previous Biotech Forum Daily Digest post, analyst opinion on Alnylam is quite positive. The 12 analysts that cover the stock have a median price target of $118.50 on the stock. After Ionis's debacle yesterday, Piper Jaffray took the opportunity to reissue its Buy rating and $118 price target on ALNY. I doubt it will be the last analyst firm to do so.
Outlook
Alnylam has many of the traits I look for before making a small investment in a small- or mid-cap developmental concern in this sector. It has multiple "shots on goal", plenty of cash on the balance sheet, addressable markets and upcoming milestones. Given the recent M&A action in the mid-cap part of the biotech space (Anacor (NASDAQ:ANAC), Medivation), I would not be surprised if buyout speculation picks up around Alnylam especially in light of the recent troubles at Ionis. For aggressive investors with a well-diversified biotech portfolio, a small stake in the late-stage developmental concern seems worthy of consideration.
Note: Our Memorial Day Weekend promotion is now giving out free two-week trials to The Biotech Forum service until midnight EST on June 2.

Thank You & Happy Hunting
Bret Jensen
Founder, Biotech Forum
Disclosure: I am/we are long CELG, GILD, RLYP, SGYP.
I wrote this article myself, and it expresses my own opinions. I am not receiving compensation for it (other than from Seeking Alpha). I have no business relationship with any company whose stock is mentioned in this article.