Despite current difficulties, Chipotle (NYSE:CMG) is arguably one of the most successful restaurant chains of the past decade. I still remember when it went public in January 2006 and doubled in price on the first day of trading, from $22 to $44. The growth went on for many years, with the stock reaching $750 in August 2015.
When news came out in August 2015 of 64 people sickened by salmonella after eating tomatoes in 22 Chipotle locations in Minnesota, and eight customers and 17 employees infected with norovirus in one single Chipotle location in California, the stock took some time to react. In fact, it even revisited the $750 highs in October before falling almost 50% to $400 two months later: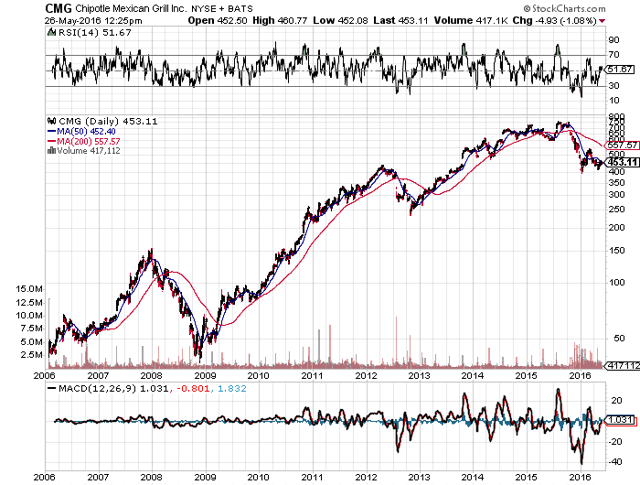 Source: Stock Charts
Is this the end of a successful story? Or are investors overreacting?
To put things in perspective, according to the Centers for Disease Control and Prevention, each year roughly one out of six Americans (or 48 million people) get sick, 128,000 are hospitalized and 3,000 die of foodborne diseases.
Indeed, this is not the first time (nor will it be the last) that a restaurant chain suffers from food safety issues. Winston Churchill once said that "the farther back you can look, the farther forward you are likely to see." So let's look back at similar incidents in the past in order to figure out the most likely outcome for Chipotle.
McDonald's
Back in February 1982, 47 people got sick with a rare form of E. coli after eating hamburgers at a McDonald's (NYSE:MCD) in Oregon and Michigan. It's true that those were different times (no internet or Facebook to amplify the incident worldwide), so luckily the outbreak wasn't widely publicized and McDonald's reputation wasn't too affected. As a consequence, the stock price was hardly pinched by the incident: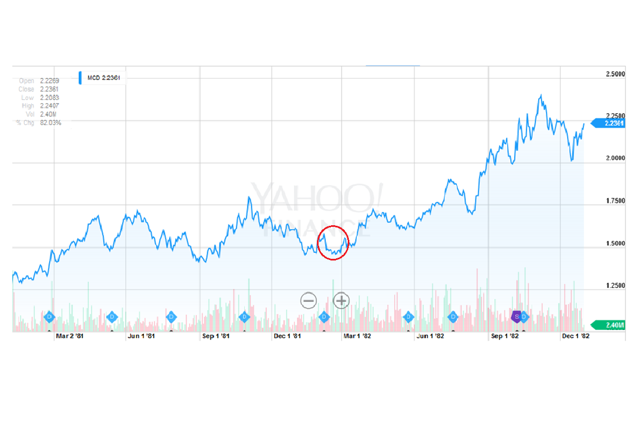 Source: Yahoo Finance
Jack in the Box
In November 1992, Jack in the Box (NASDAQ:JACK) restaurants in Washington became the epicenter of the biggest outbreak of foodborne illness in the fast-food era. More than 600 people became ill and four children died due to E. coli on beef that had not been cooked at a high enough temperature.
It took a long time for Jack in the Box to recoup the ground lost during the scandal. The company lost money during the next two years, its debt was downgraded to junk status, and sales only recovered in 1995. The stock lost 70% of its value over a two-year period, and only five years after the incident did it recover completely. However, one must note that the company had a poor response to the incident. Not only did they not follow state law for cooking hamburgers, they also denied the allegations and blamed their meat supplier, Vons.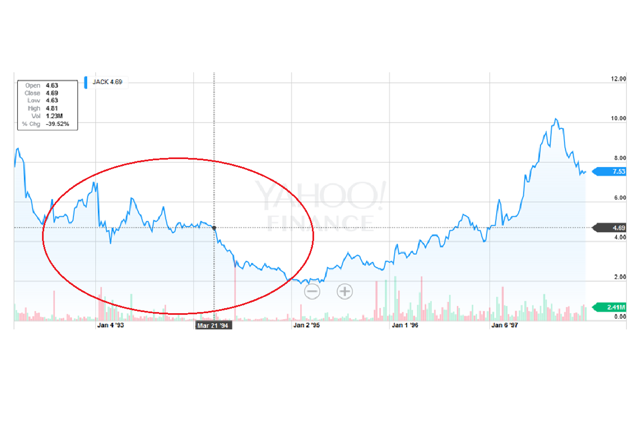 Source: Yahoo Finance
Burger King
In 1997, Burger King (NYSE:QSR) recalled more than 25 million pounds of beef after an E. coli contamination that sickened 16 in Colorado. 650 Burger King locations were forced to remove burgers from their menu. As Burger King was a private company at the time, it's not possible to post a graph with the stock price.
Yum! Brands
In 1999, KFC -- part of Yum! Brands (NYSE:YUM) -- suffered an E. coli outbreak that sickened 18 people at four Cincinnati locations (11 people were hospitalized). Later, Taco Bell also had an E. coli outbreak at several restaurants in the Northeast in 2006 and saw sales drop for four consecutive quarters. As these companies are both owned YUM (a big group owning multiple brands), it's hard to pinpoint exactly the impact these incidents had on Yum!'s stock price: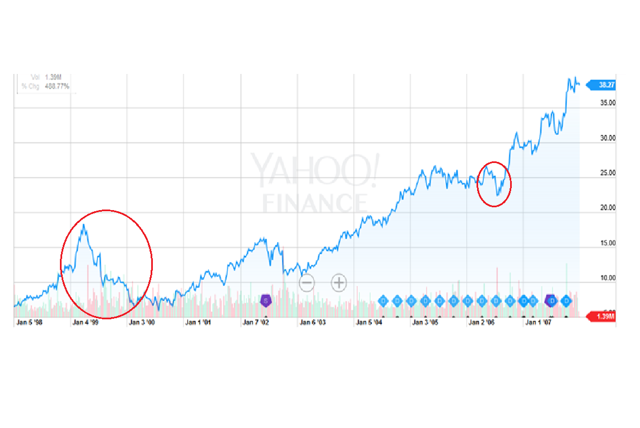 Source: Yahoo Finance
Chipotle
Yes, last year was not the first time for Chipotle. In April 2008, over 500 people got sick due to a norovirus outbreak after eating at a Chipotle location in Ohio, and more than 20 people who ate at a Chipotle location in California developed Hepatitis A (however, it was not possible to confirm the link of this last incident to Chipotle).
On this occasion, the stock fell more than 60%. But it is difficult to say how much the Lehman Brothers default in September accentuated the collapse. Still, two years later, the stock was already trading above the price it had in April 2008, and by April 2012 the price had increased by 3x: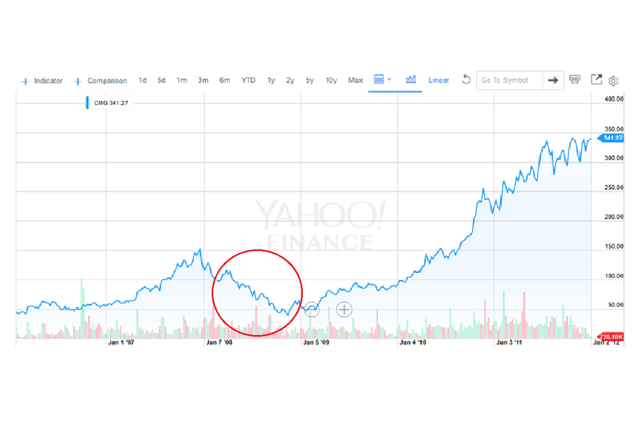 Source: Yahoo Finance
Other Incidents
Watermelon that had been contaminated by raw meat was the source of an E. coli outbreak at two Sizzler restaurants in Wisconsin in 2000. 64 cases of the disease were confirmed, and a three-year-old girl died. The girl's family reached a $13.5 million settlement with the chain's meat supplier eight years later.
The most widespread hepatitis A outbreak in American history occurred thanks to green onions imported from Mexico at a Chi-Chi's restaurant in Pennsylvania in 2003. At least 640 people were affected, and four died. The outbreak made national news and Chi-Chi's reputation never recovered.
Several Wendy's (NYSE:WEN) locations in Utah served lettuce that was contaminated with E. coli in 2006, resulting in three severe cases of E. coli derived illness.
Jimmy John's has had at least five incidents since 2008, as the sandwich chain served contaminated sprouts that resulted in illness. And in 2013, a Denver-area location served E. coli-contaminated cucumbers imported from Mexico that sickened nine people.
In 2013, Arizona chain Federico's served lettuce that was contaminated with E. coli. Before the outbreak was over, more than 90 got sick, including 24 children.
In summary, some of the biggest restaurant chains in America have suffered from similar incidents in the past. Some were hardly affected, while others took a few years to recover. But not only did they all survive, many prospered afterward. Looking back at the months after these incidents, the conclusion is that those were good times to purchase the stocks at discounted prices.
Time will also heal Chipotle's recent problem. It has now been nine months since it occurred, so if history is a guide one should expect business to get back to normal soon.
The Crisis Will Go Away, but the Brand Will Go On
Even though I tend to disagree with the saying that "there's no such thing as bad publicity," in this particular case Chipotle has dealt quite well with the problem. I believe it will come out of it even stronger.
In fact, Chipotle started by taking full responsibility for the outbreaks, promoted a nationwide staff meeting on the matter, created a $10 million program to help local farms on the food safety front, expanded its sick leave policy for its employees, changed the way a number of ingredients are processed (such as having tomatoes and other vegetables chopped at a central facility, instead of the kitchens of individual restaurants), and handed out coupons for free burritos to reassure consumers the food safety issues are gone for good.
It did all these things while keeping its "Food With Integrity" slogan (a key differentiation factor for Chipotle) and its reputation of fresh, locally sourced, organic, non-GMO ingredients intact. Of course, in order to live up to this motto, Chipotle has to work with many different local suppliers (instead of just a few big ones). As the company expands, this issue becomes harder to deal with. Also, meal preparation continues to be done by hand, right in front of the customer. That is another difference from traditional fast-food chains, with their frozen ingredients assembled and heated up in a kitchen in the back.
Chipotle's Current Multiples Hide More Potential Than Ever Before
At the end of Q1 2016, Chipotle had 12% more restaurants than in the same quarter last year. However, it's no surprise that revenue fell 23% from the same period last year to $834 million, and it presented a $26 million net loss (down from a $122 million profit in Q1 2015):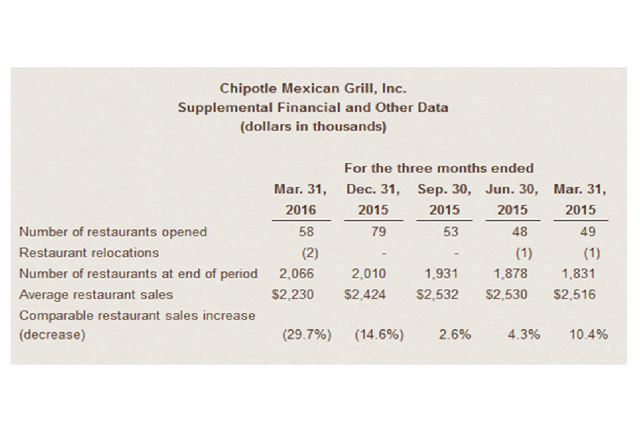 Source: Chipotle Q1 Earnings
I think it's important not to focus too much on the decline in sales or on the net loss, as these were expected and are only temporary setbacks. Instead, the key for the future is the increase in the number of restaurants. That's because as soon as business normalizes and these restaurants start selling once again what they did on average six months ago, the revenue could easily reach new record highs. In fact, as the food still tastes great and the "Food With Integrity" brand remains intact, this is only a matter of time.
This is the reason why you should be looking beyond the current P/E and P/S ratios (which are considerably above the industry average). In time, consumers will go back to their favorite restaurants and Chipotle won't be offering free burritos forever (this measure already cost the company almost $30 million in sales):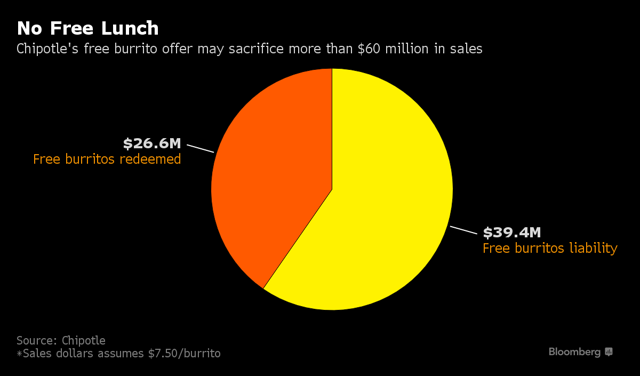 Source: Bloomberg
The Current Stock Price Is a Good Entry Point
Technically speaking, the $400-$450 range is important support. That's because not only has the stock held this ground recently after the food safety incidents, but this level was also an important resistance in mid-2012 that was broken in late 2013 with an impressive jump: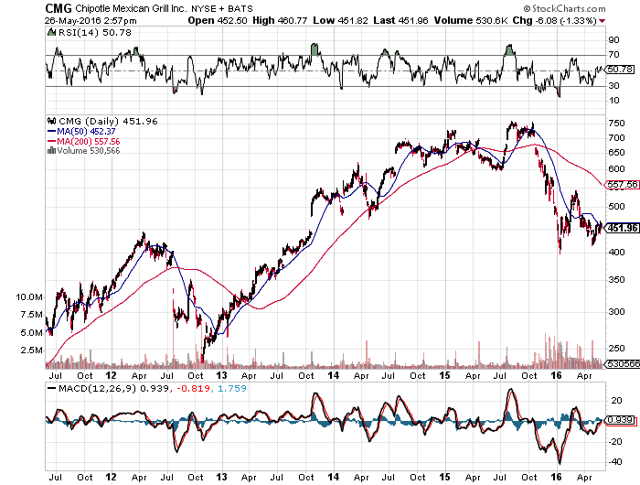 Source: Stock Charts
I also like this year's negative divergence between the stock price and the MACD in January and May 2016. That's because when the stock revisited its $400 lows in May (in a reassuring second leg), the MACD drew a higher low, showing that the selling momentum is over. It's true that this support held in part due to the share buybacks that reached $583 million in the first quarter of 2016 and $314 million in the last quarter of 2015, reducing Chipotle's cash position to the lowest it's been since 2010 to $250 million. But, as time goes by, the need for additonal share buybacks should diminish: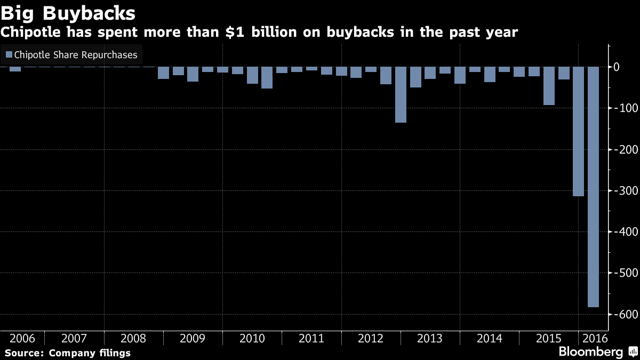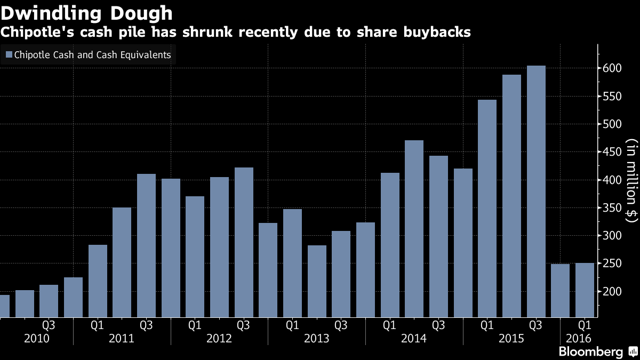 Source: Bloomberg
In Summary
Considering what happened in similar situations in the past, Chipotle's successful and differentiated business model, its fundamentals, the stock's technical indicators, and the fact that we are now nine months past the food illness outbreak, Chipotle is one of my favorite stocks going forward. Nobody knows for sure when business will get back to normal, but if history is any guide, that will happen -- it's just a matter of time. And when it does, with more restaurants, the stock has more potential than ever. I don't mind waiting at the $400-$450 support range for good news to strike, as all the bad news is already discounted in the price.
Disclosure: I/we have no positions in any stocks mentioned, but may initiate a long position in CMG over the next 72 hours.
I wrote this article myself, and it expresses my own opinions. I am not receiving compensation for it (other than from Seeking Alpha). I have no business relationship with any company whose stock is mentioned in this article.