Many investors want to beat the market. In fact, that's why many stock analysts provide an outperform, perform, or underperform rating for a stock. However, investing can be more meaningful than merely trying to beat the market.
Let me start by comparing the boring utility, Southern Co (NYSE:SO) and the high flyer Facebook Inc (NASDAQ:FB).
Young investors tend to ignore utilities because utilities tend to be slow growers. They don't think it will beat the market.
Take Southern Co, for example, its EPS increased at a CAGR of a little over 3% in the last decade and at a rate of a little over 4% in the past five years.
In stark contrast, Facebook Inc delivered annualized returns of over 30% since IPO. From 2012 to 2015, Facebook's EPS increased at a CAGR of 62.6%!
However, Facebook now trades at a multiple of over 40. If its exceptional growth shows any sign of slowing down, it will face multiple contraction and perhaps a steep dip in its share price. This could happen for all high-growth stocks.
Going back to Southern Co, if an investor had bought it at the fair multiple of 15 at roughly $40.50 per share in November 2013, they would have achieved an annualized return of 12%.
This outperformed the market that on average returned 10% inclusive of inflation. How can this happen?! Southern Co is a slow-growing utility, right?
Well, two things happened. First, Southern Co has historically traded at a premium multiple. Specifically, its normal multiple in the last decade was 16.4. Second, it quietly chugged along as time went by and continued to grow its earnings by 3-4% per year.
By buying it at a multiple of 15, there was a good chance that Southern Co would trade at a premium multiple again. Today, it trades at a multiple of about 17.1. So, with its steady growth and some multiple expansion, our investor beat the market in this period.
Are you looking for income or growth?
Southern Co and Facebook would be bought for different reasons in a portfolio. When our investor bought Southern Co in 2013, it was most like for its steady-eddy dividend. At the time, Southern Co yielded almost 5%. Since then, its dividend has increased by 10.3%.
Southern Co has a track record of stable earnings with a long-term uptrend. This can be easily visualized from the FAST graph below. The earnings (orange line) is steadily rising, as is the dividends (the lower line).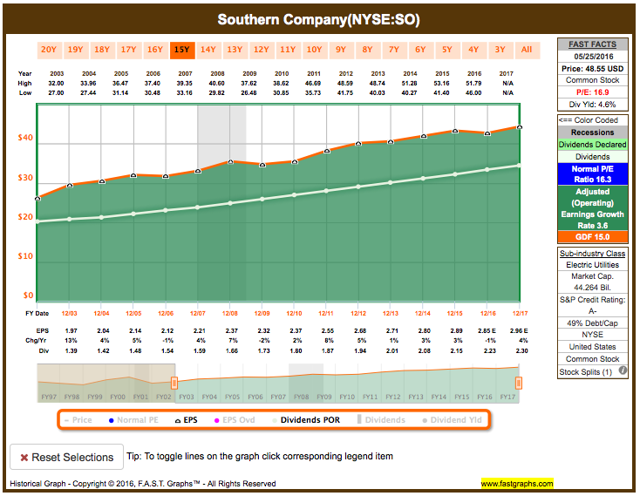 In contrast, Facebook only has a few years of trading history. Yes, it has had exceptional double-digit earnings growth. However, no one knows how long that's going to last. And when its growth slows, contraction of its multiple will be inevitable.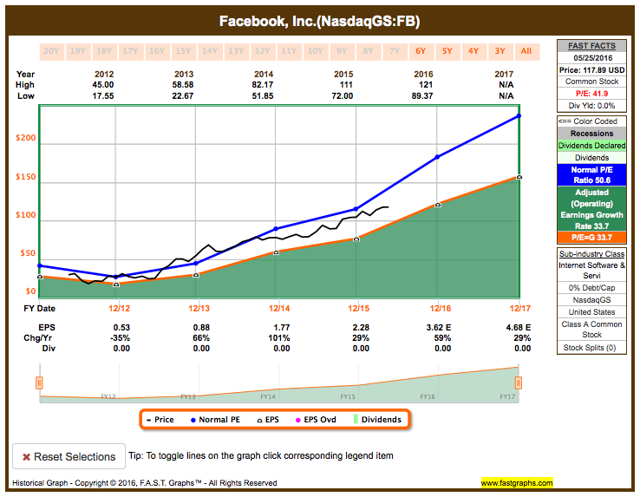 Both companies beat the market
From the November 2013 point in time, both Southern Co and Facebook beat the market. From then to now, Southern Co delivered annualized returns of 12%, Facebook delivered annualized returns of 44.8%, and the S&P 500 Index, representative by SPDR S&P 500 ETF Trust (NYSEARCA:SPY), delivered annualized returns of 7.8%.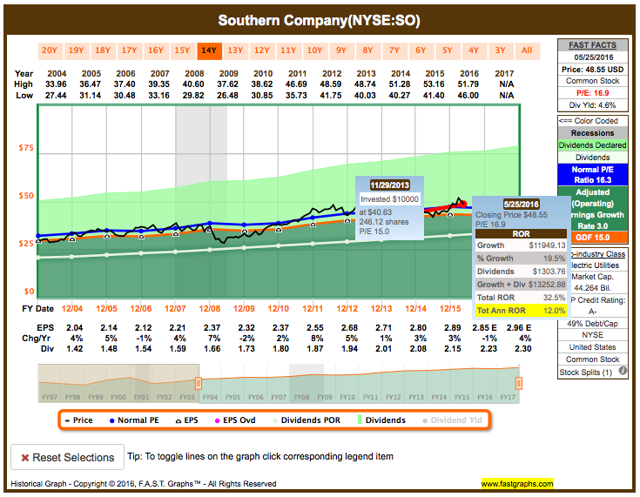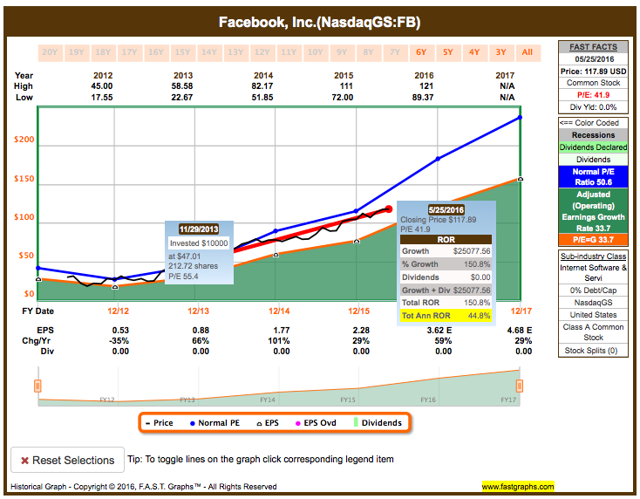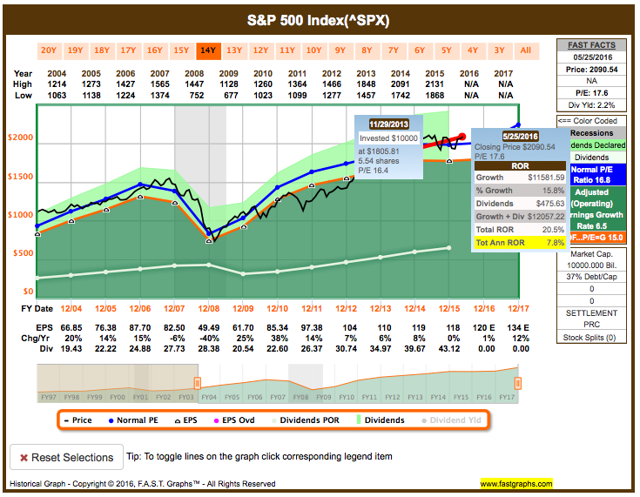 Of course, comparatively, Facebook greatly outperformed Southern Co. So, it goes back to the question of, do you really want to beat the market, or should you aim for something more specific than that?
Imagine we're back in November 2013, and we didn't have the knowledge of now. Would you have been comfortable with investing in Southern Co? How about Facebook?
If yes, would the intention have been to beat the market? Probably not.
Do you really want to beat the market?
To beat the market, one could have invested in either Southern Co or Facebook in November 2013. However, until now, does it matter if they beat the market or not?
An investor would probably have bought Southern Co then as a steady, quality investment to collect an above-average yield that's expected to grow.
An investor would probably have bought Facebook at that time in the hopes that it'd grow rapidly like some other tech companies before it.
Conclusion
I think trying to beat the market is like parents trying to get their kid to get straight A's. The kid doesn't need straight A's to get to her dream of becoming a fashion designer. She does need to be creative, have the ability to turn abstract ideas into concrete drawings, and develop great networking skills.
Before trying to beat the market, let's take a step back and look at our goals. For the next five, ten, twenty, or thirty year periods, do we want income or exceptional growth?
The more specific we can get, the easier it is to pick stocks to reach our goals -- not to beat the market -- because it doesn't matter whether we beat the market at the end of those periods. It matters whether we've achieved our financial goals -- whatever they may be.
For example, a retiree would want income that can grow to maintain their purchasing power, while a young investor would probably benefit from having more exposure to companies with higher growth.
Share in the comments below!
Do you try to beat the market?
If you like what you've just read, you can also follow me for free! Simply click on the "Follow" link at the top of the page to receive an email notification when I publish a new article.
I also run a premium service for my subscribers who get priority attention and gain access to my real-time buys and sales. Feel free to try the service for free for two weeks.
Disclaimer: This article consists of my opinions and is for educational purposes only. Please do your own research and due diligence and consult a financial advisor and or tax professional if necessary before making any investment decisions.
Disclosure: I am/we are long FB.
I wrote this article myself, and it expresses my own opinions. I am not receiving compensation for it (other than from Seeking Alpha). I have no business relationship with any company whose stock is mentioned in this article.