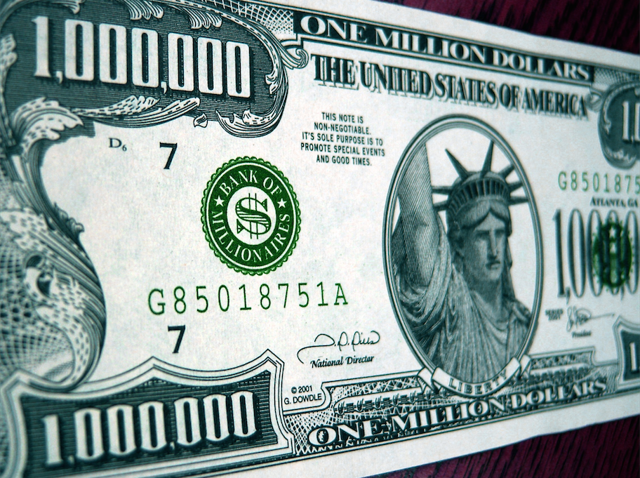 The Federal Open Market Committee released the minutes from its April meeting on May 18th, which included:
participants generally saw maintaining the target range for the federal funds rate at 1/4 to 1/2 percent at this meeting and continuing to assess developments carefully as consistent with setting policy in a data-dependent manner and as leaving open the possibility of an increase in the federal funds rate at the June FOMC meeting...Most participants judged that if incoming data were consistent with economic growth picking up in the second quarter, labor market conditions continuing to strengthen, and inflation making progress toward the Committee's 2 percent objective, then it likely would be appropriate for the Committee to increase the target range for the federal funds rate in June.
The specific reference to the June meeting gave the markets a fit, and nearly everything sold off briefly. The broader market then relented, with the S&P 500 (NYSEARCA:SPY) up 2.18% since then, ostensibly saying that higher rates mean the economy is in good shape.
But the securities that are hurt by a stronger dollar did not recover as much, and in some cases like Gold (NYSEARCA:GLD), continued to sell off.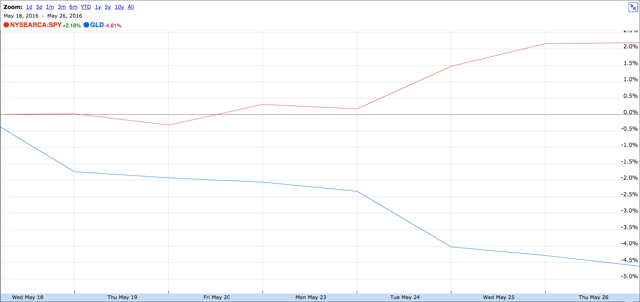 The key word the Fed used is "data," which is rightly always the Fed's key word. The FOMC minutes were not saying that the Fed was going to raise rates, but rather - for umpteenth time - that the Fed generally thought that data might be good enough in the near future to raise rates.
The Fed literally never gives a statement without saying it thinks the future looks at least pretty good. It can't say otherwise, and one could argue that it would be a crime to do otherwise.
The Fed has a dual legal mandate for full employment and price stability. Even if the Fed was convinced that the future was bleak, it could never say so, because as we saw from the May 18 basically non-statement, businesses and the market react to anything the Fed says. If the Fed honestly thought the economy was doomed and said so, it would quickly become a self-fulfilling prophecy, and the Fed would be doing the opposite of creating full employment and price stability.
Have a look at the increasingly ridiculous looking "Fed dots" - the FOMC members' opinions of where the federal funds rate will be in the near future: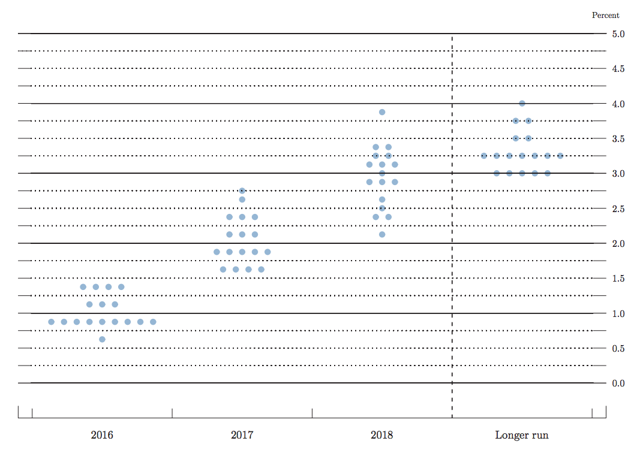 Short of a miracle, there is almost no prayer that Fed member banks will be charging each other a 3% annualized overnight lending rate in two years. And not only that, but there is also almost no way the FOMC members actually believe this is where the rates will be.
FOMC members are some of the most qualified economists around, and they are well aware that money is being spent at its slowest recorded pace ever, and slowing for years (aka secular stagnation) with no letup.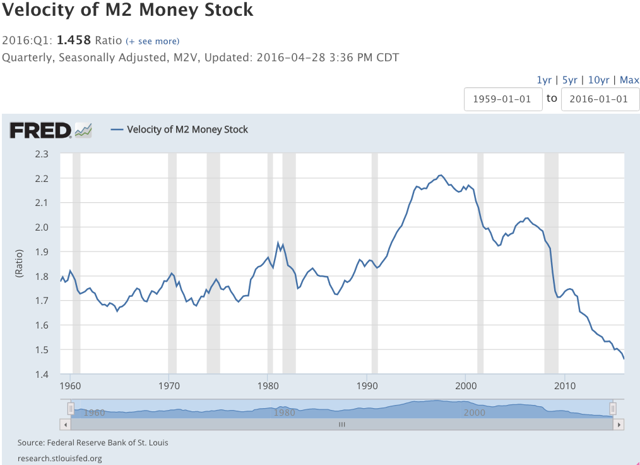 The latest economic data has jobless claims coming in a little better than expected, and housing starts are encouraging as well. Durable goods orders are also coming in strong, but business investment is weak.
But perhaps most importantly, and certainly most on the nose, is the personal consumption expenditures excluding food and energy (the Fed's measure of inflation). Core PCE is up 1.6 percent from a year ago in the latest numbers. The Fed's target is 2%, and inflation has remained stubbornly below that target. Raising rates would have the effect of lowering that 1.6% all else equal.
It's also important to point out that being below the target inflation rate is much more troublesome and potentially risky than being above it. If inflation is too high, there's an app for that - raise rates. But if inflation is too low, and rates are already near zero, the Fed has to get experimental to ward off deflation - twisting, easing, or charging negative rates.
The bottom line: the market reacted strongly in some areas to the Fed minutes, but the statement basically said nothing, and the status quo of a June non-hike and subsequent bounce back in the securities that were weakened looks likely.
The Securities
Gold certainly could get a bump if the Fed does not do a dollar-strengthening raise; it's got about 5% to revert.
But we think that going forward the pattern of a Fed panic that is ultimately unfounded will play out a number of times, and these are opportunities to nab some dividend yield and play a swing back to pre-panic levels.
The dividend payers that will do best after the panic and before the non-event will be the ones that benefit from a weak dollar, meaning exporters. Here are eight stocks that we think qualify. Each gets most of its sales internationally, is yielding better than 3%, and has underperformed the S&P 500 since May 18th (data from ycharts.com):
1) General Electric (NYSE:GE)
Foreign Sales as % of Annual Revenues: 54.61%
Performance Since May 18: 1.04%
Yield: 3.07%
2) Caterpillar (NYSE:CAT)
Foreign Sales as % of Annual Revenues: 59.12%
Performance Since May 18: 1.44%
Yield: 4.27%
3) Boeing (NYSE:BA)
Foreign Sales as % of Annual Revenues: 59.12%
Performance Since May 18: -2.45%
Yield: 3.09%
4) Procter & Gamble (NYSE:PG)
Foreign Sales as % of Annual Revenues: 60%
Performance Since May 18: 0.74%
Yield: 3.27%
5) Chevron (NYSE:CVX)
Foreign Sales as % of Annual Revenues: 62.02%
Performance Since May 18: 0.74%
Yield: 4.22%
6) Exxon (NYSE:XOM)
Foreign Sales as % of Annual Revenues: 62.22%
Performance Since May 18: 0.32%
Yield: 3.27%
7) Dow Chemical (NYSE:DOW)
Foreign Sales as % of Annual Revenues: 65.52%
Performance Since May 18: 0.92%
Yield: 3.39%
8) Philip Morris (NYSE:PM)
Foreign Sales as % of Annual Revenues: 100%
Performance Since May 18: -0.83%
Yield: 4.10%
Conclusion
The FOMC's April minutes did not say anything new, yet the market reacted negatively for securities that do well with a weak dollar. Economic data is mixed, but is clearly not meeting at least one of the Fed's two goals. Given this, a non-raise and reversion for the stocks that took a hit look likely, and these eight stocks are likely to get a lift as rate fears are assuaged.
Get More Ideas Like This One
If you like this idea and would like to find more of our favorite ideas in the market, check out our newly launched Best Overall Return Assets subscription service.
Please follow us by clicking "follow" next to "Premium Research" at the top of the page under the article's title.
Disclosure: I/we have no positions in any stocks mentioned, and no plans to initiate any positions within the next 72 hours. I wrote this article myself, and it expresses my own opinions. I am not receiving compensation for it (other than from Seeking Alpha). I have no business relationship with any company whose stock is mentioned in this article.