I called for Microsoft (NASDAQ:MSFT) to quit making cheap Lumia Windows phones ten days ago. I said it would be smart if Microsoft stopped competing with other Windows phone makers like Acer. My wish came true. Microsoft made it very clear two days ago that it is getting out of the entry-level phone hardware business.
Selling sub-$60 Lumia phones was a hard-earned lesson for Microsoft. The people who buy entry-level phones are unlikely to buy annual subscriptions to Office 365. Nadella now wants to focus solely on making phones for enterprise customers and consumers who appreciate phones with Continuum features. This move will let top PC vendors (now also phone vendors) like Acer to be more enthusiastic in supporting Windows 10 Mobile.
I firmly believe that profit margin consideration is why top PC and Android phone vendors like Lenovo (OTCPK:LNVGY) never made any move to make low-end Windows 10 Mobile handsets. It would be detrimental to Lenovo to sell $80-$100 Windows 10 phones when Microsoft itself was selling sub-$60 Lumia phones.
Below is a partial screenshot from the PR News Wire press release of Microsoft. Microsoft's streamlined phone hardware strategy is now intended to the types of customers who made Surface Pro very successful.

(Source: Microsoft/PR News Wire)
Microsoft already wrote off $7.6 billion over its phone business last year. Another $1.15 billion impairment this year should not be as painful. The more important thing now is that Nadella is retrenching most of the 32,000 employees it inherited from Nokia (NYSE:NOK).
Microsoft also got $350 million when it sold its Nokia-branded feature phone business to Foxconn last week. This money from Foxconn will reduce the impact of the $1.15 billion impairment.
Microsoft Failed In Mobile Advertising
Unlike Google (NASDAQ:GOOG) (NASDAQ:GOOGL), Microsoft does not yet have an effective advertising strategy on how it could monetize buyers of entry-level phones. I believe Microsoft could only recoup the hardware losses it incurs from selling sub-$60 Lumia handsets via mobile ads.
Unfortunately, its Bing mobile search engine has less than 2% market share in phones and tablets. Google was willing to sell $50 Android One phones because it knew it can make money from them through search and app-install ads.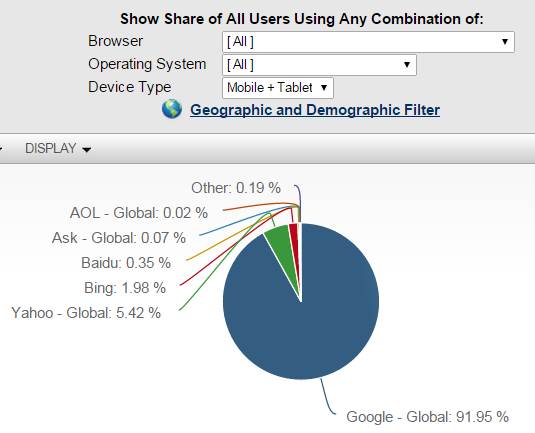 Making the Bing Search app available to Android users and iOS device users is clearly not helping Bing Ads acquire more advertising eyeballs. If it was effective, the more than 1 billion users of Android devices would have helped increased market share of Bing Search on mobile.
Microsoft also does not own any popular social networking-based mobile apps like Facebook (NASDAQ:FB). There is no way Microsoft could ever get a foothold in the lucrative mobile-app install business. Instead of buying Nokia's phone business, Microsoft should have bought Facebook before it did its IPO. Facebook is now enjoying 989 million of mobile daily active users. Having such a massive presence among the lives of mobile device owners allowed Facebook to rake in an estimated$6.4 billion from app-install ads last year.
In short, Microsoft is like Apple (NASDAQ:AAPL). These two decades-old companies are ineffective when it comes to mobile advertising. Apple disbanded its iAd sales team last January. Come June 30, Apple will also shut down its iAd App Network. Microsoft unloaded its digital display ads business to AOL last year.
My point is that Microsoft's new focus on high-margin, enterprise-centric smartphones is it trying to be more like Apple. Microsoft tried the cheap-phones-for-building-ad-audience tactic but failed to build an advertising platform.
Microsoft wants to focus more on going after Apple's high-end phone business.
Furthermore, I am hopeful that the exit from entry-level phones will help Microsoft reverse its weakened efficacy. The ROE and ROI of MSFT went down south after it bought Nokia's phone business.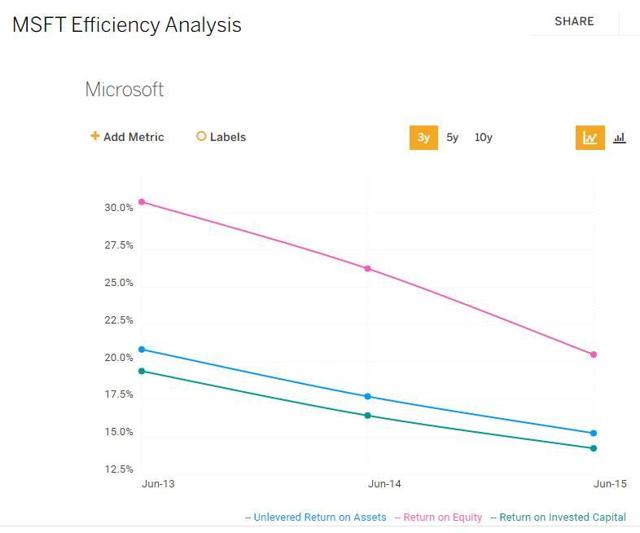 ((Source: Finbox.io)
Weakened Android Patent Licensing Fees
Another reason why Microsoft can no longer afford to sell cheap phones is that it no longer makes as much money as it used to from Android licensing fees. I argued two years ago that the easy money from Android patent licensing fees was financing Microsoft's foray into phone manufacturing.
I guesstimated back then that Microsoft was getting as much $2.6 billion in annual licensing fees from Android device manufacturers. Unfortunately, Nadella decided to sacrifice these patent fees to induce device makers to pre-install Microsoft mobile apps on their Android products. Microsoft offered discounts on licensing fees if Android OEMs pre-install its mobile apps (like Skype or Outlook) on new Android phones and tablets.
Without the same amount of revenue from licensing fees, Microsoft has less throwaway money to subsidize the selling of sub-$60 Lumia phones.
Final Thoughts
I strongly agree with this decision of Nadella. Quitting the entry-level phone business will likely encourage PC manufacturers to support Windows 10 Mobile devices. I am still confident that Microsoft can hit its target of putting Windows 10 on 1 billion devices by end of 2018.
Microsoft announced earlier this month that Windows 10 is already running on 300 million devices. As traditional PC sales continue its downtrend, I expect Acer and other PC vendors to shift their focus to Windows phones and tablet. Microsoft is still offering free Windows 10 and Windows 10 Mobile licenses to manufacturers of devices with 9-inch or smaller displays. This deal covers computers, tablets, and smartphones.
On this note, I am wishing again for an Intel-powered smartphone from Microsoft. The upcoming Surface phone project should not be powered exclusively by ARM-based processors of Qualcomm (NASDAQ:QCOM). I believe that only an x86 processor can effectively deliver the smartphone-as-a-computer concept of Continuum.
Letting enterprise customers have an Intel-powered Surface phone with full Windows 10 (not the watered down Windows 10 Mobile) is a killer idea. Enterprise users will appreciate being able to run their custom legacy Win32 apps inside an Intel-powered phone.
Intel's Atom x5-8300 processor made it possible for a Chinese company to build a pocket computer with a 5-inch touchscreen display, and running the full version of Windows 10. Microsoft only needs to create a $600 phone version of the $99 GOLE 1 all-in-one computer. This feat is something that Apple and Google could never replicate.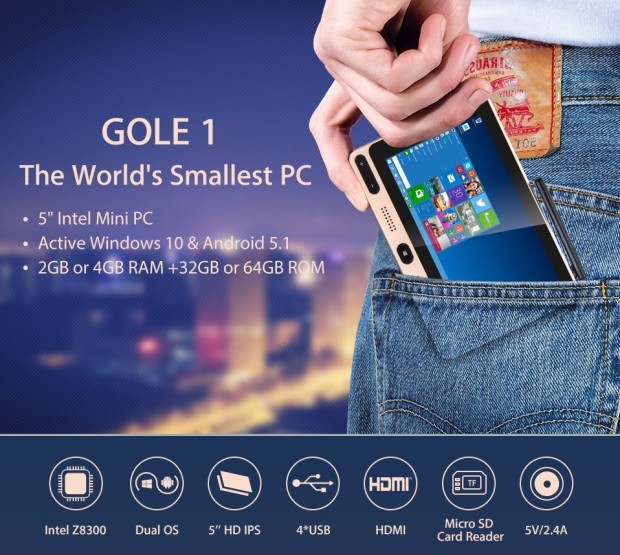 (Source: armdevices.net)
Using a Snapdragon processor will only render the Surface phone as just another rebranding of the Lumia 950. If Microsoft is really serious in creating a high-end phone for business users, it would use the same x86 processors that made the Surface Pro tablet successful.
The next high-end phones from Microsoft ought to have x86 and ARM-based versions. Let the customers decide which one will be most useful to them.
Disclosure: I am/we are long MSFT, INTC, AAPL, GOOG.
I wrote this article myself, and it expresses my own opinions. I am not receiving compensation for it (other than from Seeking Alpha). I have no business relationship with any company whose stock is mentioned in this article.