Silicon valley darling, Twilio (TWILO), publicly filed its S-1 IPO filing on Thursday revealing a host of interesting highlights for investors to digest along with lofty ambitions as it attacks the $1.5 trillion communication services market, and more specifically the $46 billion programmable voice, messaging, video, and authentication segment.
Twilio, founded in 2008 and backed by $237M in funding capped by $130M round last July by T. Rowe Price, offers software communication tools for developers to use to create customized communication solutions for their company's specific needs. So, Twilio empowers Uber developers to create an anonymous cellphone communication exchange for drivers and riders, OpenTable developers to create apps that notify diners when a table is ready, airlines to notify flyers flight updates, delivery companies to notify customers of package deliveries, and so on.
Twilio's stated goal is to fuel the future of communications and to be in the toolkit of every software developer in the world; their IPO filing shows they're well on their way.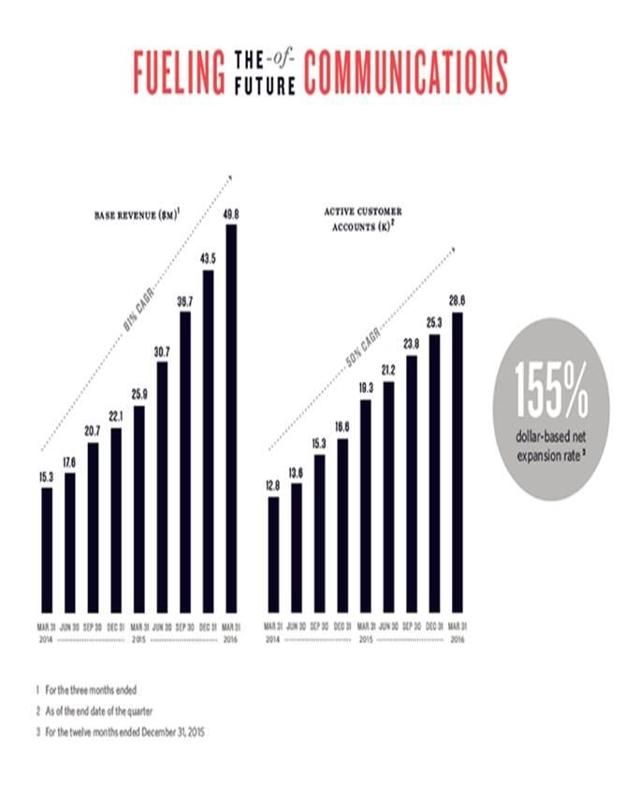 First a few Operational & Financial highlights (at March 31, 2016) to call out:
Over 900,000 developer accounts registered on the platform (not necessarily paying
Over 28,600 Active Customer Accounts (those that spent at least $5.00 on the platform in the last month of the quarter)
48% quarterly growth in Active Customer Accounts yet 92% growth in "Base Revenue" from Active Customer Accounts (more later on this)
Operates in over 180 countries, with 15% of revenue generated internationally showing quarterly growth in Q1:16 of 85%
Global Super Network of 22 cloud data centers across 7 regions
$193M in trailing twelve month revenue ($59M for first quarter 2016, up 78% year-over-year)
55% gross margin (up 7 percentage points since 2013)
Quickly scaling toward net income profitability: Net loss margin declined from negative (54%) in 2013 to (30%) in 2014 to (21%) in 2015 to (11%) in Q1:16 - sales & marketing and G&A showing scaling to profitability in 2017
Twilio is clearly on an incredible growth trajectory with a market leading platform and undoubtedly has power to melt a cold IPO market. That said, two defined metrics focused on in the S-1 seem to be salesy-focused and present limitations to take note of:
"Base Revenue" and "Dollar-Based Net Expansion Rate" Slightly Smoke-in-Mirrors Key Metrics?
Twilio does a bit of definitional customer and revenue segmentation in its financial presentation to focus investors on a "Base Revenue" figure, likely to 1) help position itself as an accelerating growth story to investors and 2) minimize perceived reliance/exposure on larger customer accounts not under minimum revenue contracts:
Base Revenue Segmentation to Best Position "Accelerating" Growth
Twilio calls out 9 "Variable Customer Accounts" which are those without a 12-month contract with minimum revenue who also represented 1% of revenue in any year / quarter. Twilio pulls these accounts' revenue contribution from its "Base Revenue" definition.
Why segregate out Variable Customer Accounts and focus on Base Revenue? Base revenue grew 81% in 2015 and is up 92% in Q1:16 (nice acceleration / exponential growth), whereas Variable Customer Account revenue grew 129% in 2015 but only 28% in Q1:16 (these accounts have declined from 22% of revenue in 2015 to 16% in Q1:16)
The Variable Customer Account definition also seems to miss fully answering what Twilio's total customer concentration is given it would exclude customers representing 1% of revenue or more but that DID HAVE a 12-month contract with minimum revenue (it was disclosed two customers represented 25% of accounts receivable at March 31, 2016, down from 33% at year end 2014)
Dollar-Based Net Expansion Rate Calculation to Most Favorably Present "Same Customer" Growth
Twilio introduces investors to a key metric called "Dollar-Based Net Expansion Rate", which they calculate by identifying the cohort of Active Customer Accounts (excludes Variable Customer Accounts) that were active in the same quarter of the prior year and is the quotient obtained by dividing the revenue generated from that cohort in the quarter by the revenue generated from the same cohort in the corresponding quarter of the prior year.
What's the issue with this metric? Survivor bias - if only the "currently active" customer accounts are compared to their prior quarter revenue, it seemingly excludes lapsed customers to most favorably present "same customer" growth relative to a more stringent "full cohort" comparison which compares all Active Customer Accounts revenue from prior year to the then current quarter's revenue contribution from those same prior year Active Customer Accounts (i.e. the below cohort chart)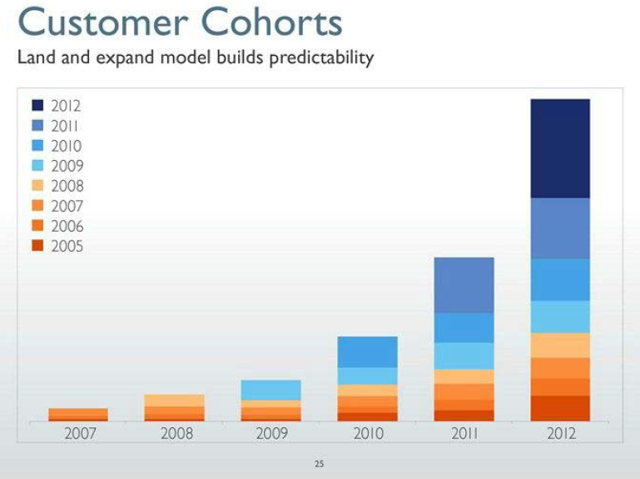 No fault to Twilio or its bankers to help focus investors and the street on "Base Revenue" and "Dollar-Based Net Expansion" metrics as they look to best thaw a cold IPO offering environment, and perhaps time will tell whether these metrics are the best predictors in quarters to come--I hope so for Twilio's sake as this is a great success story empowering not only developers, but also consumers to more fully engage and interact with companies they love.
We look forward to posting a follow-up shortly on valuation estimates and considerations for Twilio...
Disclosure: I/we have no positions in any stocks mentioned, and no plans to initiate any positions within the next 72 hours.
I wrote this article myself, and it expresses my own opinions. I am not receiving compensation for it (other than from Seeking Alpha). I have no business relationship with any company whose stock is mentioned in this article.