It is readily apparent to those following the comments coming from Saudi Arabia that they are in a fight to protect oil (NYSEARCA:USO) market share. In a pair of articles written last week, I covered the logic behind a Saudi price war focused on market share. For those interested in the background, they can check them out here:
• Saudi Arabia Can Produce Much More Oil, But Will It?
• Make No Mistake: Saudi Arabia Is The Strongman Of Oil Markets
There have been a few signs of an escalating price war between various producers. Saudi Arabia has prevented Iranian ships from docking in Saudi ports, massive numbers of tankers have been piling up around Southeast Asian hubs. But, most notably, Russia has been gaining Chinese market share from Saudi Arabia. China is one of, if not the largest growing markets for oil demand. It will need to secure a significant amount of fuel for its growing automobile fleet. Crude exports from Russia to China are up more than 50% from the same time a year ago, while Saudi Arabian imports are down nearly 22%.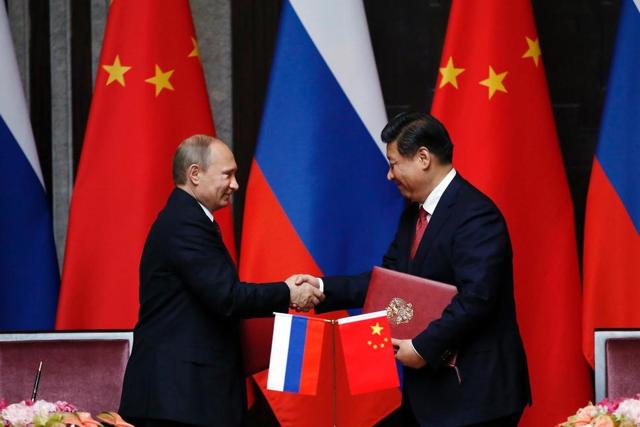 Source: US News
Teapot Refiners
Speculation on the reason for the rise in Russian imports follows the idea that small "Teapot" Chinese refiners create a market for high-margin, local crude oil. Teapot refiners are small, usually utilize less efficient technology and are dependent upon large crude margins to swing a profit - they make up as much as 25% of China's refining capacity.
Due to the small size, inefficiency and cost structure, they require oil that can be purchased at a discount and come with low transportation costs. They typically import small individual shipments of crude rather than large VLCCs or Suez Max tankers that carry substantial volumes. As crude prices have dropped and refining spreads in China have grown, the Teapot industry has grown with it.
Russia has taken advantage of the scale of these refiners and snapped up this spare capacity - a loss for Saudi Arabia. While concern about credit terms has been one setback for Saudi Arabian oil in the past (a concern that Russia seems to have brushed off), recent shipments by Saudi Arabia to independent small scale refiners in China points toward competition for this renewed market.
China And Russia Locking In Long-Term Contracts
With an ever-widening global influence, China is securing its long-term needs across many sectors. In oil, the government has gravitated toward Russian supplies for those guarantees. The Eastern Siberia-Pacific Ocean Pipeline owned by a group of Russian and Chinese energy companies will likely triple in throughput from 36 million barrels per year to over 100 million barrels per year by 2020. And those same long-term contracts can be utilized in future negotiations with the Kingdom.
However, Russia has a clear location advantage that would require SA to discount product to regain market share. Despite Russian dominance in China over the last year, SA still has a few tricks up its sleeve. Saudi Arabia produces oil for much less than many Russian oil projects. A discount for SA crude at face value would shrink the bottom line, but if you believe as this author does - that Saudi Arabia is concerned about stranded assets - then market share could dominate price control as China moves to lock in long-term contracts.
China's View
Whether Saudi Arabia wants to gain market share dominance in China may not be up to them. As authors Marcin Kaczmarski and Szymon Kardas point out:
"From Beijing's perspective, the supplies of oil from Russia have privileged status due to their strategic importance. The major portion of the oil China imports is supplied via an overland pipeline which connects the two countries with no transit states between them. This makes it possible to reduce the share of oil imported from the Middle East, which currently accounts for more than a half of total oil imported by China. The Middle East is increasingly exposed to geopolitical turbulence."
Such benefits ascribed to Russian oil over Saudi Arabia oil provide a growing concern for SA market share. As turmoil in the Middle East continues, SA may find China leaning closer and closer to the Russian bear. If SA does decide to fight for market share in the region, we could see oil prices around the world take a hit. Furthermore, SA and Russia are not the only oil exporters fighting for vaunted Chinese demand. Iraq and Iran have been escalating imports over the past year as well.
Conclusion
The outcome is far from simple. While it wouldn't be surprising to see a price war initiated by the teapot refiners in a fire sale situation, China has proven to take long-term views over short-term gains in the past. Price wars are more likely to play out in Southeast Asian countries where demand continues to grow and where free markets dominate long-term fixed contracts.
In a few scenarios, I see a price war leading to downward oil price shocks - if OPEC producers continue to increase production, in the inevitable situation when shale oil producers reduce costs below $30/barrel, and in a global demand destruction scenario, all caution will be thrown to the wind. China's influence is growing, and Russia is proving to be a cozy neighbor for the regime.
Afterword - If you found this article interesting and have an interest in future articles, head to the top of the article next to my name and hit follow. It will always be free, and allows me to continue to reach a broader audience and keep writing. PM me if there are any specific aspects of the oil and gas industry you would be like to know more about.
Disclosure: I/we have no positions in any stocks mentioned, and no plans to initiate any positions within the next 72 hours.
I wrote this article myself, and it expresses my own opinions. I am not receiving compensation for it (other than from Seeking Alpha). I have no business relationship with any company whose stock is mentioned in this article.
Additional disclosure: This article is based on opinions and are subject to error. It is not investment advice and should not be used as such.