As a value investor, I'm always on the hunt for good companies selling on the cheap. When I see a company that has a strong brand and a beaten-down share price, I get very interested. These days, with the S&P 500 Index sitting around 20 times earnings, cheap stocks are hard to find. But one I found to be irresistible is biotech giant Gilead Sciences (NASDAQ:GILD). Gilead has had a brutal year.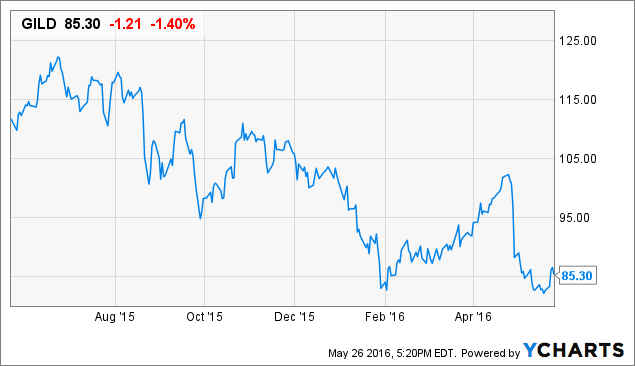 After climbing above $120 per share last June, almost a year later, Gilead sits at $85. This is despite the fact that the company has reported huge revenue and profits at that time. I believe the reason for the sell-off is that investors are worried the company is about to experience a significant drop-off in sales. This has caused traders to run for the exits.
But this is where long-term investors can seize an opportunity. Fears over Gilead's future growth are short-term. It has a stellar balance sheet, which it can use to acquire growth through M&A, and it has a strong internal pipeline. The long-term picture looks good. The stock is dirt cheap, which is why I recently initiated a position at $85.57 per share.
Fears Over Gilead's Pipeline are Overblown
Gilead's stock was already trending down as 2016 began, but the selling pressure intensified when the company issued its first-quarter earnings report. The stock fell 9% on the day it reported, and hasn't reversed course since. Investors seemed to get spooked by the slowdown in Gilead's growth. Revenue came in at $7.8 billion, which was a 2% year over year increase. But worldwide sales of Gilead's flagship Harvoni declined 15%. The company's key Hepatitis drugs Harvoni and Sovaldi, which collectively make up more than half of Gilead's total revenue, are likely to face even more pricing pressure going forward, as competitors try to get a piece of the pie.
Gilead managed to grow revenue overall last quarter, but it was a far lower growth rate than in previous periods. Now, investors are worried about revenue declining this year. Gilead management expects revenue to decline 3%-6% this year. If earnings decline, one would expect to see a declining stock price. But at 7 times EPS, Gilead's sell-off seems overdone. The valuation is at extremely depressed levels.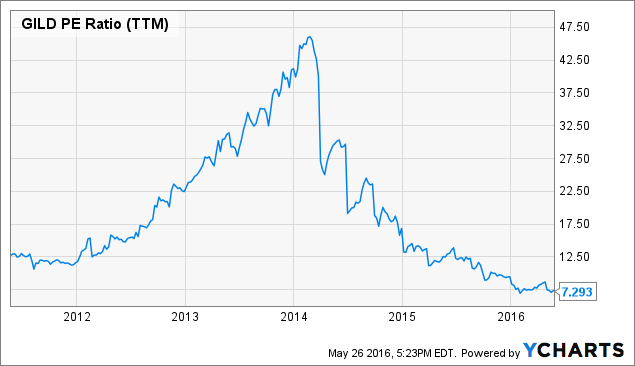 The company would have to experience a massive decline in revenue and earnings to make its current price a bad investment from here. For example, even if Gilead's earnings decline 25%, Gilead's P/E is only 10. That's still roughly half the market multiple.
Clearly, the most important thing for a biotech company is its future product pipeline. But at such a cheap valuation, the market is pricing in a worst-case scenario which I think is too negative. It's not as if Gilead's pipeline is completely empty. Its pipeline grew to 21 products last year. It has properties either recently submitted to regulators or in phase 3, in areas like HIV, liver disease, and oncology. In HIV, the company stated that the recent regulatory approvals of Odefsey, Descovy, and Genvoya, can set the stage for a successful HIV franchise. There are already good results in this area; HIV sales rose 19% last quarter, to $2.9 billion. Separately, sales of cardiovascular and respiratory products rose 19%.
And, there is always the potential for a major acquisition. Gilead still generated $20 billion of operating cash flow last year. It's simply a cash machine.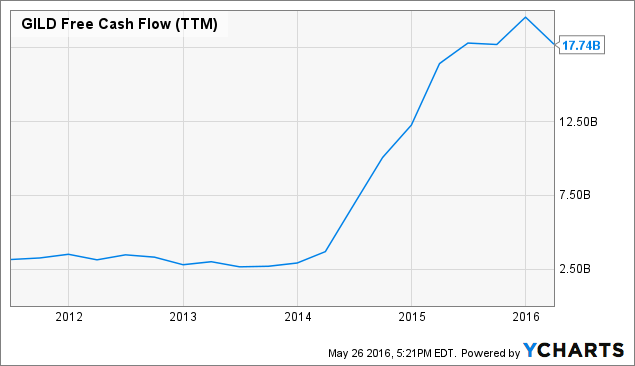 This cash flow is really piling up. Gilead now has $21 billion in cash and investments on its balance sheet. It can use this cash to either invest heavily in organic research and development, or it can just go the M&A route and buy a smaller competitor. This could be the quick and easy way to produce future growth, and management has hinted on conference calls that they are open to doing more deals.
Cash Returns, Valuation Make Gilead Stock a Buy
Gilead is in an enviable position. Because it generates so much cash flow, it can afford to invest in future growth, and reward shareholders with billions in dividends and buybacks. In February, Gilead raised its dividend by 9% and unveiled a $10 billion addition to its stock buyback program. It has a 2.25% dividend yield, which is a nice added kicker. Gilead should easily be able to continue raising its dividend each year, and its buybacks should help grow future earnings.
In a way, Gilead is a victim of its own success. There is only so much negativity surrounding it because of what a home run its HCV drugs have been. From a long-term perspective, Gilead has a very strong management team and I am not worried about its future prospects. With a P/E of 7, Gilead is too cheap to ignore. The stock looks extremely attractive for both value and income, which is why I'm adding it to my portfolio.
Disclaimer: This article represents the opinion of the author, who is not a licensed financial advisor. This article is intended for informational and educational purposes only, and should not be construed as investment advice to any particular individual. Readers should perform their own due diligence before making any investment decisions.
Disclosure: I am/we are long GILD.
I wrote this article myself, and it expresses my own opinions. I am not receiving compensation for it (other than from Seeking Alpha). I have no business relationship with any company whose stock is mentioned in this article.