Union Pacific (NYSE:UNP) has completely plummeted last year, as the stock dropped as low as $70. The weakness in commodities has taken a huge toll on Union Pacific, but I believe the stock has fallen way too far, as Union Pacific still has one of the best rail networks in the United States, with a huge moat, and now a quite attractive dividend yield. The crash in crude oil prices took a huge chunk out of Union Pacific's latest earnings, crude is on its way up, and with that would be margins generated from transporting oil. However, unlike oil, the coal industry looks like a nightmare right now, as coal revenues dropped significantly last quarter. These numbers were enough to scare away most investors, but when the fear level is high, it is probably time to start buying, especially considering Union Pacific's terrific management team that is committed to driving efficiency and returning value back to shareholders.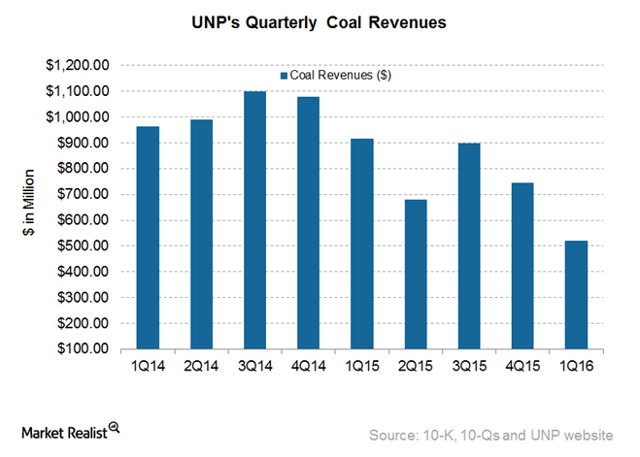 Union Pacific's high coal exposure may be a long term headwind
There is no question that the decrease in coal demand is very troubling for Union Pacific. Coal revenue decreased a whopping 43% last quarter, with a 34% decline in volumes and a 13% decrease in average revenue per carload. There are many temporary reasons for why coal demand is low, the warm winter, low natural gas prices and low oil prices. These headwinds will inevitably fade, once the commodities rebound from their slumps, but what is more worrisome is coal's reputation for being a dirty energy source. As renewable energy sources come out, we may see coal demand slump for the long term, as it looks to be on a nasty secular decline. Unfortunately for Union Pacific, most of its revenue comes from shipping coal, accounting for 43% of freight revenue, as they are not as diversified as other railroads such as Canadian National Railroad (NYSE:CNI), which is not dependent on the price of one specific commodity. While UNP is not very diversified across the products it ships, I believe the issue has been way overblown, especially considering UNP has management that has shown to be adaptable over the long run. Management expects further decline in coal shipments for the rest of 2016, and predicts high inventory stockpiles will continue to drag UNP down in its coal delivery segment.
Management is aggressively slashing costs to drive long term earnings
Union Pacific management is determined to respond to weaknesses in the coal industry by cutting costs where it can, to improve its operating ratio. EVP of operations Cameron Scott stated "near-term uncertainty remains in the current volume environment, we will continue adjusting our resources to demand while also realizing productivity through other company initiatives to further reduce costs." Management laid off 11% of its employees since last year and decreased its locomotive fleet by 15%. Management has a goal of continuing to improve efficiency to hit a target of 55%. While these efficiency efforts are unlikely to show any short term boosts to earnings, it will definitely reward long term shareholders, especially once commodities rebound, and the margin pressures are put to sleep. In Q1 2016, despite the horrid economic environment for all rails, Union Pacific still managed to report a strong cash flow, as operations produced $2.2 billion. The operating cash flow is still very attractive at 2.2 times the net income, with a very healthy free cash flow margin of 31.4%.
Conclusion
Union Pacific has major issues growing its revenue, as revenue dropped -14% year-over-year in Q1 2016. Over the last five years, Union Pacific has reported a very poor revenue growth of 3.8%. Management also gave a very bleak outlook, as it expects coal volumes to drop 30% YoY in Q2. The huge exposure to coal will not help Union Pacific, but I believe management is capable of adapting to a changing economic environment. Pessimism over the railroads is at all time highs, and it's very difficult to ignore Union Pacific's attractive valuation right now, especially considering all the pessimism is baked into the current stock price. The P/E, P/B, P/S, and P/CF are all lower than their five year historical averages, in fact, the stock is the cheapest its been since the great recession. The dividend yield is a lot higher at 2.7% than its five year historical average yield of 2%. Union Pacific looks a lot cheaper than many of its peers in the railroad industry. While the unpredictable nature of the commodity market will continue to make UNP a volatile stock, but if you're a long term contrarian investor, you should definitely buy into any dips, especially if the yield goes to a whopping 3%. If you've got an investment horizon of five years or more, now may be the time to pick up shares of UNP at a huge discount to intrinsic value. Investors can also reap the rewards of Union Pacific's stock buyback program, as 43 million shares are expected to be scooped up by the end of 2017. Buy it now, wait for more dips, and buy more because as we both know there is no bell that goes off when we reach a bottom in the stock price.
Disclosure: I am/we are long CNI.
I wrote this article myself, and it expresses my own opinions. I am not receiving compensation for it (other than from Seeking Alpha). I have no business relationship with any company whose stock is mentioned in this article.