Our portfolio has now reached almost $117K, which means we are up almost 17% since the 15th of January this year. I am particularly satisfied with our recent purchases which are all in the black. Micron (NASDAQ:MU), Chipotle (NYSE:CMG) and Priceline (NASDAQ:PCLN) are all well up from our buy-in prices which is encouraging as we go forward. Why? Well, as I have stated in previous articles, I believe the stock market has begun a new bullish cycle which will take a long time to top. In fact, the rally we have had in the S&P 500 (NYSEARCA:SPY) since February has been really strong (almost 13% move to date) and there is no way this market is going to come to an abrupt halt, especially considering the index printed a second daily cycle low on the 19th of May.
We are very much delta long stocks in our portfolio and will remain that way until I see an intermediate cycle top in stocks, which is a long way away yet. Speaking of stocks, we have to keep an eye on our Wal-Mart position which has rallied past $70 a share. We are long stock but also have sold a 2017 "leap" covered call to bring in more income. We collected the most recent dividend in May but now that the stock has gone past out call strike price ($70), we could be exercised on this contract before the company pays out its next dividend. In any event, we are well up on this trade having bought around the $65 mark a few months ago. If the stock gets "called" away from us at $70 in the near term, we will have made almost 10% in capital gains plus the option premium plus the two quarterly dividends we have already collected. This would equate to a double digit return just on Wall-Mart in three months.
Furthermore, we have had a nice move upwards also in Falcon Oil & Gas (OTCPK:FOLGF) which has gone from $0.07 to $0.12 over the last two months (primarily due to oil rallying). Things are really heating up with this stock as the unconventional oil and gas company's partners are about to start drilling once gain in the Beetaloo Basin this year. Remember that last year drilling was brought forward after better than expected results from one of the wells. Therefore this year (where fracking will take place for the first time in the northern territory) will be crucial. We will know how ongoing operations are going as results come back from the wells the partners (Origin (ASX:ORG) & Sasol) are going to drill this year.
However, I would urge my followers to keep some capital dry for what should become an excellent opportunity in the precious metals market in late June or early July. Although we may get a bounce in the near term as the 5 day RSI indicator is well oversold, the rally won't have legs and should rollover within a week of bottoming. I will call the bottom (which is when we will heavily add positions) in real time here on Seeking Alpha, but here are a few indicators that can help us in knowing when to pull the trigger.
The first is sentiment. Even though we have pulled back almost $70 an ounce in gold from the intermediate top a fee short weeks ago, sentiment has only retraced to the 50 level which is still far too high to even consider that a hard bottom is near. This has to retrace to at least under 30 (it retraced to 20 back in December) in order to remove more bulls from the sector. Sentiment has to reflect the following motto "You should be buying when you are scared to do so" and even though we have declined to below $1,220 an ounce, there are still far too many buyers in the market. Intermediate lows form when there is huge selling happening in the sector. We just are not anywhere near that stage at present.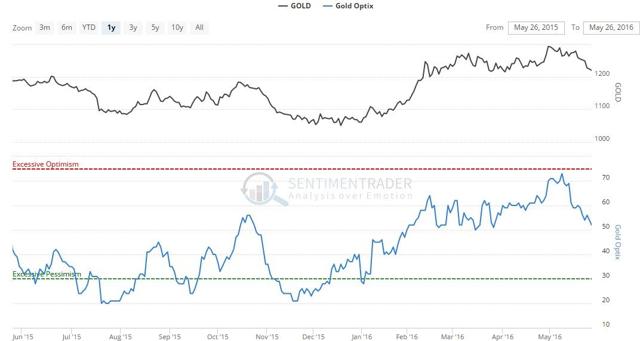 Source : Sentimentrader.com
Furthermore look at how overbought the slow stochastics are on a weekly setting. When we finally print an intermediate low in Gold, this indicator will be at much lower levels. I got asked from a follower about the vehicle of choice once gold turns around once more. Well it depends on the severity of the downturn. I still like Silver as it didn't participate all that much in the rally thus far in 2016. The mining complex vastly outperformed silver so we may go with something like (NYSEARCA:SLV) or even (NYSEARCA:AGQ) if the sector gets really oversold. Silver may be the shining star in the next intermediate rally especially if it gets taken down a lot over the next six weeks.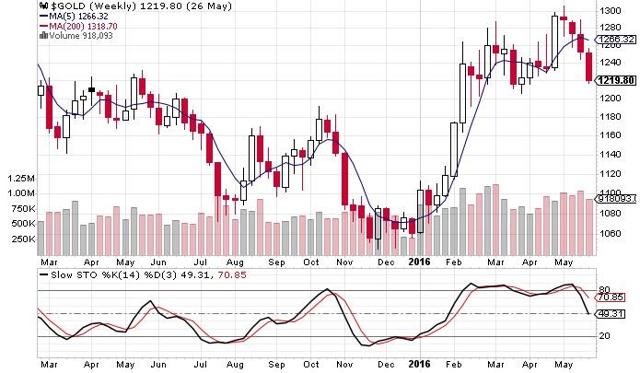 To sum up, I'm going to be adding a few good dividend and growth stocks to the elevation portfolio over the next several weeks, when I see value. It's imperative that they are not correlated and all don't have similar valuations, to ensure that income is brought in every month, which, over time, will increase our share count. Follow along by pressing the "Follow" button above.
Disclosure: I am/we are long MU, CMG, WMT, PCLN.
I wrote this article myself, and it expresses my own opinions. I am not receiving compensation for it (other than from Seeking Alpha). I have no business relationship with any company whose stock is mentioned in this article.
Editor's Note: This article covers one or more stocks trading at less than $1 per share and/or with less than a $100 million market cap. Please be aware of the risks associated with these stocks.