In this article, I will be looking at how the buyback boom among the largest corporations has reached a point where the bubble is about to burst. The buyback boom has been fueled by low interest rates, which has led to corporations taking on large amounts of debt. Some debt, dividends and buybacks are not a bad thing, especially when used in moderation and do not take away from investment in the underlying business. I looked at all thirty of the Dow (NYSEARCA:DIA) components and found that shares outstanding are at their lowest level in the last ten years and long-term debt is at ten-year highs. In addition, I found a two troubling signs, the first is cash flows have peaked and earnings to invest in the underlying business are at their lowest levels in ten years.
Shares Outstanding
As you can see in the chart below, shares outstanding for Dow components have been falling steadily except for a slight increase in 2010. I realize that a number of these companies were not in the Dow for all of this period; however, I viewed the data through the lens that they were. This is a clear example showing how low interest rates and subsequent debt large offerings have had an impact on share buybacks.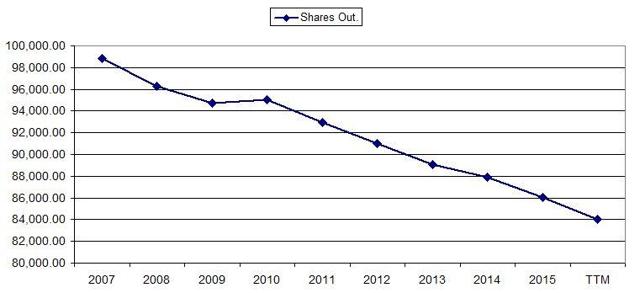 [Chart Data from Gurufocus]
Long-Term Debt
The chart below shows that long-term debt is at its highest level in the last ten years, which has fueled the share repurchases as referenced above. Debt held by the components of the Dow in 2007 totaled $1.006 trillion and is now at $1.405 trillion, which is an increase of 39.74%. Given interest rates are set to increase, these debt-fueled share repurchases I suspect will start to slow down because of slightly higher funding costs and the prospect of future rate increases.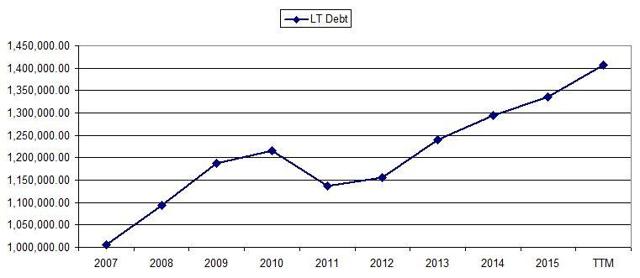 [Chart Data from Gurufocus]
Cash Flows
The next chart I will show is troubling because it shows that cash flows have peaked. As you can see in the chart there are two lines, the blue line is all the Dow components and the green line is all the Dow components except for JPMorgan (NYSE:JPM) and Goldman Sachs (NYSE:GS). I excluded those two because they have an overweight and volatile impact on cash flows from operations. Cash flows from operations for the Dow Ex: JPM & GS peaked in 2014 and has since declined in 2015 as well as in the ttm. The reason cash flows have peaked can be explained by a lack of investment in the underlying business, which I will show in the following "Retained Earnings" section.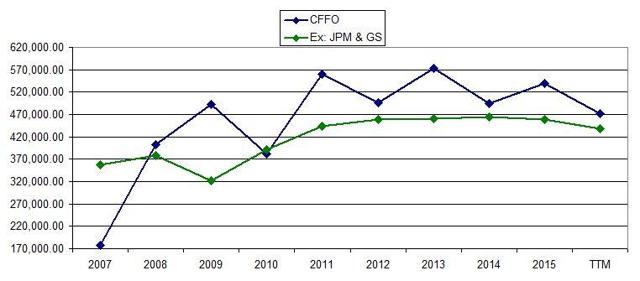 [Chart Data from Gurufocus]
Retained Earnings
The definition of retained earnings on Gurufocus is the "accumulated portion of net income that is not distributed to shareholders." The key word in that definition is accumulated, which means it is a running company lifetime total. This makes it easy to simply subtract the previous years total from the current years total to arrive at the amount of net income that is not distributed to shareholders that is available for the company to invest in growth, etc.
The final chart below shows that for the last four years the total change of all thirty Dow components as a percentage of cash flows has steadily declined. One of two things is happening here: either companies are earning less or they are paying more of their net income out in the form of buybacks and dividends. When looking at cash flows from operating activities, net income makes up a large portion for most companies, however as I showed above cash flows have stalled out. Therefore, the decline in retained earnings as a percentage of cash flows is due to more net income being funneled into dividends and buybacks. This is unsustainable given that this ratio is near zero, which is leaving nearly very little for companies to invest in their own business, which in turn lowers cash flows and the spiral downward continues.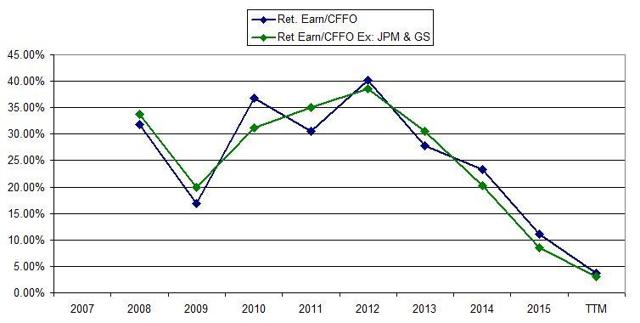 [Chart Data from Gurufocus]
Closing Thoughts
In closing, I believe the best way to play the end of the buyback bubble is to focus on those companies/ETFs that are focused more on dividend growth than buybacks. I believe that will be the case because once interest rates start increasing; issuing more debt at higher rates will make some buybacks unsustainable. Therefore, those companies that are buying back shares and not growing their underlying businesses I believe will be punished once the buybacks disappear or are significantly smaller. As earnings available to invest in growth are near the lows, this is the clear sign that either the trend will continue because more net income will be eaten up by dividends and buybacks or companies can reverse the trend and invest more in their underlying businesses, which should help with the stagnated and declining cash flows.
Disclaimer: See here.
Disclosure: I/we have no positions in any stocks mentioned, and no plans to initiate any positions within the next 72 hours.
I wrote this article myself, and it expresses my own opinions. I am not receiving compensation for it (other than from Seeking Alpha). I have no business relationship with any company whose stock is mentioned in this article.