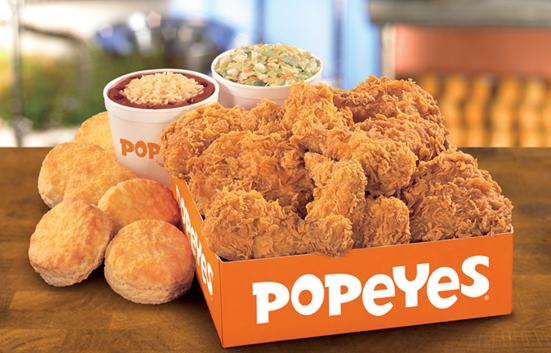 Popeyes Louisiana Kitchen (PLKI) has been one of my favorite longs in the QSR space for some time now. The company's impressive track record of growth and its ability to continue to grow attracted me and its menu innovation is at the heart of driving positive traffic. The stock, however, has not reflected that reality of late as investors have lost some faith in PLKI and other operators in the space. After a disappointing reaction to Q1 earnings, shares rebounded somewhat and are sitting at $54 as I write this. So is the growth story still intact despite the headwinds in Q1 or is it time to move on from PLKI?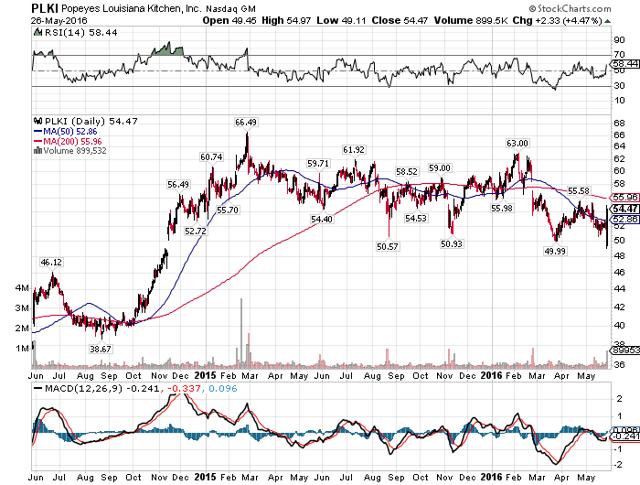 My bullishness on PLKI has been based upon two things; it continues to produce very strong comp sales despite its size and its profitability has continued to improve over time. Those things combined create a very powerful tailwind for earnings and with PLKI continuing to innovate with its menu with limited time offers as well as perfecting its core offerings, I still think PLKI has a long runway of growth ahead of it. But Q1 was certainly a hiccup; I'm just not sure if we should throw PLKI out the window because of a relatively weak quarter in a tough environment.
Total revenue for PLKI was up 3.4% in Q1 as the company continues to open new units and comp sales rose for the 21 st consecutive quarter here in the US. Global comp sales were +1.6% - a disappointing number for the likes of PLKI - but the international business carried the consolidated number as that segment was +6.2% on top of a similar gain in the comparable quarter last year. PLKI and others have said that Q1 was very promotional in the QSR sector so while I wasn't expecting a comp number as low as 1.6%, the fact that it was still that high means PLKI is continuing to deliver. It's just that the environment is such that growth rates of twice that much - more on the order of what PLKI is used to - are going to be harder to come by.
Lower chicken and grocery costs were more than offset by higher labor costs and new store underperformance, driving profitability measures at company-owned stores lower in Q1. But to be fair, PLKI is very profitable so even when it cedes some margin, it isn't as though it has disastrous consequences. Overall operating EBITDA moved down from 32.8% to 30.4% during the quarter and while that is a sizable drop, it is manageable. And as I said, PLKI is still creating operating profits at rough a third of revenue; so there's that. I don't like lower profitability any more than the next long but PLKI is working on its Strategic Roadmap and opening new stores, both of which are expensive to do but beneficial over time; one quarter isn't going to deter me.
Despite the "weak" Q1, PLKI reiterated its guidance for this year starting with comp sales. The company expects to see +2% to +3% in global comp sales this year, an improvement over Q1 to be sure. That implies that PLKI's relative weakness in Q1 is transitory and that's quite bullish. It also reiterated consensus EPS for the year and gave us some additional guidance on its buybacks, which I haven't mentioned yet.
PLKI says it will do $80 to $120 million in buybacks this fiscal year and that is a bunch for a company the size of PLKI. Its high profitability allows it to do these things and at the high end, would represent about double what it did last year. The company spent $30 million in Q1, putting it on track to hit the high end of its targeted range, and also managed to retire about 2.5% of the float in one quarter with that number. That implies that, should PLKI hit $120 million this year, we could see about 10% of the float gone and that's directly accretive to EPS regardless of what the business does. That's very bullish and given that analysts are only looking at mid-teens growth rates going forward, if PLKI gets two-thirds of that from buybacks, the rest will be fairly easy to attain from sales and margin growth.
That being said, PLKI isn't cheap by traditional measures at 26 times this year's earnings. That kind of multiple implies huge future growth and while PLKI has that runway as it continues to take market share, that's still a lofty valuation. I certainly don't think PLKI is priced for perfection because with its growth rate, 26 times earnings is pretty reasonable. However, the point stands that if investors lose faith in PLKI for some reason, the downside potential is sizable. But given all of that, PLKI's EPS growth in the mid-teens should be fairly easy to attain given the size of its buyback and footprint/comp sales growth so I'm still long. Q1 was a very minor setback and dumping the stock is the wrong move here. This is a long term growth story and it is still very much intact.
Disclosure: I am/we are long PLKI.
I wrote this article myself, and it expresses my own opinions. I am not receiving compensation for it (other than from Seeking Alpha). I have no business relationship with any company whose stock is mentioned in this article.