Seadrill Ltd (NYSE:SDRL), one of the world's leading offshore drilling contractors, has recently released its quarterly results, which were followed by 7.6% drop in the company's stock price.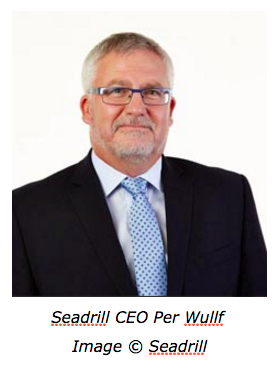 During the quarter, Seadrill's revenues dropped from $1.24 billion a year earlier to $891 million, thanks to persistent weakness in day rates. The company's operating income dropped 53% to $328 million while net profit plunged 82.7% to just $74 million. The bottom-line was hit by higher taxes as well as impairment and derivative charges. The company generated $294 million in cash flow from operating activities, down from $499 million a year earlier.
The poor performance, however, was hardly surprising. Seadrill, like other offshore drillers, has been struggling with declining day rates, thanks to the excess supply of floaters and jack-up rigs and drop in drilling activity caused by the slump in oil prices. The company's annual revenues are projected to drop to $3.45 billion this year from its recent peak of $5.28 billion in 2013, according to consensus data from Thomson Reuters. But the company's stock has been hit particularly hard since it also carries the largest debt load - more than $10.7 billion - in the industry.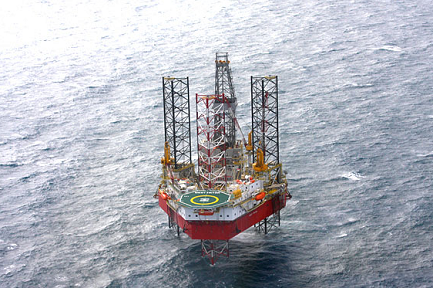 Seadrill West Cressida, Image © Seadrill.
Meanwhile, the business environment isn't getting any better. The company has warned that "oil majors have more rig capacity under contract than they require, as activity continues to drop." In fact, the situation is so bad that oil majors are willing to pay millions, just so that offshore drillers would stop drilling.
Earlier this week, Seadrill announced that the Norwegian oil producer Statoil (NYSE:STO) has agreed to give Seadrill $61 million and will also bear the rig demobilizing charges. That way, the oil producer can potentially save north of $30 million this year, as per my rough estimates, but that's $30 million in lost revenues for Seadrill. Meanwhile, other oil producers are renegotiating for lower day rates. With early cancellations and renegotiation, it seems unlikely that Seadrill will fully realize its $9.1 billion order backlog (for the Seadrill group).
Seadrill, however, has made notable progress on cost saving measures which are coming better than expected. The company, which has been working on its cost reduction program, has managed to reduce operating costs by $79 million on a sequential basis. It now plans reap cash savings of $340 million in the current year - that's $80 million higher than the previous estimates. Moreover, just around 10% of these savings are associated with deferred capital spending. The rest, a little less than 90%, are sustainable. It also helps that Seadrill is not going to make any yard installment or take the delivery of any new rig in 2016.
But for Seadrill, what really matters is the company's plan around improving its financial health, and it appears that Seadrill is finally making some progress here. The company's debt level at the end of the first quarter was actually down 2.2% and 13% on a sequential and year-over-year basis respectively. Its cash reserves, on the other hand, were up 4.6% from the fourth quarter and 20.9% from the same quarter last year.
Moreover, in February, during an. interview, Seadrill's chief executive Per Wullf said that the company will have a debt restructuring and refinancing plan by the end of June. At the end of the first quarter, Seadrill reportedly moved to restructure its debt and bonds by negotiating with creditors. The company, according to Bloomberg, got Houlihan Lokey and Morgan Stanley to assist it during this process.
Then earlier this month, Seadrill announced that it has reached an agreement with its banking group which allows it to extend the maturities on some of its debt and amend some key covenant terms regarding all of its debt. The $950 million in debt which was originally due in June and December of this year will now mature in December 2016 and May 2017. The maturity for the $2 billion debt related to Seadrill's North Atlantic Drilling unit has been delayed by two months to April 2017. On top of this, earlier this month, the company also reached a debt-for-equity exchange agreement with some of its creditors under which it got rid of $55 million of debt by issuing 8.18 million additional common shares.
Clearly, Seadrill is heading in the right direction in terms of cost cutting efforts and is working to improve its balance sheet. The company now expects to have the broader debt restructuring and refinancing plan by the end of this year, which is six months later than its prior target mentioned earlier (though the management believes there has been some miscommunication as the company originally wanted to try to conclude everything this year). Seadrill stock, however, remains in the red. On a year-to-date basis, its shares are down more than 7%, despite the cost cutting and restructuring/refinancing efforts.
I believe that it is likely because the market understands that the restructure and refinancing efforts, which we've seen so far, will only give Seadrill more breathing room. They're not going to have a meaningful impact on the company's debt levels, which remains elevated at six-times its market cap of $1.78 billion, or the interest rates. While there is improved visibility around refinancing and restructuring, given the company has given a time frame and is negotiating with banks and bondholders, there isn't a clear path towards meaningful debt reduction.
I like Seadrill due to its high quality asset base. I also like that the management is solely focusing on cost cutting and debt restructuring and refinancing efforts. The stock is attractively priced at just 0.17-times book value, but until I get better visibility around the company's debt, I am staying on the sidelines.
Disclosure: I/we have no positions in any stocks mentioned, and no plans to initiate any positions within the next 72 hours.
I wrote this article myself, and it expresses my own opinions. I am not receiving compensation for it (other than from Seeking Alpha). I have no business relationship with any company whose stock is mentioned in this article.