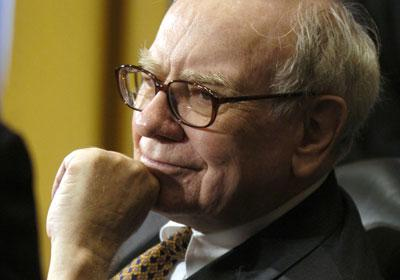 The Passive Intelligent Investor
Warren Buffett's strategy of purchasing quality companies at a fair price and holding onto them for a long period of time is an excellent strategy for many passive investors who are willing to dedicate large amounts of time to researching their stock picks. While more concentrated than an index, investing in a portfolio of well managed blue chips like Apple (NASDAQ:AAPL), Exxon Mobil (NYSE:XOM), IBM (NYSE:IBM), Alphabet (NASDAQ:GOOG), and Johnson and Johnson (NYSE:JNJ), Walmart (NYSE:WMT) can yield excellent results over time. An even better strategy is to just purchase the S&P index (NYSEARCA:SPY) because it is so difficult to consistently choose the right companies. Purchasing the entire index guarantees you'll be involved in America's biggest, successful enterprises over the long term. Hence, passive investors in individual companies and indexes with multi-decade holding time frames do not need to concern themselves with an understanding of the big picture (the macro economy) as long as they can remain somewhat disciplined in their consistent purchasing patterns in times of weakness and strength (dollar cost averaging in essence). So the intelligent passive investor only requires some mental fortitude in the form of discipline when times are on both sides of excess and then he need not concern himself with a thorough or rough understanding of the macro economy. This is a strategy that's extremely difficult to beat, and it requires only enough intelligence to recognize the effectiveness of such a strategy.
The Enterprising Investor
The year 2014 marked the end of the market's unrelenting search for yield income. Indeed, yield is still highly desired by the market, but the market is now far more discerning about the safety of such yield. Due to collapsing prices in the commodities sector, much of the financing previously put into these vehicles were deflated or destroyed in its entirety. The course of events seems frighteningly simple in hindsight, but many very smart people were caught flat footed in the process of it taking place. The likes of David Einhorn, Bill Ackman, Mohnish Pabrai, just to name a few. High profile value investors in this day and age tend to be what Benjamin Graham called enterprising investors. However, while they're clearly more sophisticated and have developed newer analytical methods based upon Graham's fundamental analysis, the game itself has also changed dramatically.
Financial Engineering and Destruction
When interest rates are low and prices are rising, lenders demand very little margin of safety when financing debt and equity. This induces a large supply of financing available under the condition that prices and profits are high enough to justify investment into capital assets. A decrease in interest rates combined with sufficient prices and profits essentially creates a more demand for capital assets and investments. Higher investments increase consumption and demand in the short term so investments could appear to be justified as a result of itself in the short to medium term. This did not appear to be the case for the U.S. this time, as it is currently the case with China, but lower interest rates by themselves did cause a severe loosening of margins of safety required by bond and equity investors. Case in point is the debt issuances of Chesapeake Energy (NYSE:CHK), Linn Energy (NASDAQ:LINE), BreitBurn (NASDAQ:BBEP) and numerous other energy companies that were able to issue enormous amounts of unsecured, low interest, covenant-lite debt to investors.
David Einhorn and SunEdison
The SunEdison (OTCPK:SUNEQ) story with Einhorn is particularly interesting since Einhorn was so famous for detecting financial shenanigans with other companies such as Lehman and Allied Capital with the case for the latter being well detailed in his book "Fooling Some of the People All of the Time". Unfortunately, while the YieldCos Terraform Power (NASDAQ:TERP) and Terraform Global (NASDAQ:GLBL), did have some investment merit, their extremely high share prices were based upon the premise of low interest rates, a high demand for yield, and a growth story from the further expansion of their balance sheet by way of issuing more debt and equity. The development side of SunEdison's business was essentially dependent upon these financing conditions. The margins in the development business that Einhorn promised in his later statement depended very much upon the appetite and ability TERP, GLBL and 3 rd parties had to continue purchasing projects from SunEdison at very high prices. Due to the collapse in energy and commodity prices, the appetite was no longer there and TERP and GLBL then lost the ability to do so as well. In this case, a very intelligent and respected value investor somehow convinced himself that such an incredibly capital intensive business such as SunEdison was a great company because it was allowed to expand its balance sheet. If such conditions could persist indefinitely, it would undoubtedly have been a great investment. However, precise calculations and a carry trade/capital markets arbitrage opportunity mask the fragility of such conditions and convince investors that the margin of safety is actually larger than what it really is.
Bill Ackman and Valeant
Easy financing and sufficient profit opportunities also caused severe loosening of ethical standards by companies such as Valeant Pharmaceuticals (NYSE:VRX) who used cheap financing to acquire drug companies and to raise the prices of their drugs. If a company could acquire a company with very cheap financing and increase the price of the product that company sold immediately after the acquisition, the amount of debt used may seem to be very safe regardless of the amount by standard financial measures such as interest coverage and total leverage ratios. However, because such an easy method to get rich creates perverse incentives, the desire of getting into illegal or borderline legal activities by the people involved increases exponentially. A business in America built on such a faulty legal/ethical foundation and in such a politically and socially controversial industry tends to have a lot of risk to the downside especially when coupled with copious amounts of debt.
Mr. Market and Cheniere Energy
Cheniere Energy (NYSEMKT:LNG) and the (NYSEMKT:CQP), (NYSEMKT:CQH) complex presents what I think is an opportunity due to the extremes of equity investors' appetite to own stocks. The fundamentals of Cheniere as a company is based upon the SPA contracts it has with its counterparties that guarantee a minimum payment to Cheniere when Cheniere completes its facilities and are able to operate them. This by itself is enough to validate Cheniere's debt. While roughly 85% contracted, Cheniere would have another 15% of capacity to effectively arbitrage international LNG prices with U.S. natural gas prices. The stock price was over $80 per share when the arbitrage was available and at a current price hovering in the mid $30s, investors are basically paying nothing for an arbitrage that may or may not reappear sometime in the future for an indefinite period of time while also owning the 85% contracted cash flows at a very decent price. The macro risks that Cheniere is vulnerable to are the credit ratings of its contracted counterparties and it would take quite a financial crisis to make those ratings an issue for Cheniere.
In this case, it's my personal opinion that the extreme reaction of equity investors created an opportunity for generating alpha over the next few years. However, had Charif Souki been able to continue his plan of balance sheet expansion due to the poorly devised incentive structure for the CEO, Cheniere would have been much more susceptible to the interest rate/availability of financing risk that ruined SunEdison.
Tying it all together
Buffett's advice of largely ignoring macroeconomic news is very relevant for the hold forever passive investor. Investors who index while largely ignoring the news and dollar cost averaging throughout their investment lifetime, given that it's at least more than a decade, will probably do better than 99% of the hedge funds and mutual funds out there net of fees. To succeed in the game of stock picking, however, the investor must understand that macroeconomic events concerning price, profits and interest rates can destroy a margin of safety at a level of intensity such that even very conservative prior calculations and assumptions seem to lose its relevance in a short amount of time.
Tremendous share price appreciation can be engineered under the right circumstances. These circumstances include the financial market's to fund yield and growth, the desires of CEOs to maintain an unsustainable growth rate at all ethical and legal costs, and the appropriate amount of profits and level of prices to justify the two prior circumstances. Unfortunately, the behavior of the first set of circumstance tends towards two extremes when times are good and bad and the second circumstance almost always leads to trouble. The trouble it leads to can be very harmful if the firm is financially solid, but unethical and irresponsible behavior is rarely found with financial prudence so it tends to lead to a fatal or near fatal situation. Investors may have to watch others make a ton of money on these situations while sitting on the sidelines. These models are entirely financially justifiable with numbers when the three circumstances above are available, but they collapse whenever one of the three pillars is taken away.
While it's entirely possible to try and avoid these situations altogether, an investor must grasp the specific traits of a firm's structure that makes them susceptible to macro events like drastic shifts in availability of financing and changes in investors' perception of future profitability/price levels for the industry at large. If an investor doesn't understand how these macro shifts may affect his investment, then he is navigating while partially blind.
A few words about the current environment
The current situation looks somewhat bad and investors are even calling for the next financial crisis like what we saw in 2008. My personal view is that things aren't good, but the entire situation is very different from the conditions of 2008 at least at this moment. The 2008 financial crisis was based on an overinvestment/overconsumption boom that resulted from both lower interest rates as well as rising prices in real estate causing a heavy misallocation of capital and borrowed spending.
The collapse so far in the commodities market has similar effects but on a much smaller scale and only warranted the participation of a few States, most of whom are not entirely dependent on oil or any other commodity. Growth should take a hit, but there is a lack of systemic risk involved as Banks are behaving more conservatively for the time being and are well capitalized. Before we hit an overinvestment stage, the economy has to actually grow through an increased price/profit mechanism and we have not seen this happen materially after the 2014-2015 collapse in oil and commodity prices.
Passive investors should look to accumulate quality blue chip companies at reasonable prices on dips without excess fear of systemic risk in the market. Enterprising stock pickers tend to do best when interest rates are going down, but this is a time to be cautious if you are investing in concentrated positions. Concentrated positions will still work, but the investor needs to carefully revise his thought process to see if the prior thesis is still valid in the current environment.
Will update with a piece in later days to give my thoughts on the path of future economic events.
Disclosure: I am/we are long LNG, CHK, TERP.
I wrote this article myself, and it expresses my own opinions. I am not receiving compensation for it (other than from Seeking Alpha). I have no business relationship with any company whose stock is mentioned in this article.
Editor's Note: This article covers one or more stocks trading at less than $1 per share and/or with less than a $100 million market cap. Please be aware of the risks associated with these stocks.