Forward Guidance
Fed Chair Janet Yellen would like you to look at the US economy through these rose-colored glasses, in hopes that you confidently spend on goods and services and optimistically invest in higher-risk financial assets in a manner that is consistent with the Fed's outlook for a strengthening economy. The reason that you need these rose-colored glasses is that the Fed's outlook, or economic forecast, is not very realistic. This should come as no surprise, considering that its track record of forecasting just about everything has been exceedingly poor.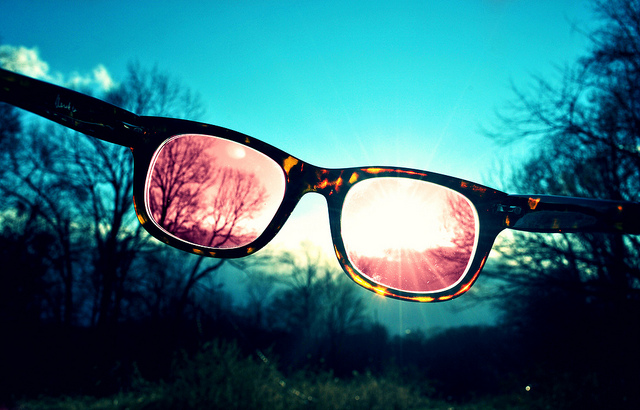 With no monetary policy tools left at its disposal to combat a deteriorating rate of economic growth, the Fed has fallen back on what I call "forward guidance." I am not referring to the forward guidance introduced back in 2012, intended to make monetary policy more transparent, which showed a series of dots, each representing the interest-rate forecast of each Fed member over the subsequent three-year period.
The forward guidance being used today is more about rhetoric intended to persuade investors and consumers that the economy is on solid ground and strengthening further. The Fed thinks that it can influence consumer confidence and investor sentiment with its optimistic outlook in such a way that it helps to achieve its objectives. In doing so, it not only has, but must, suggest that another interest rate increase is approaching, which is consistent with its. story line that the US economy will strengthen.
St. Louis Fed President James Bullard is by far the most prolific soothsayer. Mr. Bullard enjoys appearing on television to talk about monetary policy-in fact, he turns up with such frequency that I think he is deserved of his own reality TV show. The problem would be that there isn't a lot of reality in what he has to say. In recent days he has commented that the "labor market's performance has been very good." He said that "by nearly any metric, US labor markets are at or beyond full employment," and that "this may put upward pressure on inflation going forward."
Now hand me those rose-colored glasses for a moment. Bullard's analysis is consistent with the Fed's most recent forecast for 2016 unemployment, in which the unemployment rate falls within a range of 4.6% to 4.8%. I forecasted that the unemployment rate had bottomed two months ago at 4.9%. It is currently at 5.0%, and it would probably have risen further if the labor participation rate hadn't conveniently declined last month.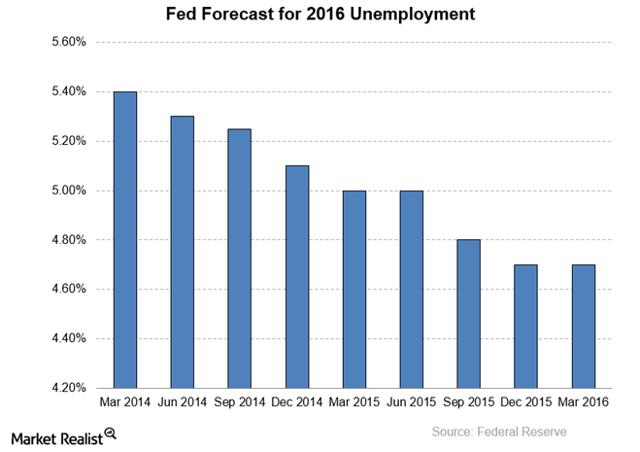 I see numerous early warning signs that the labor market is deteriorating. The most important of these is the significant increase in the number of downward revisions by the Bureau of Labor Statistics to its initial estimates for monthly job gains over the past year, and the fact that those revisions are now resulting in losses on average. This has not occurred on a trailing 12-month basis since 2007, just prior to the last recession. Since the BLS model for estimating job growth is a backward-looking model, it has a tendency to overestimate job growth when the rate of economic growth is slowing, as it is today.
With respect to Bullard's concern about inflation, he need look no further than to what he has called "the best measure of inflation expectations," which are Treasury Inflation-Protected Securities. Today, these securities do not indicate any need to be concerned about inflation, with the five-year security reflecting a rate of just 1.5%.
If we really had achieved full employment, we would be seeing a far more meaningful increase in wages, but we have not. The most accurate measure of wage growth is the year-over-year increase in average hourly earnings, which can be seen below. This isn't consistent with a strong labor market or full employment.

Source: Department of Labor, Evercore ISI, FactSet, as of April 30, 2016. Gray-shaded areas indicate periods of recession.
Researchers at the San Francisco Fed came up with a solution. Again, please put on your rose-colored glasses. They discovered that the reason we haven't seen the kind of wage growth that is consistent with a strong labor market is that the majority of the workers entering the workforce since the Great Recession are earning lower wages than the ones exiting the workforce. This has been the pattern for several years. If we exclude all of the workers who were not working continuously during the trailing 12-month period, in addition to part-time workers who typically earn lower wages, then we realize wage growth of 3.4% instead of 2.4%. This new and improved measurement of wage growth can be seen below.

So now it appears that the labor market is a lot stronger than it was before, which better aligns with the Fed's bullish narrative. Yet if wage growth were really this strong, we would be seeing the rate of growth in consumer spending increasing. Instead, it has been decreasing over the past year. Hand back those glasses.
Markit's Services Purchasing Manager's Index declined to 51.2 for May, which is just slightly above the line of demarcation between growth and contraction at 50. The Manufacturing PMI is showing virtually no growth at 50.5. The combination of the two, known as the Composite PMI, has been in a steady downtrend since 2014, as can be seen below.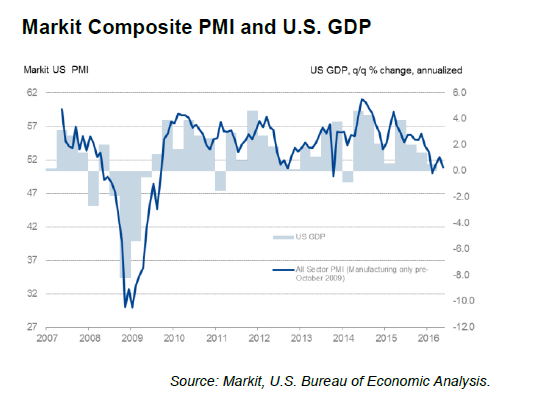 The latest service sector report notes business optimism has fallen to its lowest level since the survey began in October 2009. Chris Williamson, chief economist at Markit, stated that "service sector growth in May has slowed to one of the weakest rates seen since 2009…"
The June Meeting
The Fed wants to raise interest rates for two important reasons. It wants to have ammunition available to address the next inevitable economic downturn, which based on the current stage of the business cycle will come sooner rather than later. It also wants to take a symbolic action that signifies, even if it can't be substantiated, that it has achieved its mandate. It has endured tremendous criticism for its extreme monetary policy measures since the financial crisis. I think it believes it can silence its critics by starting to normalize policy and by crediting its extreme measures for the economic recovery we have seen to date, but only if it does so before the next economic downturn.
Will the Fed raise interest rates at its June meeting? I think it is preparing to do so, provided that we don't see a significant decline in the stock market or an economic data point that clearly undermines its current outlook. The most important report will be the next jobs number that we will receive just before the June 14-15 meeting.
An important indication that it is preparing to raise interest rates is the recent decline in excess reserves in the banking system. We saw a similar decline in reserves in the weeks leading up to its December interest-rate increase. When investors feared that a rate hike was coming in September of last year, excess reserves were rising, which in hindsight was an indication that a rate hike was not on the table.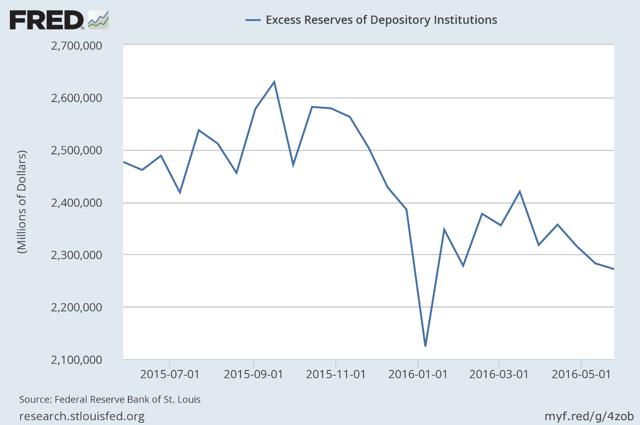 Stock Market Reaction
If there is an interest-rate increase on June 15, I would think that the stock market would suffer a decline similar to the one that followed the Fed's December interest-rate increase, but there is no way to know for sure. Another interest-rate increase would require the Fed to continue draining excess reserves in the banking system. When the Fed has drained excess reserves in the past, it has consistently led to declining stock prices in the weeks that followed.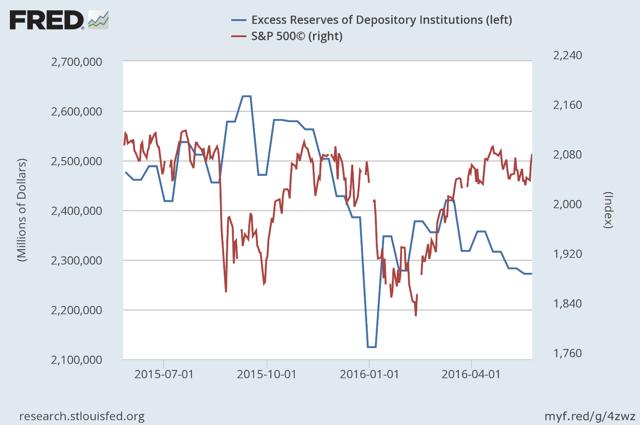 Some have explained the strong rally in stocks over the past week as short-covering, which resulted over fear that the Fed has knowledge of an upturn in economic activity that has yet to be shared with the public. That sounds like a reasonable explanation, given the fact that the lowest quality stocks led the sharp rise in the S&P 500 (NYSEARCA:SPY).
The S&P 500 has continued to grind higher since the February lows, although it has met significant resistance just below its previous high at 2,110. I continue to hold the view that we will see a series of lower tops and lower lows in the months ahead as market prices fall back in line with fundamentals.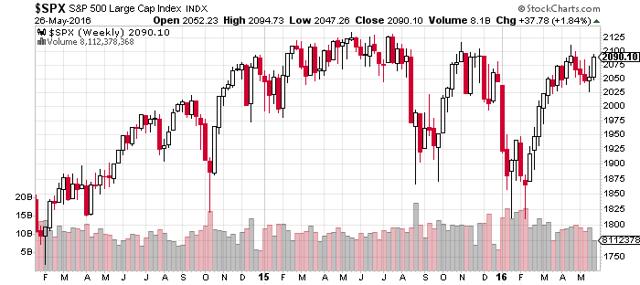 In Conclusion
Whereas lowering interest rates to zero and growing the monetary base through quantitative easing propelled the stock market higher over several years, rhetoric about how the Fed sees an improving outlook has only been able to hold stock prices near current levels over the past 18 months. As the flow of economic data has continued to run counter to the Fed's more optimistic outlook, the stock market has slowly deteriorated.
The Fed has employed monetary policy measures that were far too extreme, and has held them in place for far too long a time period. This has created distortions in financial markets and dislocations between financial markets and the real economy that are unprecedented. The idea of normalizing policy is a joke. What is normal? The honest answer is that no one knows, including members of the Fed. The only thing that I am certain of is that the trip from where ever we are today to what is ultimately normal will be a very painful one.
Disclosure: I/we have no positions in any stocks mentioned, and no plans to initiate any positions within the next 72 hours.
I wrote this article myself, and it expresses my own opinions. I am not receiving compensation for it (other than from Seeking Alpha). I have no business relationship with any company whose stock is mentioned in this article.
Additional disclosure: Lawrence Fuller is the Managing Director of Fuller Asset Management, a Registered Investment Adviser. This post is for informational purposes only. There are risks involved with investing including loss of principal. Lawrence Fuller makes no explicit or implicit guarantee with respect to performance or the outcome of any investment or projections made by him or Fuller Asset Management. There is no guarantee that the goals of the strategies discussed by will be met. Information or opinions expressed may change without notice, and should not be considered recommendations to buy or sell any particular security.