Bond market bonds are notoriously difficult for small retail investors to trade. Many of these traditional bonds have a large bid/ask spread, trade infrequently or require large minimum lot sizes. These obstacles to bond market trading have resulted in the growing popularity of easier-to-trade baby bonds. This article provides some basic information for investors seeking to understand and screen for baby bonds. A screening technique correlating bond risk with factors such as equity behavior and yield to maturity is demonstrated. The screen is completed to provide my picks from among the safest baby bond issues.
What is a baby bond?
"Baby bonds" are the name for exchange traded debt securities with a par value of $25 instead of $1,000 (as is typical for traditional bonds). This characteristic makes them more popular and therefore more liquid than their big brothers. In some ways, they are similar to preferred stocks, but we must still treat them as a separate group due to important differences.
A baby bond pays interest, as it is technically a corporate debt issue. Interest payments cannot qualify for preferential tax treatment. This is something you must consider when comparing bond yields to preferred stock dividend yields.
Interest payments usually take place each quarter, but you must check whether there are provisions in the prospectus allowing an issuer to postpone payment (which is allowed by some trust preferred issues). When an issuer defers, it avoids default, but will obviously be in a lot of trouble. All its traded securities will take a major hit.
As well as a maturity date, a bond will also have a call date. At maturity, it must be redeemed at par value. The call date gives the issuer an option to call it prior to maturity if this makes financial sense. Shorter maturity dates are more desirable as they have less risk of any kind.
Screening for baby bonds
What is the best baby bond? It sounds a simple enough question to answer. Choose the bond with the best yield: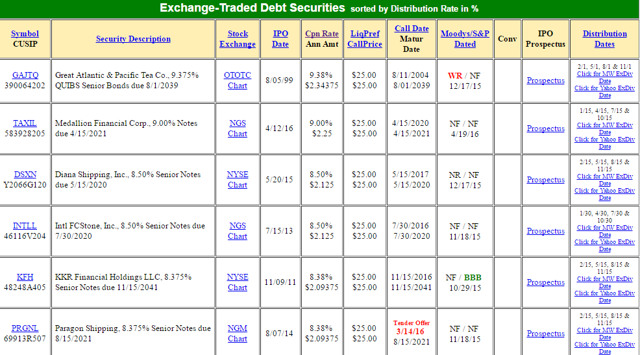 Source: QuantumOnline.com
How did you get on? DSXN? Well, you've probably just bought a bond from a shipping company (Diana Shipping, Inc. (NYSE:DSX)) with a lot of problems. With a bit of luck it won't go bankrupt.
What seems like a simple enough procedure can actually be fraught with difficulties. Firstly, there are the main considerations: yield, price, call date. These combine to give you a yield to call. But how would you value a bond issued by a shipping company as compared to that of a utility company? You'd want a premium, but how much? Thankfully, I have proprietary software to help with this. It gives me a visual on how the market values each group or sector. I can see shipping bonds all grouped together in a separate part of the yield graph from utilities.
Any outliers to normal distribution are worth investigating further. You may be getting a bargain. However, more often than not the market gets it right, and there is a problem with the issue or issuer. In fact, some the issues in the screen shot above are defunct. This is where you must dig a bit deeper than what you might find on a site like QuantumOnline.com.
Using yield to maturity to refine the initial screen
To keep the article as short as possible, I will concentrate on the methodology I use to find the technically best bonds. I trade all of the baby bonds and cannot afford to have detailed fundamental research for each one of them. This article will present the yield metrics that would be acceptable to me as an investor (if I was one). Further research on each issuer can be found on Seeking Alpha.
Which bonds make it to the second round using these three criteria?
Yield to maturity must be between 5.5% and 8.5%. Anything under 5.5% is not interesting for me (for obvious reasons). Anything over 8.5% must have problems given the recent rally in all asset classes.
Yield to call must be higher than 3%.
Years to maturity must be less than 10 years.
This filter gives us exactly 30 different baby bonds to look at: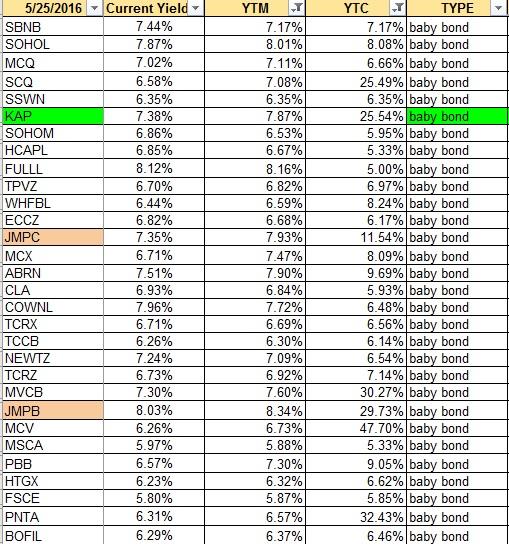 A further look at those bonds and we find ourselves in the world of "business development companies". Most of the above issues are from this sector. This gives a further insight into which companies issue the majority of baby bonds. Banks frequently issue non-cumulative preferred stocks and REITs typically issue cumulative preferred stocks. Many baby bonds are issued by BDCs. Standardization always helps when researching.
Here, you can see how our baby bonds look on a yield curve chart: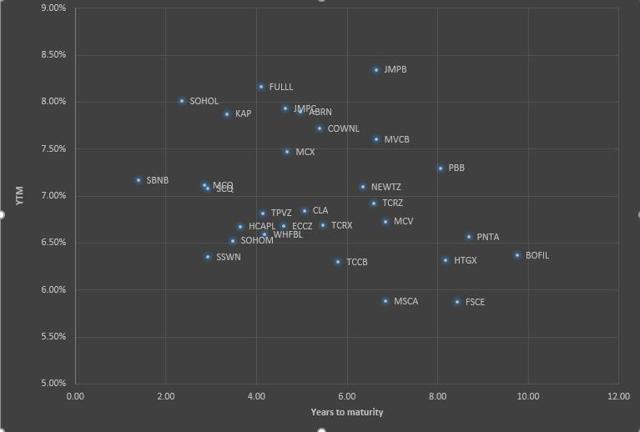 Source: author's software
There is not a huge selection left, but I am sure that everyone can find something suitable from this chart.
Correlating baby bond risk with equity behavior
As stated in my previous articles, I am concerned with common stock behavior. I believe that when a company's common stock is making new highs. it adds more certainty to its bonds. This gives you a nice hedging plan as well. For example, if you are bearish on the stock, but certain about the debt, you can boost your bond yield with naked calls on the common stock. A BDC company or a REIT will not surprise you as much as a biotechnology company. This is illustrated by the chart below: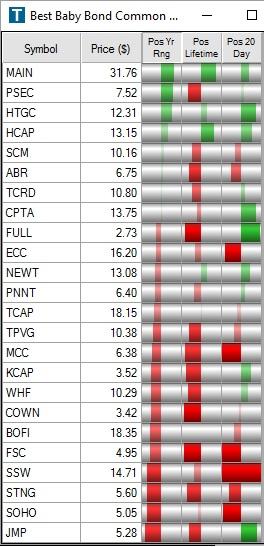 Source: Trade Ideas
The reason I concentrate on common stock behavior is simple. I view BDCs very similar to closed end funds. The price of a closed end fund is highly correlated to its NAV performance. The more the net assets, the safer the bonds. Closed end funds would sell as much of their assets as needed to redeem their obligations.
What are the safest baby bonds?
Based on my simplistic and naive logic, Main Street Capital Corporation (NYSE:MAIN) has to be the safest one, and when I look at the chart above, MSCA has the lowest yield to maturity from all the baby bonds. Mirror images of MSCA are JMPB (issued by JMP Group, Inc. (NYSE:JMP)) and SOHOL (issued by Sotherely Hotels, Inc. (NASDAQ:SOHO)). If your concern is safety, then the market is telling you that MSCA is the one to go with. I personally don't want to crown MSCA as the best baby bond, because the yield is nothing spectacular. Similar yields can be found elsewhere without taking additional risk. PBB (issued by Prospect Capital Corporation (NASDAQ:PSEC)), HCAPL (issued by Harvest Capital Credit Corp. (NASDAQ:HCAP)) and HTGX (issued by Hercules Technology Growth Capital (NASDAQ:HTGC)) also deserve a further look based on common stock performance. The choice here is not that easy, so I have to add more filters:
Yield to maturity higher than 7%. We search for a good yield after all.
Years to maturity less than six years. Let's shorten the duration.
This leaves us with only nine participants: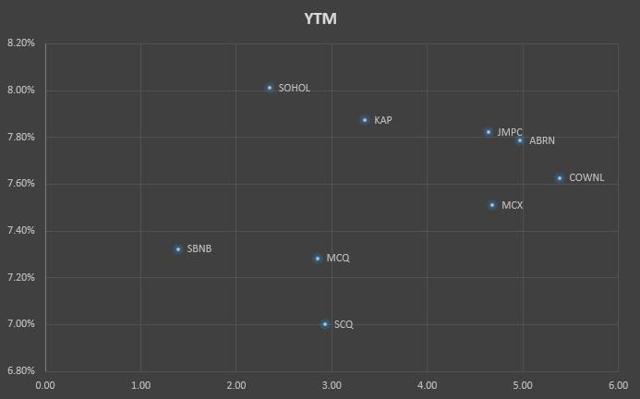 How to choose from these?
This is a tough job. I personally prefer to make a portfolio out of these bonds to spread the risk, but have to choose the best one. Now I understand how hard it is being a jury: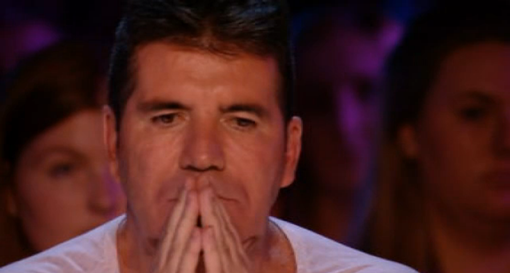 COWNL (issued by Cowen Group, Inc. (NASDAQ:COWN)), JMPC (issued by JMP Group, Inc.). You did not make it to the next round, because the trade here is over. I had them both personally and Richard Lejeune wrote on those two issues when the time to buy them was right. You can see the articles here and here. As a trader, I am not comfortable buying them now, but this is just me.
SBNB (issued by Scorpio Tankers, Inc. (NYSE:STNG)), sorry but you are shipping. People were selling you only because you had "ship" in the name.
MCX (issued by Medley Capital (NYSE:MCC)), you have a brother maturing two years earlier, so you are out.
KAP (issued by KCAP Financial (NASDAQ:KCAP)), your common stock is at 12% of its lifetime range and has returned (-3)% annually since it started trading.
SOHOL (issued by Sotherely Hotels); the mother company has a history of liquidity problems that made it suspend its dividend for a big part of its life. 8% in less than three years certainly comes with some risk.
ABRN (issued by Arbor Realty Trust, Inc. (NYSE:ABR)); as a trader it is really hard for me to let you go. You have preferred stocks that present a nice hedging opportunity. However, MCQ and SCQ have shorter durations. They have never suspended the dividend on their common stock even though they are younger.
This leaves just MCQ and SCQ and they are very closely matched. Both have less than three years remaining until maturity, which is desirable for any number of reasons.
MCQ has the slightly higher yield and its issuer - Medley Capital - has a market cap nearly three times the size of Stellus Capital Investment Corporation (NYSE:SCM). I wouldn't usually give this too much significance, but when there's so little to choose between two stocks, I'd prefer not to get involved with a $126m market cap stock like SCM.
Neither stock has been around long enough to be tested in a crisis, so you will have to do your own research into whether they can survive any coming storms. You need the mother company to survive three years and you have yourself a nice investment.
Simple price comparison of ABRN (my favorite) vs. MCQ (the winner)

Sometimes the price performance tells it all. MCQ proved to be safer in the last sell-off, and ABRN seems to be the more volatile one. My opinion was that the ABRN price behavior was a market mistake, but you know what they say about opinions. MCQ is the "simple screening" winner. What is yours?
As I am writing the article, MCQ is trading at 25.48. This makes its yield to call close to 0% (even with the interest accrued), so I have to disqualify my winner. Sorry MCQ that was so close. It is ABRN vs. SCQ now. ABR has three preferred stocks outstanding that are junior to ABRN. This adds further safety to ABRN, but I am leaving the choice to the readers this time. I hope that the real-time scanning is really helpful to illustrate how easy it is to make a mistake. Would be really glad to see your favorites with some fundamental feedback to make this article as helpful as possible.
Conclusions
Baby bonds such as MCQ, SCQ, ABRN, etc... offer decent yields with a desirable short duration. You would have to like the mother company model to invest in them. At current valuations, they appear to offer the best "safe" yields in the world of baby bonds. Since there can be only one winner, I am doing different categories:
"Shortest term present" - SBNB
Safest baby bond goes to MSCA
Author's favorite - ABRN
"Overall screening winner" - SCQ
This screening was based on technical criteria and very little fundamental research about the assets of the companies involved. Baby bonds are safe enough to be researched in this manner, but only in a diversified portfolio. My personal favorite among baby bonds is ABRN, because it gives me simple arbitrage vs. the ABR preferred stocks. This article was focused more on the reward side of baby bonds. The reader should use this initial screen as a starting point for additional fundamental analysis on the risks of these issues.
Note: Panick Value Research Report members received an advanced look at this article. Thanks Richard Lejeune for taking part in the article and improving it.
Disclosure: I/we have no positions in any stocks mentioned, and no plans to initiate any positions within the next 72 hours.
I wrote this article myself, and it expresses my own opinions. I am not receiving compensation for it (other than from Seeking Alpha). I have no business relationship with any company whose stock is mentioned in this article.
Editor's Note: This article covers one or more stocks trading at less than $1 per share and/or with less than a $100 million market cap. Please be aware of the risks associated with these stocks.