As part of the annual order and delivery battle between Boeing (NYSE:BA) and Airbus (OTCPK:EADSF/OTCPK:EADSY) I provide a monthly overview and analysis. The March report can be read here. In this article, I will have a look at the orders and deliveries in April.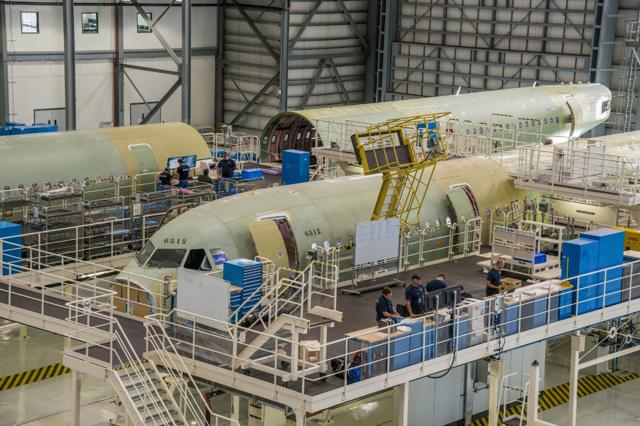 Orders

Figure 1: Airbus orders (up until) April 2016 (Source: AeroAnalysis.net)
In March, Airbus booked 14 orders, with 6 orders for its wide body product and 8 orders for their narrow body aircraft. In April Airbus booked 85 orders, setting aside a miserable first quarter order inflow.
At list prices, the orders are valued at $16.4bn, but after discounts the orders have a market value of $7.5bn:
Air Côte d'Ivoire ordered 2 Airbus A320ceos and 2 Airbus A320neos
Avianca ordered 3 Airbus A320neos
Delta Air Lines (NYSE:DAL) ordered 37 Airbus A320ceos, showing preference for the Airbus narrow body product.
An undisclosed customer ordered 20 Airbus A330ceos
An undisclosed customer ordered 1 Airbus A350-900
China Eastern Airlines ordered 20 Airbus A350-900s
Order inflow was strong after booking just 32 gross orders in the first 3 months of 2016. The total number of net orders stands at 92 which still is quite a weak performance for Airbus' standards.
Deliveries

Figure 2: Airbus deliveries (up until) April 2016 (Source: AeroAnalysis.net)
Whereas Boeing guided lower, Airbus expects to be able to increase production year-over-year and has set a target of delivering more than 650 aircraft.
Deliveries were slightly lower than the monthly 54 that are needed on average, but are likely to pick up pace in the coming months.
Deliveries for the A320, A380 and A330 were in line with expectations
Finnair and Singapore Airlines (OTCPK:SINGY) took delivery of 1 A350 each
Year-over-year deliveries were 10% lower. This likely has to do with the problems Airbus is facing on the A320neo, but should be compensated for in the second half of 2016 when these issues have likely been fixed.
Book-to-bill ratio
Last year Airbus had a book to bill ratio in excess of 1.5. Also in 2016 the jet maker expects to be able to book more than 1 order for each airframe it delivers. In April the book-to-bill ratio was 1.6. Year-to-date the book-to-bill ratio is .66. Despite orders inflow and deliveries picking up pace throughout the year, the road towards reaching its targets will be a long one for Airbus.
Conclusion
Despite order inflow being unnaturally weak in the first quarter of 2016, I expect order inflow to pick up pace in the coming 3-5 months. Airbus expects its order book to grow in 2016, but with a book-to-bill ratio of .66 this will be a challenge.
If you would like to receive updates for my upcoming articles, please click the "Follow" text at the top of this page next to my profile.
Disclosure: I am/we are long BA, DAL.
I wrote this article myself, and it expresses my own opinions. I am not receiving compensation for it (other than from Seeking Alpha). I have no business relationship with any company whose stock is mentioned in this article.
Editor's Note: This article discusses one or more securities that do not trade on a major U.S. exchange. Please be aware of the risks associated with these stocks.