I am going to identify Microsoft's (NASDAQ:MSFT) long-term trend. It is particularly important to define a company's trend strength and find trend reversals while allowing the use of appropriate protective stops from a risk management perspective.
It is decisive to keep in mind that technical analysis (TA) is the forecasting of price movements over time. Although it is not meant to be a precise prediction, TA can help investors anticipate future prices. Under normal conditions, share prices usually witness extended periods of trending, not random, fluctuation. The main task of an analyst is to find these large periods of trending prices which may be considered as major trends.
As a technician, my focus is only on Microsoft prices. Therefore, all information is always supposed to be discounted in the price. Let us begin with a 5-year daily chart of Microsoft. It seems obvious that a long-term trend is in place. One way to confirm this is to look at price levels relative to the 100-day EMA, 200-day EMA, and 300-day EMA. We can see on the chart below a well-defined long-term trend as prices have stayed above those moving averages (with some exceptions with no real importance). In fact, true trend reversals don't seem to exist in spite of some relevant corrections.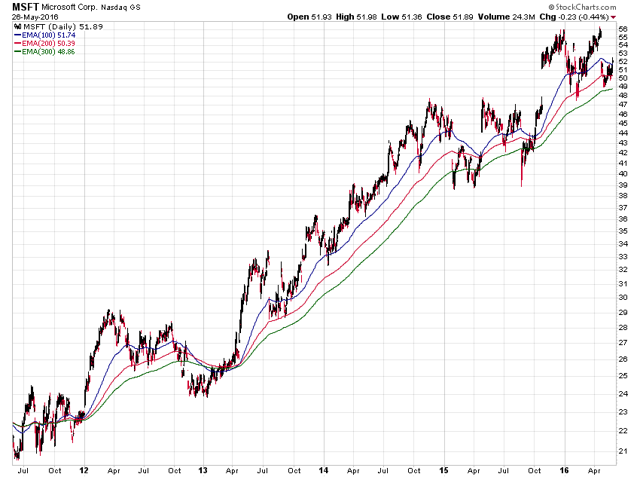 Charts courtesy of StockCharts.com
In more detail, we can watch on the weekly chart below the excellent support given by the EMA(200) even in the complicated downturn of the last quarter of 2012. It has to be noted that the EMA(50) is always above the EMA(200) with the distance between them growing over the years. This is rather positive.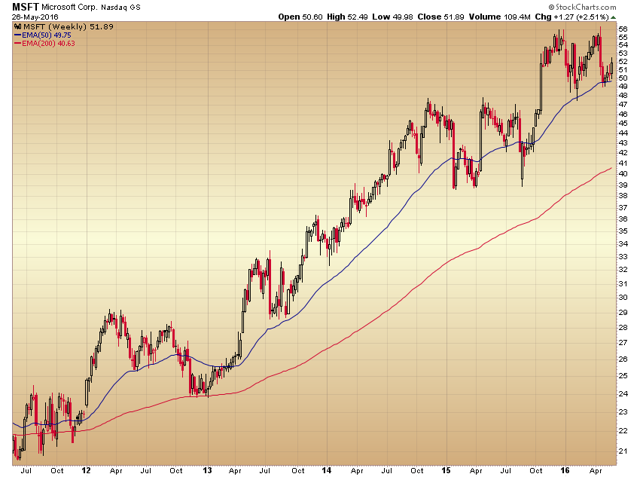 Looking at the last 18 months, it is clear that there are three extremely important price levels which are telling us what will probably happen to MSFT prices in the near future:
- $39 was undoubtedly a strong support as it has kept prices higher in 2015.
- $48 was a top over the past year which turned to be a support in 2016 when share prices rocketed to 56.
- $56 is now a top touched several times since December. It is crucial if this level is exceeded.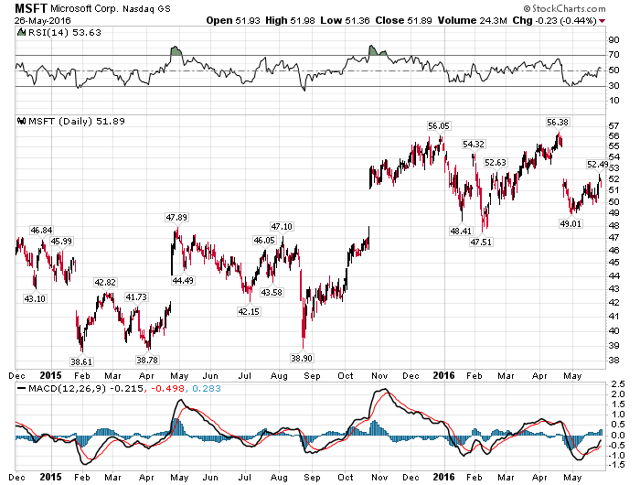 Microsoft has found good support at the $50-$52 zone and is now prepared to challenge the top at $56 to continue higher.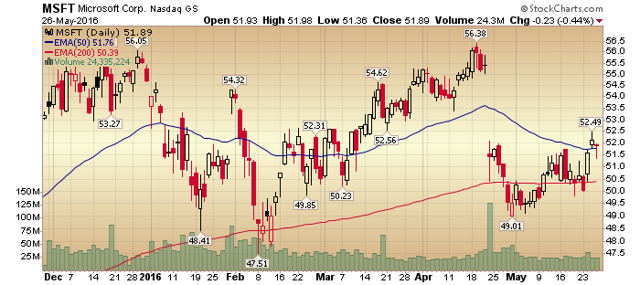 Last April, MSFT shares fell suddenly showing a gap as we can see on the chart above. As prices appear to be well supported, buying this dip - and believing that the gap is closed - will be probably a good option. So, despite this last drop, the bullish case for MSFT shares seems well defended.
Disclosure: I/we have no positions in any stocks mentioned, and no plans to initiate any positions within the next 72 hours.
I wrote this article myself, and it expresses my own opinions. I am not receiving compensation for it (other than from Seeking Alpha). I have no business relationship with any company whose stock is mentioned in this article.