Executive Chairman of Ford Motor Company (NYSE:F) Bill Ford recently commented about the company his great-grandfather started, saying, "you can't be all things to all people and you shouldn't be." Ford may not be able to be all things, but in a shifting marketplace it is looking to become more things to more people.
Monday, Ford announced that they would look for partnerships as they plan to become a general mobility company rather than simply an automobile manufacturer and seller. For now, that means they are joining the fray over the future of ride sharing and self-driving vehicles. They certainly are not alone in this field. Rival General Motors Company (NYSE:GM) invested heavily in Lyft, Fiat Chrysler Automobiles NV (NYSE:FCAU) is working with Google (NASDAQ:GOOG), and Tesla (NASDAQ:TSLA) has its own autonomous vehicle development. Earlier this week Toyota (NYSE:TM) and Uber announced a partnership that, although not specifically about autonomous driving, could lead to valuable data collection and establish a base for autonomous vehicle collaboration. Volkswagen and Apple (NASDAQ:AAPL) have made their own investments into ride sharing companies for similar reasons. Each strategy is a bit different and the details have been extensively covered across various media.
In this busy world of partnerships and strategy, GM and Ford sit as the two traditional giants of American automobiles. The two have approached the advent of autonomous vehicles in unique ways that are still developing. GM and Lyft believe that the beginning of driverless vehicles will be ride sharing, rather than personal ownership. They plan to combine GM's work on self-driving software with Lyft's established ride-sharing business. GM complemented this earlier this year with the purchase of self-driving tech startup Cruise Automation. Ford has experimented with its own ride sharing approach utilizing peer-to-peer vehicle rental, and is experimenting in London with a service similar to Uber called GoDrive.
Notably, the two companies' expenditure on research and development as a percentage of revenue has not spiked yet with the escalated interest in autonomous vehicles. Perhaps the 2Q numbers will show further investment, or perhaps the companies have been investing in it for much longer than the recent uptick in public and media interest would suggest.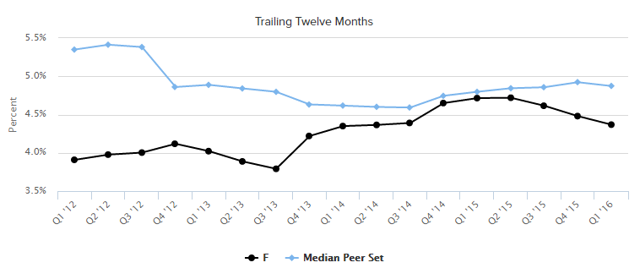 Exhibit 1: Research and Development Expenditure as a Percentage of Revenue
Source: Enlight Research
Note: Median Peer Set represents General Motors Company
Neither Ford nor GM has announced an autonomous driving partnership with Google or Apple. Google established a partnership with Fiat Chrysler, but Fiat Chrysler is one of the smaller of the large automobile companies, just outside of the 2015 top six in global unit sales (GM is at third, while Ford is at sixth). While Ford and GM do not have the sales of Toyota or Volkswagen (first and second in global sales), they do dominate in the United States. In 2015, GM led the US auto market with 17.6% of market share, followed by Ford at 16%, Toyota at 14.4%, and Fiat Chrysler at 12.6%. The best-selling vehicle for the last 34 years was the Ford F-series pickup truck, but is not exactly a prime candidate for partnership with ride sharing.
If autonomous driving grows to a large scale in the states, which seems to be the trend, then the American auto companies will remain well placed for potential partnerships. It will be interesting to see if the major American technology companies begin to court these two American automobile companies, or vice versa, specifically to target their dominance in the United States market. Ford and Google were allegedly in talks for a deal, but nothing formal resulted from them.
Autonomous driving is still mostly a future revenue driver, but the market is reacting to the perceived potential of these two companies. Ford and GM's total shareholder return at this point and moving forward are going to be based not only on direct competition with other manufacturers, but competing and collaborating with an entirely new range of companies, especially in technology. With all of this in mind, how do the markets view the two American automobile leaders over the past few years? From the start of 2012 to the present GM has consistently outperformed Ford in total shareholder return (TSR). At market close on Tuesday, GM showed a 61.14% TSR, while Ford showed a 40.19% TSR. The gap has closed from the 30% plus differences for most of December of 2015.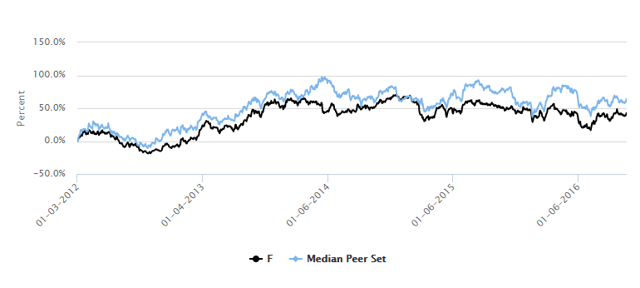 Exhibit 2: Total Shareholder Return
Source: Enlight Research
Note: Median Peer Set represents General Motors Company
Ford mostly underperformed General Motors in return on invested capital during the same period. For the 1Q of 2016 the numbers for the two companies were essentially identical.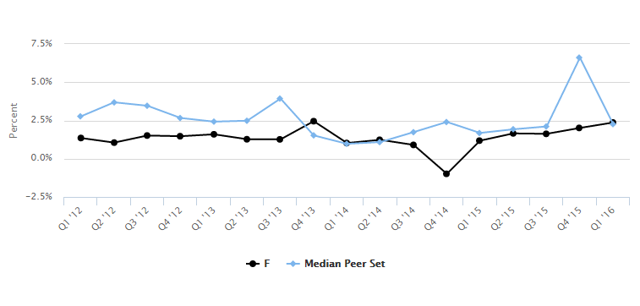 Exhibit 4: Return on Invested Capital
Source: Enlight Research
Note: Median Peer Set represents General Motors Company
As the autonomous vehicle market matures and investors get a better sense of future prospects, it will be interesting to see how these metrics shift from the quality of the foundations built during this early stage.
Interested in seeing similar metrics done with another company and peer set? Drop us a comment, send us a private message, or check out our profile to access our free real-time monitoring platform.
Disclosure: I/we have no positions in any stocks mentioned, and no plans to initiate any positions within the next 72 hours.
I wrote this article myself, and it expresses my own opinions. I am not receiving compensation for it (other than from Seeking Alpha). I have no business relationship with any company whose stock is mentioned in this article.