By S. Hasan Abid
There isn't much excitement surrounding Best Buy (NYSE:BBY) right now. The company reported Q1 fiscal 2017 results a couple of days ago and although the quarterly report wasn't too bad, Mr. Market didn't look too impressed. The decline in the stock price post earnings had a lot to do with the departure of CFO Sharon McCollam. She played a key role in improving BBY's profitability and online operations since being brought on board three years ago by CEO Hubert Joly. Sharon undoubtedly is one of the best retail executives out there. But in my opinion, her departure alone isn't something that should cause investors to adjust their existing perspectives on BBY's future.
Corie Barry, who is set to become the new CFO, has been with BBY for 16 years and has loads of experience of working with Sharon herself. Still, Barry is unlikely to have the same influence as Sharon because the efficiencies that BBY's management drove under Sharon are getting to the final stages. But Barry will, nevertheless, fit in seamlessly and is more than capable of doing a reasonably good job for the company.
Having said that, the trouble is with or without Sharon. BBY's outlook looks depressing and its store business doesn't look robust or creative enough to compete with the ever growing e-commerce monster Amazon (NASDAQ:AMZN). Worse still, BBY continues to suffer from slowing demand for mobile phones, whose sales form a major chunk of the firm's revenue.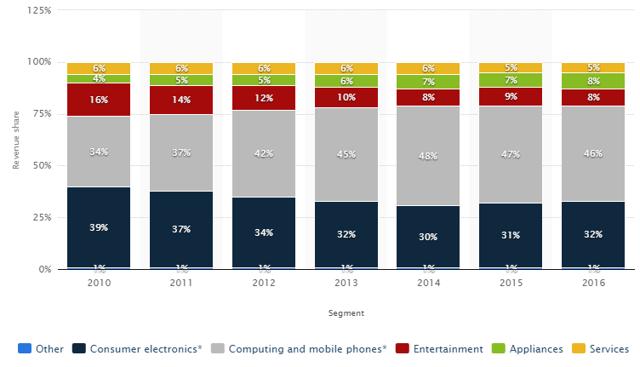 (Source: Statista)
Outside of the second quarter of fiscal 2016, computing and mobile phones comparable sales growth for BBY's domestic segment has been negative in each of the previous six quarters. Not evening selling phones on installments has turned comps positive. As a result, BBY's top-line growth has been sluggish in spite of meaningful growth in wearables, appliances and computing. This concerns me because the mobile phone market is quickly reaching an inevitable saturation point. Hence, BBY's over-reliance on mobiles puts a big question mark on its growth prospects.
According to a recent survey conducted by Pew Research Center, around 68% of U.S. adults today own a smartphone. Furthermore, a whopping 86% of millennials and "young adults," aged 18-29, "already" have a smartphone. Therefore, despite the anticipated launch of more advanced and attractive smartphones, including of course Apple's (NASDAQ:AAPL) iPhone 7, I expect the softness in mobile phones to persist both in the short- and the long run.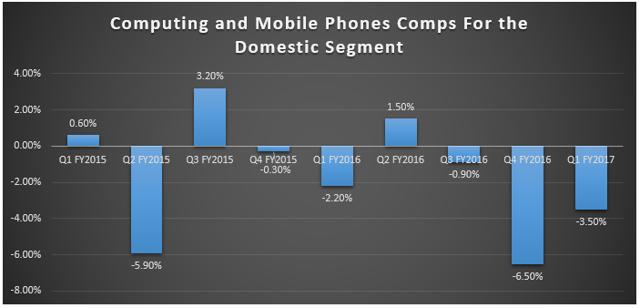 (Source: Company's Financial Releases)
In addition to this, I don't think that BBY's ~350 mobile standalone stores can radically counter the trend of decelerating comps. Bulls may point out that the arrival of new technologies like virtual reality may turn things around. But unfortunately, at this point, all this is mere speculation. Letting people try Oculus Rift Virtual-Reality Headsets in stores is good only as far as consumer satisfaction is concerned. Will virtual reality products prove to be a significant boon for BBY's top line? I believe it is too early to be overly optimistic and until there is substantial evidence of progress, there is no reason to get too excited.
So what other options does BBY have at its disposal? I discussed last time how the booming market for large screen TVs and 4Ks could prove to be a catalyst for BBY. Indeed, the potential is there and BBY is trying to draw more potential buyers of 4Ks to its stores by striving to create a unique customer experience. However, as it stands, it is very difficult to say that revenue contribution from the TV category will be able to offset the weakness in computing and mobile phones.
Nonetheless, from an investing standpoint, one might ask: Are shares sufficiently cheap? To answer this question, I value BBY's shares by first calculating the FCF yield that the company offers on average and then doing some simple math to assess where the stock price has to be in order to fetch that yield. Simply put, dividing latest annual FCF per share by the average FCF yield gives an estimate of the stock's fair value. For those who don't know, FCF yield is simply FCF divided by market capitalization. For reference, I have calculated it below for the past three fiscal years:
| | | | |
| --- | --- | --- | --- |
| | FY 2014 | FY 2015 | FY 2016 |
| FCF | 547 | 1374 | 673 |
| Market Cap | 8183 | 12372 | 9043 |
| FCF Yield | 6.7% | 11.1% | 7.4% |
(Source: Morningstar, author's calculations)
All values in the table above (except percentages) are in millions. BBY's three-year average FCF yield is ~8.4%. Now what should the share price be in order to retrieve a yield of 8.4%?
FCF per share/FCF yield = 2.81/0.084 = ~$33.45
This is my one-year target price for BBY and needless to say I don't see much upside potential in the stock with it trading at $32.15 as of writing.
Conclusion
With respect to cost savings, BBY's management must be given credit for approaching the $1.5 billion mark as part of the Renew Blue program. They also have done a commendable job of expanding the company's online business. Despite the efforts, BBY is in a sticky situation and has to weather many storms in coming years. Will it survive? We'll have to wait and see. I'm staying away because of the absence of any real catalysts, BBY's over-reliance on a category that isn't expected to experience stellar growth and the fact that the company has little security against Amazon.
Disclosure: I/we have no positions in any stocks mentioned, and no plans to initiate any positions within the next 72 hours.
I wrote this article myself, and it expresses my own opinions. I am not receiving compensation for it (other than from Seeking Alpha). I have no business relationship with any company whose stock is mentioned in this article.