This week's $1.02 billion IPO of US Foods Holding Corp. (NYSE:USFD) is likely to have a major impact on investor sentiment for private equity companies. In particular, The Blackstone Group (NYSE:BX) and KKR & Co. (NYSE:KKR) could trade higher thanks to a better environment for taking profits and generating lucrative performance fees.
On Wednesday, US Foods successfully issued new stock to investors, pricing the company's IPO at $23 per share. This price was near the high of Wall Street's expected range of $21 to $24, and the deal valued US Foods at roughly $5 billion. By raising $1.02 billion in capital, this IPO was the second largest deal so far in 2016.
Before selling shares to the public, US Foods was owned by two private equity firms, Clayton Dubilier & Rice, LLC and KKR & Co. USFD was taken private nine years ago, and the WSJ cites sources who believe that the private equity groups roughly doubled their money based on Wednesday's $23 offering price.
Heading into the end of the week, shares of USFD are trading slightly above $25. This is great news, both for new investors who bought shares at $23, as well as for the private equity companies who still own roughly 79.2% of the company. While the remaining shares are under a lock-up agreement for 180 days, once that period is over, the private equity companies should be able to sell more shares (at a potentially higher price), to lock in even more profits on their USFD investment.
While this single transaction will certainly generate lucrative fees for these two private equity companies, the signal that this successful deal sends to investors may be even more important.
A More Active IPO Market Sets The Stage For Future Profits
This year's IPO market has been particularly slow. According to Dealogic, there have only been 29 IPO deals so far this year, with only $5.4 billion in capital raised. This represents a 60% decline from last year's levels, and places 2016 as the slowest year for IPOs since 2009.
A slow IPO market has been a major concern for investors in private equity companies such as Blackstone and KKR. These firms often take entire companies private, with the intent to restructure the corporations and then sell at a profit. The slow IPO market has made it difficult for private equity companies to realize profits by selling the companies that have been taken private back to public investors.
It is important to understand just how lucrative these IPO events can be for private equity companies.
The private equity business model generally consists of raising capital from institutional investors, and using that capital to invest in special opportunities (like taking a company private). Private equity companies charge their investors management fees as well as performance fees. The performance fees kick in when the private equity company realizes a profit on specific investments.
Shares of BX and KKR trade higher or lower, as investors anticipate how much profits these private equity companies will be able to generate from management fees and performance fees. Lately, the slow pace of the IPO market has led to expectations for lower fees. This has resulted in a major selloff for these investment firms.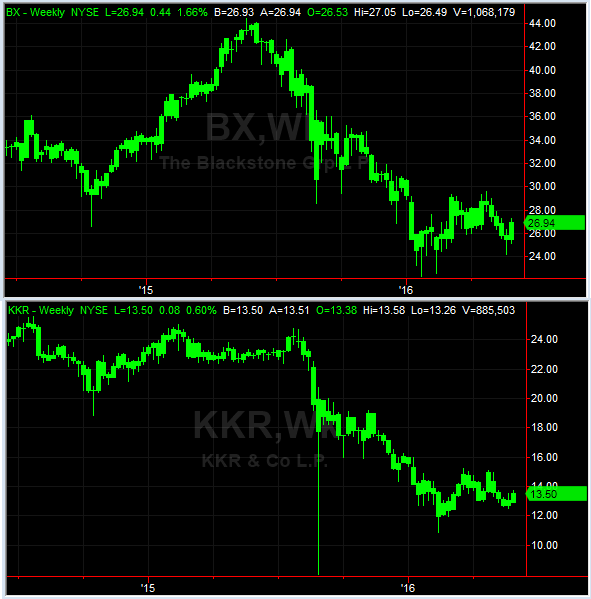 (source: TradeStation)
But if the IPO market heats up and these private equity companies are able to realize profits by selling shares to the public, all that could change.
Buy Low, Sell High: Taking Advantage Of Market Swings
As the market traded sharply lower to begin the year, investors started to worry that private equity companies wouldn't be able to sell their positions for profits. But there is another side to the private equity business that many investors seemed to be missing.
Lower asset prices give private equity companies opportunities to buy low, paying discount prices for quality investments. In January, I wrote an article explaining how Blackstone was able to crush its competition by raising capital. The capital Blackstone was able to raise and invest when the market was trading lower should now be a benefit to the firm with stocks trading higher and the IPO market loosening up.
In January, Blackstone had $85 billion in capital that was free to invest. I'm very interested to see how much of this capital was able to be put to work during the "buyers market" in the first half of 2016. The company's second quarter report will give us a good picture of how well Blackstone was able to capitalize on lower buying prices and the subsequent market rebound.
The bottom line is that the sharp selloff at a time when private equity companies had ample capital to invest - coupled with a market rebound and renewed activity in the IPO market - should set up a perfect opportunity for private equity companies to beat investor expectations when they report third quarter earnings.
Shares of BX and KKR have moved a bit higher this week following the US Foods' IPO. But there could be a lot more room for rebound if additional IPOs are brought to market in the coming weeks.
Investment Banks Also Profit From An Active IPO Market
Shares of major investment bankers could also trade higher if IPO activity continues to pick up. The US Foods' IPO featured a "who's who" of investment banks on its prospectus including Goldman Sachs (NYSE:GS), Morgan Stanley (NYSE:MS) and JP Morgan (NYSE:JPM) as joint book runners.
These transactions are profitable for investment banks because of the lucrative fees that are tacked on to IPO transactions.
For instance, shares of US Foods were sold to investors at a unit price of $23.00. But the selling shareholders only received $21.9075 for every share sold. A full $1.0925 per share (or an estimated $48.6 million) was paid to the underwriters - or investment banks - who helped get the deal done.
These investment banks simply found customers who were willing to buy these new shares of stock. Customers typically include mutual funds, hedge funds, pension plans, and some individual investors who have accounts with the underwriters. Underwriting new issues can be an incredibly lucrative business line for these investment banks, and if the IPO market is turning around, these profits could accumulate quickly.
Holding Tight On US Foods
At this point, I'm steering away from USFD while I wait to gather more information.
The company generated earnings per share of $0.98 last year which compares favorably to the 43 cents per share that USFD lost last year. For the first quarter of this year, USFD generated profits of 8 cents per share which is double the 4 cents USFD earned in the first quarter of 2015.
So USFD is a profitable company that appears to be growing. But with $5.0 billion in total debt and $285 million in annual interest expense, the company appears vulnerable. A slowdown in sales would be particularly painful give the fact that interest expenses are already 150% of the company's operating income. (Source: SEC Filing)
But although I would avoid taking a position in USFD, I believe both Blackstone and KKR stand to benefit from this successful IPO transaction and the boost in sentiment it should bring.
Disclosure: I am/we are long BX.
I wrote this article myself, and it expresses my own opinions. I am not receiving compensation for it (other than from Seeking Alpha). I have no business relationship with any company whose stock is mentioned in this article.
Additional disclosure: I am short puts on Morgan Stanley (MS)