Where we stand
After becoming once again a public company in July 2015, PayPal (NASDAQ:PYPL) has been trading around its IPO price for the past 10 months: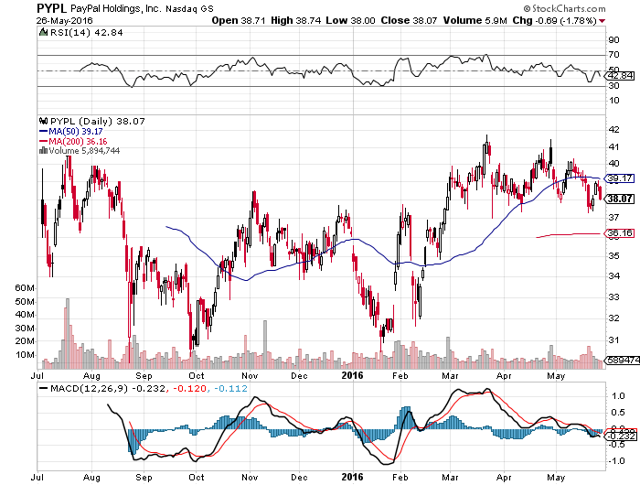 Source: StockCharts
Honestly, I was expecting a better return from the IPO. It is true that from a value perspective, a current PE of 34 and an estimated PE of 25 aren't exactly cheap. Still, I can't help to think that investors are not pricing correctly the new consumer shopping trends, PayPal's leadership in those markets, the company's track record, nor the possibility of being once again a takeover target.
Growing Market
A multi-country study shows that online commerce is expected to grow by 13% compounded annually while mobile commerce is expected to increase by 42% compounded annually over the coming years on average.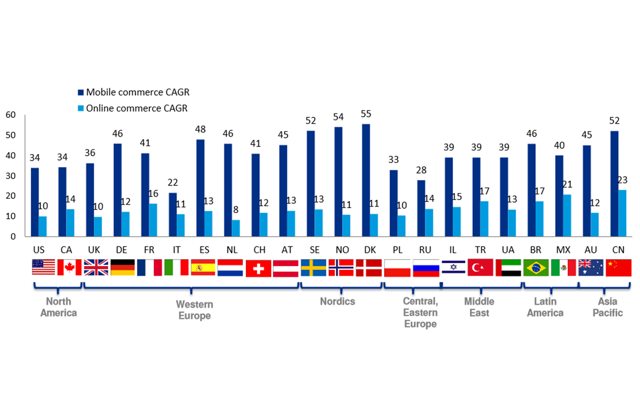 Source: PayPal Investor Presentation
I'm certain that nobody doubts this trend will "grow on" for years as millennials grow up and increase their consumer spending, as baby boomers get used to this new way of shopping, as international trade taxes shrink or disappear (coming soon the US and EU trade agreement), as deliveries become faster and as mobile devices get even more widespread and used in payments.
PayPal is the Market Leader
PayPal is the most widely accepted payment method for online sales (both domestically & cross border):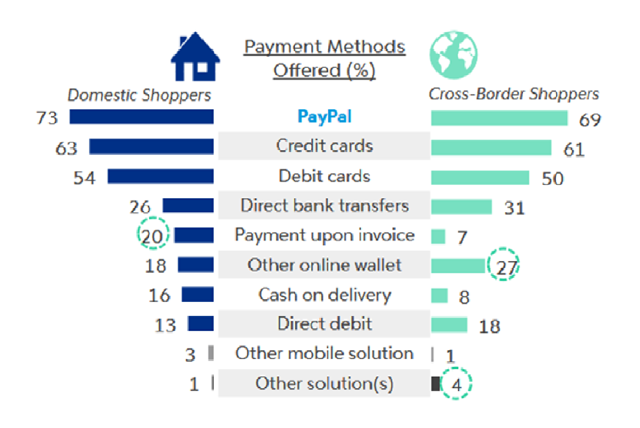 Source: PayPal Investor Presentation
It accepts payments in 100 currencies and it allows to hold cash balances in 26 currencies. It's available both on a browser or on a mobile device. It's a well trusted brand. It's safe, convenient, easy and super quick to use. In fact, PayPal matches all the attributes you look for in a payment method and it comes with little surprise that it was the 41st most visited website in the world with over 19 million daily visits in 2015.
PayPal Fundamentals
During the first quarter PayPal grew in all fronts (revenue, number of users, transactions per user, number of transactions and mobile payments) when compared with the same quarter in 2015. Given the market trends we just saw, it will continue to post strong growth in the years to come: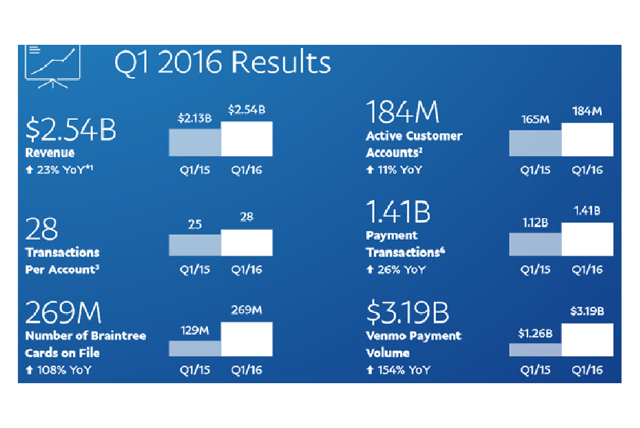 Source: PayPal Earnings Presentation
The bottom line results also came out better with an EPS growth in the first 3 months of 28% from a year ago to $0.37.
During the first 3 months, it added powerful new merchants such as Air France, Crate and Barrel, Fresh Direct, Panera Bread, Sephora and Woolworths in Australia and extended its partnership with Alibaba to include new countries and additional merchants, ending the quarter with over 14 million active merchant accounts.
On the technology front, there are a lot of exciting things happening, such as the ongoing Venmo's roll out, the new PayPal app (even simpler and more user friendly), the One Touch expansion to additional 121 markets and the partnership with Vodafone in Europe that will allow clients to fund payments with their smartphones at Visa contactless terminals using the Vodafone Wallet.
Add to all these a light capital structure, a defensive profile, no debt (it actually ended the first quarter with $6.4 billion in cash, cash equivalents and investments after generating $738 million of operating cash flow and $605 million of free cash flow in those 3 months), great margins (operating margins above 20% in the first quarter) and it's difficult not be excited about this company and at the same time very disappointed with the stock price behavior during the first 10 months.
Takeover Candidate
Either by itself, or as part of a bigger entity, the future looks promising for PayPal.
Yes, I know, PayPal just got divorced from eBay (NASDAQ:EBAY), why should it rush into a new marriage? I'm not saying it would be the best path for PayPal, I actually think the company's independence is a strength and it's good for business because by remaining agnostic PayPal can work with all market players without suspicion: both with Alibaba (NYSE:BABA) and Amazon (NASDAQ:AMZN) or with Google (NASDAQ:GOOG) (NASDAQ:GOOGL) and Apple (NASDAQ:AAPL). Still, there's no doubt that this success hasn't passed unnoticed to the major tech companies and there are certainly several candidates that wouldn't mind taking this bride to the alter.
In fact, seeing from the number of similar services that are popping up across the board, from Apple Pay, to Android Pay, Samsung Pay (OTC:SSNLF) (OTC:SSNNF) or even Walmart Pay (NYSE:WMT) there's no doubt that some major players are interested in this market. But even for these big companies, developing from scratch such a widespread and accepted payment method will not only be a big investment as it will take a lot of time. Given that companies like Apple or Google have the necessary resources, wouldn't it be easier and perhaps more profitable for them to buy the market Leader before their competitor does so?
In Summary
I'm disappointed with the stock return over these first few months. Still, I'm convinced that if PayPal continues delivering strong growth (and as we've seen there are several reasons for this to happen), sooner than later the company will unlock its true value.
Disclosure: I/we have no positions in any stocks mentioned, but may initiate a long position in PYPL over the next 72 hours.
I wrote this article myself, and it expresses my own opinions. I am not receiving compensation for it (other than from Seeking Alpha). I have no business relationship with any company whose stock is mentioned in this article.
Editor's Note: This article discusses one or more securities that do not trade on a major U.S. exchange. Please be aware of the risks associated with these stocks.