Introduction:
Stella-Jones (OTC:STLJF) is North America's leading producer and marketer of pressure treated wood products. The Company supplies North America's railroads with railway ties and timbers, and utility companies with electricity wood poles. Stella-Jones also provides custom wood products to retailers and wholesalers for residential or industrial use.
Full year 2015:
2015 was a fantastic year for Stella Jones, shareholders saw revenues grow a staggering 25% with net income growing 36%. Stella Jones has 5 key segments from which they derive their revenues: Railway Ties, Utility Poles, Logs and Lumber, Industrial Products and Residential Lumber.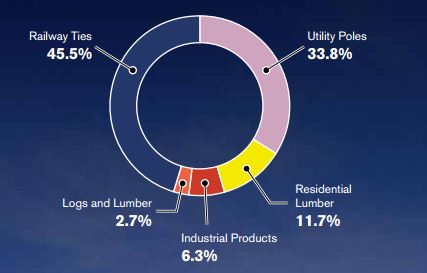 (Source: Stella Jones 2015 Annual Report)
One of the most watched segments, residential lumber, grew 43% in 2015. This is one of the companies' most exciting segments as margins are high and the latest Ram Forest Group acquisition should help continue this growth.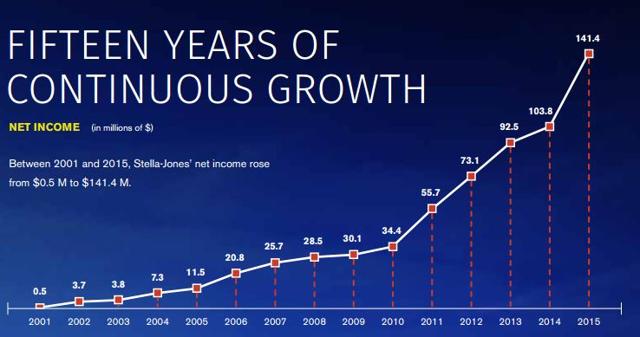 (Source: Stella Jones 2015 Annual Report)
Business Model:
Stella Jones fits perfectly in the highly predictable, cash flow generative, simple business category. Moreover, Stella Jones has proven to be resilient through tumultuous times due to its efficient business model. During the financial crisis in 2008/2009, Stella Jones was able to grow revenues and keep its strong momentum going. This was principally due to Stella Jones' railway ties business as railroad companies need to constantly invest in their railroads in order to be as efficient as possible. This is the company's most stable segment and should continue to do well over time.
In my personal view, I believe that the most attractive part of Stella Jones' business model is its long-term contracts with utility companies and railways. Not only do these contracts offer a stable source of income, it also allows them to predict future cash flows and in turn, invest in their business accordingly.
The company's revenue growth is fueled principally by organic growth in its main segments and through acquisitions. Moreover, the company is known for its smart bolt-on platform from where it creates a tremendous amount of synergies through strategic acquisitions. As soon as the synergies are put in place and become fruitful, the company then pays down their debt and restarts the process again.
This business model has been the center of attention lately with companies such as Valeant Pharmaceuticals (NYSE:VRX) and Platform Specialty Products (NYSE:PAH) getting their share price obliterated.
However, Stella Jones' growth through smart bolt-on has proven to be effective as it has been part of their business model since its inception. Moreover, the company's ability to generate tremendous cash flow has more than helped pay down the debt accumulation.
Outlook:
According to the 2015 annual report, the company is expecting another excellent performance in 2016. According to the chairman, Tom Bruce Jones, the company's residential lumber segment will double in 2016. They expect the Ram acquisition to be an excellent driver of growth for this segment and will help produce meaningful shareholder returns.
On another note, a huge plus for this segment is the plunge of lumber prices in recent years. This in turn, allows Stella Jones to grow its margins while continuing its expansion and generate significant shareholder returns.
The company is extremely confident in its ability to grow its utility poles segment. In 2015 Stella Jones acquired McCormick Piling & Lumber Co., a pole peeling company in Oregon and two pole treatment companies; Treated Materials Co and United Wood Treating Company, in order to create meaningful synergies and ultimately continue the growth in this segment.
Finally, Stella Jones expects to continue its acquisition spree, grow organically, and deliver strong top and bottom line growth.
Valuation:
The company trades at a reasonable 18x times forward earnings with a puny 0.8% dividend. Given its historic average PE Ratio of 19.7 and its historical EPS growth rate of 19.7%, Stella Jones can offer a great return on investment.
Moreover, Stella Jones' ability to deliver strong results with an extremely efficient acquisition strategy deserves a premium valuation in itself. Personally, I am a big believer in the company's ability to efficiently integrate other companies onto its platform and deliver significant shareholder returns.
If Stella Jones can continue its growth in all segments while effectively integrating its acquisition targets, then shareholders will do very well over time. Additionally, the share price his proved to be resilient given its business model: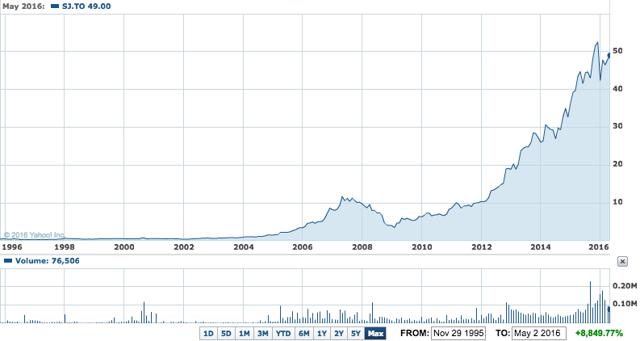 (Source: Yahoo Finance)
If investors can see a short term drop in the share price than an investment in Stella Jones would be a no brainer.
Disclosure: I am/we are long PAH.
I wrote this article myself, and it expresses my own opinions. I am not receiving compensation for it (other than from Seeking Alpha). I have no business relationship with any company whose stock is mentioned in this article.
Editor's Note: This article discusses one or more securities that do not trade on a major U.S. exchange. Please be aware of the risks associated with these stocks.