Important note: This article is not an investment recommendation and should not to be relied upon when making investment decisions - investors should conduct their own comprehensive research. Please read the disclaimer at the end of this article.
Following the decisions to exit Deepwater, cut back on exploration and divest certain non-core assets, Marathon Oil (NYSE:MRO) increasingly relies on its U.S. resource play assets for new production. In the first quarter of 2016, the portion of the company's production sourced from U.S. shale plays increased to 60% from 57% a year earlier, a significant growth for a company of Marathon's size. Going forward, this trend will continue, with Marathon becoming increasingly a shale oil company, both in terms of the current production and, more importantly, capital allocation and strategy.
One of the side effects of this increased focus on shale oil is the "treadmill" effect: the operator has to drill many wells to simply offset the rapid initial production declines in existing wells. It is also worth noting that oil production volumes in shales typically decline faster than the natural gas component of the production stream, setting the minimum activity level required to maintain oil volumes at the same level even higher.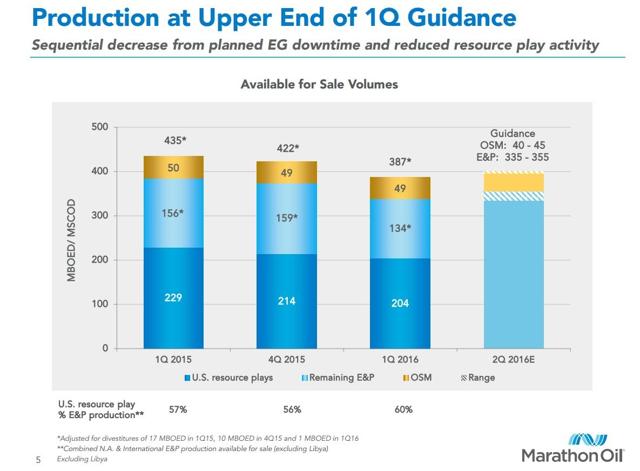 (Source: Marathon Oil, May 2016)
Marathon has core positions in three major shale oil basins: the Eagle Ford, Bakken and SCOOP/STACK areas of the Anadarko Basin. The Eagle Ford, where most of Marathon's U.S. unconventional production comes from and where the company has advanced development-stage operation in the play's core, will likely remain the primary production replacement engine for the foreseeable future. In 2016, the Eagle Ford will continue to be allocated more capital than the other two Unconventional areas.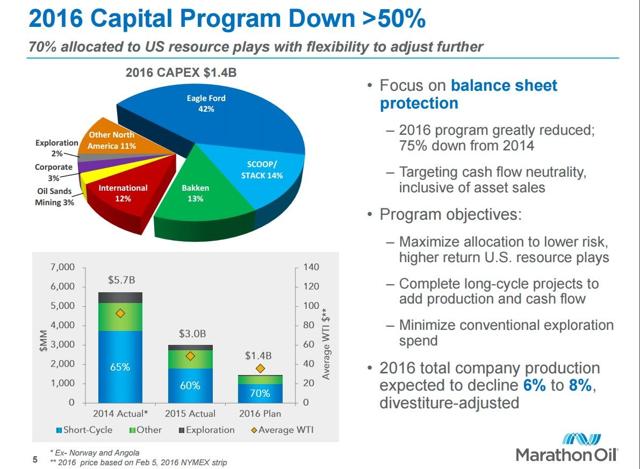 (Source: Marathon Oil, May 2016)
However, the SCOOP/STACK operation is quickly emerging as a potential close second in Marathon's portfolio in terms of strategic importance. For the time being, Marathon's activity in the Anadarko Basin is dominated by lease retention drilling in STACK (which is not dissimilar to peer operators, as the industry is working hard to capture acreage in the newly discovered play). However, two major factors may motivate Marathon to proceed with a more aggressive development program in the near future: higher natural gas prices and offset operator success in "cracking the technical codes" in various formations and areas.
Both the SCOOP and STACK tend to be significant natural gas producers. In Q1 2016, oil represented only 19% of Marathon's total production in its Oklahoma Resource Basins, as compared to 58% in the Eagle Ford and 83% in the Bakken. With the spot Henry Hub price averaging $1.97 per MMBtu so far this year and NGL prices remaining exceptionally weak, the high natural gas yield is hardly a blessing. However, it is difficult to imagine that natural gas prices will continue to trade below $2/MMBtu for long, as even the most prolific dry gas producing areas are uneconomic at these price levels. If one were to assume strip pricing - which, some might argue, is still quite low, with the 2017 contracts averaging just ~$3.00 per MMBtu - Marathon's drilling economics in the Anadarko Basin would change quite radically.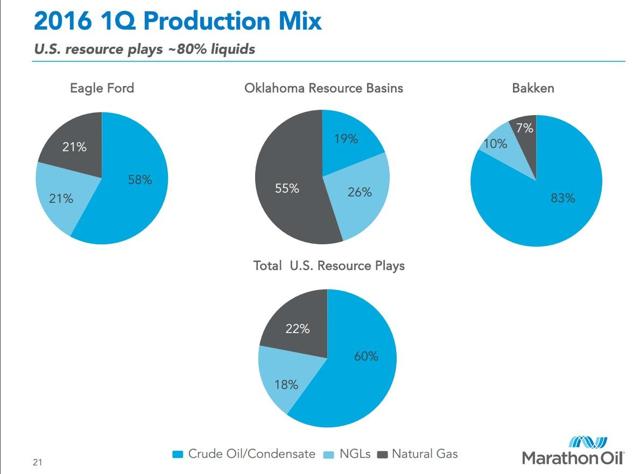 (Source: Marathon Oil, May 2016)
The second factor is offset operator activity in STACK. With ~$200 million budget for Oklahoma Resource Basins in 2016, Marathon's capital allocation is dwarfed by other operators' combined spending. The leaders in the play - Newfield Exploration (NYSE:NFX), Devon Energy (NYSE:DVN) and Continental Resources (NYSE:CLR) - have much larger delineation programs underway in STACK, with industry activity densely surrounding Marathon's leases. In fact, Marathon is fortunate to have captured a meaningful leasehold position within the over-pressured oil window which increasingly appears to be the most economic part of the fairway.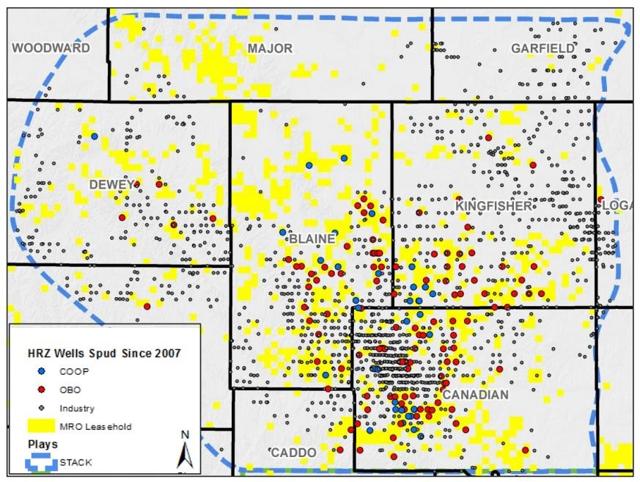 (Source: Marathon Oil, May 2016)
It is still premature to judge if STACK will be able to compete with core areas of the Eagle Ford in drilling returns to drive a significant capital re-allocation by Marathon. However, for the foreseeable future, STACK will continue to provide a very active news flow and attract keen industry attention. The resource plays in STACK area are still very early in their life cycles and it is natural to expect that the technical learning curve will over time lead to more productive wells and lower completed well costs. As operators often engage in technical data exchanges, having several strong industry peers actively developing the play represents a significant advantage for cash-constrained Marathon.
The company believes that it has ~55,000 net acres in the Meramec and ~67,000 net acres in the Woodford in STACK already delineated by its own well results and offset operator activity. In combination with a large position in the SCOOP and given the stack-n-stagger development potential in the thicker portions of these formations, the leasehold represents a multi-year potential development opportunity. The biggest question - which remains to be answered via additional production history - is, where does STACK and SCOOP stack in Marathon's portfolio in terms of expected drilling returns? If these areas prove - by virtue of higher gas prices or well performance - to be the return leaders, STACK and SCOOP may make a difference for Marathon in terms of the company's overall capital intensity and production trajectory.
For the time being, as Marathon's financial resources remain constrained, the company is moving slowly, with 2 operated rigs running and 20-22 gross operated wells expected to be turned inline in 2016.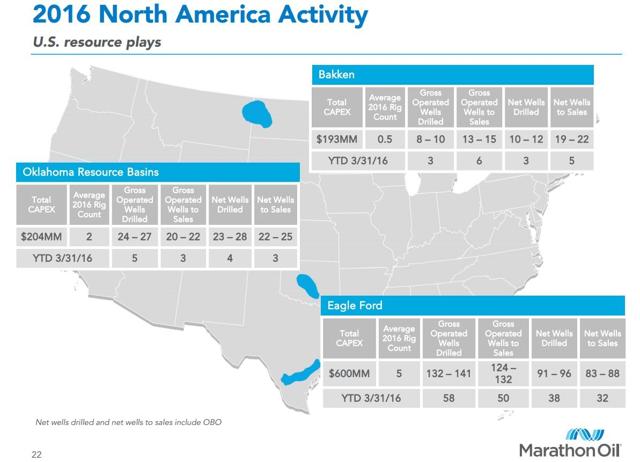 (Source: Marathon Oil, May 2016)
For in-depth data and analysis of commodity fundamentals, please consider subscribing to Zeits OIL ANALYTICS that provides analysis of the crude oil and natural markets.
Disclaimer: Opinions expressed herein by the author are not an investment recommendation and are not meant to be relied upon in investment decisions. The author is not acting in an investment, tax, legal or any other advisory capacity. This is not an investment research report. The author's opinions expressed herein address only select aspects of potential investment in securities of the companies mentioned and cannot be a substitute for comprehensive investment analysis. Any analysis presented herein is illustrative in nature, limited in scope, based on an incomplete set of information, and has limitations to its accuracy. The author recommends that potential and existing investors conduct thorough investment research of their own, including detailed review of the companies' SEC filings, and consult a qualified investment advisor. The information upon which this material is based was obtained from sources believed to be reliable, but has not been independently verified. Therefore, the author cannot guarantee its accuracy. Any opinions or estimates constitute the author's best judgment as of the date of publication, and are subject to change without notice. The author explicitly disclaims any liability that may arise from the use of this material.
Disclosure: I/we have no positions in any stocks mentioned, and no plans to initiate any positions within the next 72 hours.
I wrote this article myself, and it expresses my own opinions. I am not receiving compensation for it (other than from Seeking Alpha). I have no business relationship with any company whose stock is mentioned in this article.