Near the end of April, I published on article here regarding the Bakken, one of the seven largest oil and natural gas producing regions in the U.S. that's covered by the EIA's (Energy Information Administration's) monthly Drilling Productivity Report. Last month, I forecasted a major drop in production in the Bakken throughout the year, which is a net positive for oil-related companies like Legacy Reserves (NASDAQ:LGCY), Memorial Production Partners (NASDAQ:MEMP), and Approach Resources (NASDAQ:AREX), as well as for investors in the United States Oil ETF (NYSEARCA:USO) and other oil-related ETFs. Now that fresh data by the organization is available, I've decided to dig into it and see how the picture has changed and what it means for investors down the road.
Making some necessary revisions
In last month's report, I had to utilize three core assumptions regarding oil production in the Bakken in order to forecast what the picture should look like moving forward. The first of these related to the rig count. After looking over the change in rig counts in the region during a certain period of time, I estimated that we would probably see month-over-month decreases of 5 units moving forward. Interestingly, in the month of April, the rig count did manage to fall by 5 units from 32 to 27 so I am going to stick with this assumption in perpetuity for the time being.
The second major assumption I had to make is regarding the change in month-to-month drilling productivity improvements. Previously, I had used historical data from the Bakken to conclude that rigs should become about 1.5% more productive every single month heading into the future. However, as you can see in the graph below, which looks at revised data from the EIA starting as far back as 2007, the recent trend has been toward productivity increasing by closer to 2% each month. Because of this change, I've decided to increase my assumptions for the region up to 2.25% every month, which is painful since it only serves to make the oil market look less bullish down the road.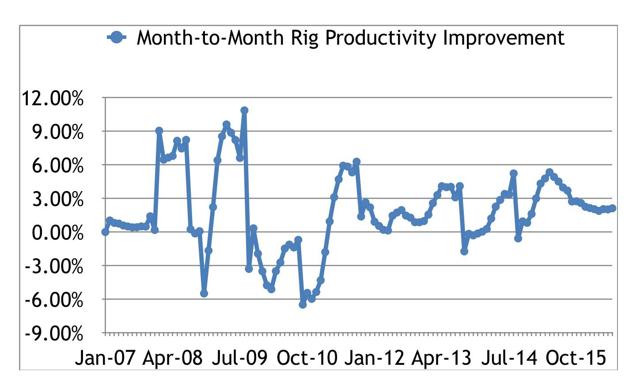 *Source: Created by author with data from the EIA's Drilling Productivity Report
Finally, I had to look at monthly production decline rates. In my prior piece, I had assumed that we would see three scenarios; a conservative one with declines averaging 4.75% each month, a moderate one with declines at 5.25%, and a liberal one where declines would be about 5.75% every month. Unfortunately for me, as you can see in the graph below, the decline rate in the Bakken appears to have shifted down modestly, which is also bearish. Because of this, I lowered my moderate forecast (the most likely) to 5% each month and the liberal one (the least likely) to 5.25%. Meanwhile, I kept the conservative one at 4.75% since it seems reasonable there based on recent metrics.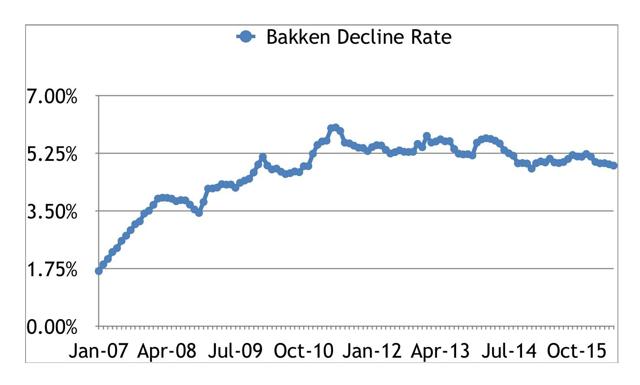 *Source: Created by author with data from the EIA's Drilling Productivity Report
Using my prior numbers, I was able to generate the table below. In it, you can see that oil production in the Bakken is due to drop a great deal this year, falling to 800,603 barrels per day by December of 2016 should the conservative scenario hold true. Meanwhile, under the moderate one, investors should expect output to dip to 772,392 barrels per day. Under the unlikely liberal scenario, output could fall to as low as 745,046 barrels per day. When compared to December 2015's revised number of 1,153,340 barrels per day, this represents a major decline in production and would certainly, by itself, help the oil rebalancing process that seems to be taking place right now.

*Source: Created by author with data from the EIA's Drilling Productivity Report
The picture is a little less bullish right now
After incorporating the changes detailed above, however, the situation is a little less bullish than it was before. As you can see in the table below, output under the conservative forecast should come out to around 808,176 barrels per day. This is still a nice drop year-over-year but it's evident that the revision has been harmful, to a small extent, to the picture. Under the moderate scenario, meanwhile, output should be closer to 795,788 barrels per day, while the liberal one is calling for production of about 783,560 barrels per day.

*Source: Created by author with data from the EIA's Drilling Productivity Report
In order to put all of this into perspective, I was able to create the following table below. According to this, the conservative forecast is now calling for output, by the end of this year, to be about 7,573 barrels per day above where I estimated it would be just one month ago. The moderate forecast calls for an even larger disparity of 23,396 barrels per day, while the liberal forecast is calling for production to be about 38,514 barrels higher than previously anticipated.

*Source: Created by author with data from the EIA's Drilling Productivity Report
Takeaway
Based on the data provided, it seems clear that the oil picture in the Bakken will definitely improve year-over-year as a reduction in drilling will ultimately lead to falling output. On the other hand, though, thanks to the revisions I had to make because of the EIA's data, the picture looks less bullish than it did in April. After already seeing the same thing (though on a larger scale) happen with the Eagle Ford, this is somewhat concerning to me but the overall trend toward lower production is still bullish in my opinion.
Disclosure: I am/we are long MEMP, AREX.
I wrote this article myself, and it expresses my own opinions. I am not receiving compensation for it (other than from Seeking Alpha). I have no business relationship with any company whose stock is mentioned in this article.
Additional disclosure: I may go long LGCY or its preferred shares