Semiconductors were one of the hottest groups of stocks in the 1990s. Some still offer spectacular profit opportunities, but investors have to be careful which ones they chose. In turn, the best choices depend on the time frame. Long-term investors who buy and hold for years will usually make different choices from position traders who wish to only hold for a few months. Investors can of course always just purchase a semiconductor ETF, but more ambitious investors can always do better. Long-term performance tends to be better for the larger market cap semi stocks and shorter-term performance is better among those with a slightly smaller market cap.
The four semiconductor ETFS are: SMH, SOXX, XSD, and PSI. SMH tracks the MVIS US Listed Semiconductor 25 Index (MVSMHTR) of companies involved in semiconductor production and equipment. SOXX tracks the 30-component PHLX Semiconductor Sector Index. PSI follows the Dynamic Semiconductors Intellidex Index, which also has 30 companies. XSD equal weights its holdings, so the titans like Intel (NASDAQ:INTC) don't have disproportionate impact on performance. Returns on SMH and SOXX are almost identical. PSI and XSD both lag in their returns. In the chart below, the black line is SMH and the blue line is SOXX. The gold line is PSI and the red line is XSD.
Relative Five-Year Performance of Semiconductor ETFs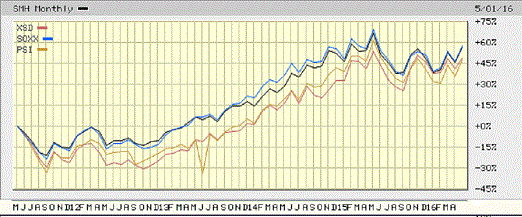 The top four semiconductor stocks in the last five years were: Broadcom (NASDAQ:AVGO), Integrated Device Technology (NASDAQ:IDTI), NXP Semiconductors N.V. (NASDAQ:NXPI), and Skyworks Solutions (NASDAQ:SWKS). While SMH rose 60% during this period, AVGO was 341% higher, NXPI was 220% higher, IDTI was 184% higher and SWKS was up 145%. SMH is represented by the black bars on the chart, AVGO the blue line, XPI the red line, IDTI the orange line and SWKS the gold line.
Top Semiconductors Stocks 2011 to 2016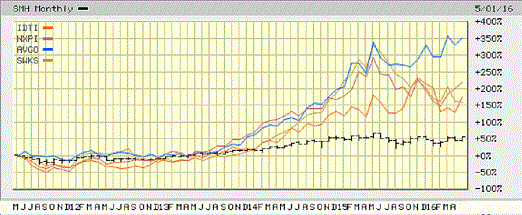 The list of the top four semiconductor stocks so far in 2016 is quite different. In the last five months, SMH is up 6%, but Nividia (NASDAQ:NVDA) has rallied 39%. Applied Materials (NASDAQ:AMAT) has risen 27%, Cadence Design Systems (NASDAQ:CDNS) is 20% higher, and Marvel Technology Group (NASDAQ:MRVL) is better by 15%. There is no overlap between the top performers on a five year basis and a year-to-date time frame. In the chart below, SMH is in black, NVDA in blue, AMAT in gold, CDNS in orange, and MRVL in red.
Top Semiconductors Stocks Year-to-Date 2016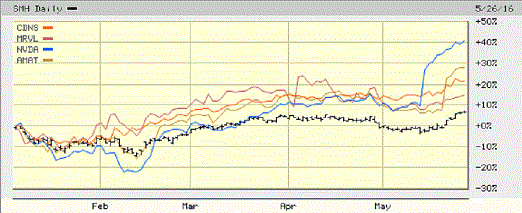 If we looked back even longer, it would be seen that the top semiconductor stock in the last ten years was Skyworks Solutions . It is currently higher by 1058% and at its height in 2015 it had risen by approximately 1750% from May 2006. So, the top four semiconductor stocks change depending on the time frame analyzed. Investors who don't want to buy the ETFs SMH or SOXX need to monitor relative performance based on the investment time frame in which they are interested and buy accordingly.
Disclosure: I/we have no positions in any stocks mentioned, and no plans to initiate any positions within the next 72 hours.
I wrote this article myself, and it expresses my own opinions. I am not receiving compensation for it (other than from Seeking Alpha). I have no business relationship with any company whose stock is mentioned in this article.