ElectroMed (NYSEMKT:ELMD) is a micro-cap medical equipment company with positive earnings, positive EBITDA and recent revenue growth. ElectroMed's main product is the SmartVest SQL a High Frequency Chest Wall Oscillator (HFCWO) device. HFCWO devices assist with respiratory function by stimulating a mini couch to help patients clear their airway. The SmartVest SQL offers functionality that makes it an attractive product, particularly in the home care use. Due to the high gross margins the company has significant operational leverage to increase net income margins as they grow revenues.
Company Description and Market
Electromed has two main product offerings under their SmartVest HFCWO brand. They offer the traditional SmartVest SV2100 and the newer model SmartVest SQL. The SmartVest SQL was approved in 2013 and has driven a majority of the companies revenue growth since approval.
The SmartVest SQL has several advantages over both the SV2100 and competitors HFCWO devices including a smaller lighter size, quieter operation, and additional programmable functionality.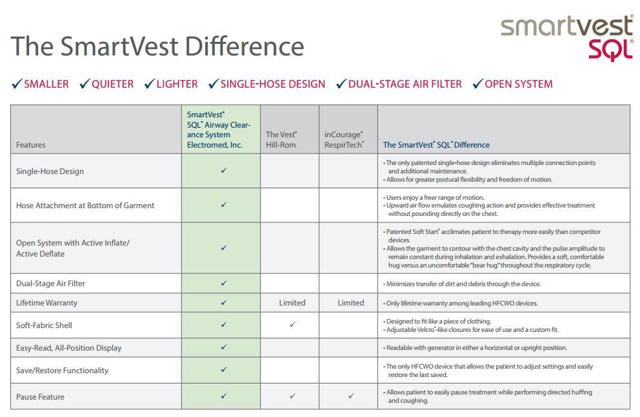 Source: ElectroMed Website
HFCWO devices address several lung related conditions including Cystic Fibrosis, ALS, COPD and Bronchiectasis. CEO Kathleen Skarvan described the devices in a March 2015 interview as:
An HFCWO system is comprised of an inflatable garment connected to a programmable air pulse generator via a hose. During therapy, the generator creates and delivers rapidly repeating pulses of air through the garment, alternately squeezing and releasing the upper torso of the body and chest wall. Each squeeze simulates a "mini cough," which acts to loosen, thin and propel mucus toward major airways, where it can be more readily coughed up or suctioned away. That is the mechanism of high-frequency chest-wall oscillation.
Source: March 2015 CEO Interview: Link
The market for conditions in which an HFCWO device is useful is ever expanding due to a two major tailwinds. The first tailwind is increased air pollution in major cities especially in poorer cities that's causing more respritory issues like COPD. The second tailwind is the aging of the population in the west (i.e. baby boomers).
Aside from a growing end user market, adoption rates for HFCWO devices also are increasing as physicians are increasingly prescribing them for home care. The cost of treatments in the home are less expensive then treatments at a medical facility leading more doctors to prescribe HFCWO devices for home use. The SmartVest SQL system is the HFCWO device best suited for home use due to its smaller size and quieter operation.
ElectroMed is positioned well within the HFCWO device market with the SmartVest SQL product which is particularly well suited for the home care market due to its smaller size and quieter operations than other HFCWO devices.
Operating Margin Leverage
ElectroMed is a single product category company that spends a large portion of their gross profits covering their SG&A costs. SG&A costs account for 61% of ElectroMed's revenues. As they grow their underlying revenues they will have significant operational leverage due to their high gross margins. ElectroMed gross margins are around 76-79%. Small companies with high gross margins are very attractive as every dollar of growth adds significantly to net income.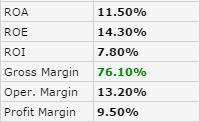 Source: Finviz
ElectroMed has already expanded its profit margins significantly since launching the SmartVest SQL from -8.8% to 9.4%. With gross margins in the 70% range any revenue growth going forward is almost instantly accretive to net income as SG&A will not scale with revenues evenly. Small companies often have these "Hockey Sticks" when it comes to net income as once the SG&A costs are covered net income starts to rise disproportionately higher as revenue increases. This is especially true in companies with high gross margins.
Valuation and Conclusion
ElectroMed trades at a very conservative valuation. The company has a net cash position of ~$3.5m and an overall market cap of $34.5m. With TTM EBITDA of $3.72m the company trades at an EV/EBITDA multiple of 8.1. Revenue growth over the last two years since the introduction of the SmartVest SQL has ranged from 12-20% y-o-y. In a base case I assumed a conservative growth rate going forward of 12% and I valued the shares of the company at $6.5. In an upside case I assume a mild increase in net income margins from operational leverage and a 15% growth rate and I valued the shares at $8.18.
Outside of the cheap valuation and good forward prospects there has been some recent purchase activity from Red Oak Partners, a well known Small Cap Investment firm. Red Oak Partners specializes in situations where their deep research provides them an informational advantage. I believe they likely see the same positive trends, cheap valuation and potential for operational leverage that make me optimistic about ElectroMed's future.
Micro-Cap Disclosure:
Warning for investors: This is considered a micro cap stock and has specific risks associated with it. Please see the SEC website for more information on micro-cap stock risks. Due to the fact ElectroMed is a micro-cap company, I suggest that you read the list of risks in the company's 10-K filing before investing in the stock. Here are a few risks I believe are important to understand before investing in ElectroMed:
Disruption of their end market due to a new entrant or new product offering from a competitor could reduce future earnings potential.
Changes in regulations could potentially effect reimbursement rates on HFCWO devices and could lower future earnings potential.
Future Research that puts the effectiveness of HFCWO devices in question could lower future earnings potential.
Disclosure: I am/we are long ELMD.
I wrote this article myself, and it expresses my own opinions. I am not receiving compensation for it (other than from Seeking Alpha). I have no business relationship with any company whose stock is mentioned in this article.
Editor's Note: This article covers one or more stocks trading at less than $1 per share and/or with less than a $100 million market cap. Please be aware of the risks associated with these stocks.