REITs and mREITs have long been two of the best income oriented investment vehicles for those looking for yield. Yet in today's economic environment, they will have two drastically different return profiles.
On the surface, REITs and mREITs share a lot of common characteristics. Both use a lot of leverage, generate a lot of income, and their performance is tied to the underlying real asset. The difference is that while REITs represent partial ownership of the real assets, mREITs represent ownership of the securities backed by the real assets. As we shall see, this small dissimilarity makes a world of difference.
Fed Meddling
Short-term rates have skyrocketed due to the Fed's rate policy. Since 2014, the 1-year treasury rate has increased by more than 400%. Rising rates seem to have little effect on longer term maturities however, their yields have in fact been trending lower over the last two years.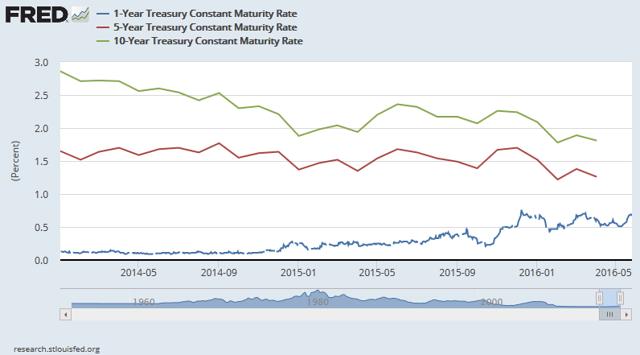 What does this mean for REITs and mREITs? Despite the differences of the underlying assets (mortgage securities vs. real assets), the cash flow characteristics are very similar. Mortgages generate monthly cash flow and so does real estate. The problem then, lies with the right side of the balance sheet that support these assets.
Liabilities
Unlike mREITs, REITs finance their assets (the real properties) using long-term debt. Take Realty Income (NYSE:O), its $250 million term loan will mature in 2020 and the vast majority of its $3.6 billion long-term debt will mature after 2020. mREITs on the other hand use a variety of short-term debt (e.g. repo agreements) to finance their mortgage assets. Using Annaly Capital (NYSE:NLY) as an example, as of Q1, the repo agreements only had a weighted average days to maturity of 131 days.
From a valuation perspective, the shifting yields seem to benefit mREITs and hurt REITs. Rising short-term yields decrease the value of the liabilities while falling long-term yields increase the value of the mortgage securities. On the other hand, falling long-term rates will increase the market value of the liabilities of REITs (i.e. making debt more expensive). However, due to the very fact that both mREITs and REITs have long-term investment horizons and are geared towards generating income, capital gains and losses are not the priority. REITs won't be in a hurry to pay off their liabilities to realize a loss and mREITs won't be in a hurry to unload their mortgage securities for a gain.
Prepayment
While the short duration of mREITs' liabilities means that rising rates won't significantly reduce the market value of debt, the return earned from the assets will take a hit. Falling medium term rates have caused mortgage payers to accelerate their payment, leading to losses arising from rising prepayment rates. I talked about this in my last article about Annaly Capital ( Why Worry?), who booked a significant PAA loss in Q1. We can find support of this trend directly from Realty Income's management, who stated in Q1 that: " We expect to pay off the mortgages as soon as prepayment penalties make it economically feasible to do so." As mortgage payments accelerate, mREITs would be forced to invest in securities at lower yields, decreasing the spread that they earn above their cost of funds.
What You Can Do
There are many ways to manage this headwind if you are heavily invested in mREITs. For one, it may be wise to hold off on reinvesting the dividends that you receive. As I talked about in Value Investor's Daily Macro, you essentially "lock in" a rate of return every time you reinvest if you have a long term investment horizon. If the current expected rate of return for mREITs is low, there is no reason to pile money into it. You can continue to maintain your exposure to the real estate sector by investing in REITs instead.
If you still wish to invest in mREITs, searching for low leverage is the key. A novel way to approach this problem is by looking at the short term debt/share figure. For example, based on Q1 financials, Annaly Capital's $54.4 billion repo agreements translated to $58.75/share; in contrast, this figure stood at $135.39/share for American Capital Agency (NASDAQ:AGNC). Assuming that rate hikes will impact both companies in a similar fashion, Annaly shareholders would be much better shielded. Here is how the two stocks performed over the past year and half under Fed's tightening monetary policy.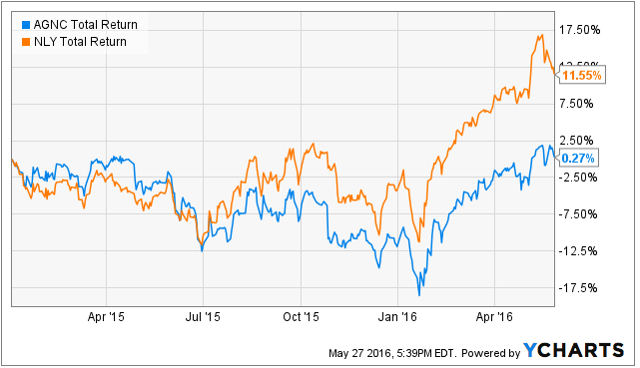 Leveraged mREITs: BXMT, CIM, MFA
Conclusion
Under today's macroeconomic trend, mREITs and REITs will deliver vastly different performances despite their similarities. The rate hike will not immediately impact REITs due to the long-term nature of their liabilities, whereas the mREITs will immediately feel any effect from even the smallest movements in short-term rates. I believe this paints a clear picture for an income investor. If you are looking for stable cash flow in a tightening economic environment, REITs would be the clearly winner over mREITs.
Note: If you are interested in reading more about my investment process, you can click the "Follow" button beside my name on the top of the page and be updated with my latest insights. To learn more about the V20 Portfolio (+40% in 2015), whose goal is to compound capital at 20% over the long term, I encourage you to read the introduction to my investment process. Premium subscribers will get full access to the V20 Portfolio. You can follow my latest weekly update available to all here.
Disclosure: I/we have no positions in any stocks mentioned, and no plans to initiate any positions within the next 72 hours.
I wrote this article myself, and it expresses my own opinions. I am not receiving compensation for it (other than from Seeking Alpha). I have no business relationship with any company whose stock is mentioned in this article.
Editor's Note: This article discusses one or more securities that do not trade on a major U.S. exchange. Please be aware of the risks associated with these stocks.