It never occurred to me to take a look at this BP (NYSE:BP) project in the past. I just took it for granted - that it will get done and it will lead to as much as 20 Bcm/year (640 Bcf) of gas being exported to Europe every year. The project is estimated to cost $45 billion, which includes the initial development of the field, as well as the cost of building the pipeline. It is when I saw a headline with regard to this price as well as the expected export volume to Europe that it occurred to me that something may be off.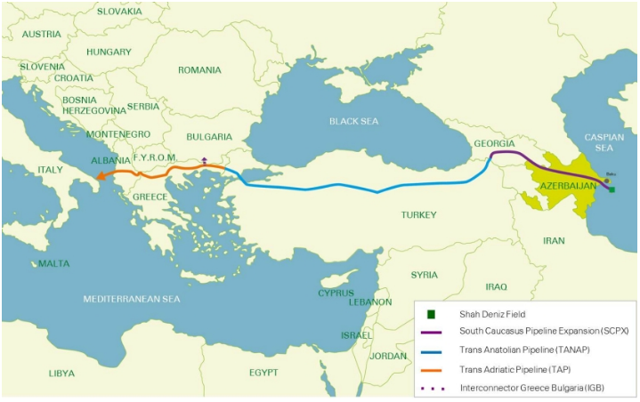 Source: BP
The Shah Deniz 2 project itself is only going to add another 16 Bcm of natural gas, therefore I assume that the 4 Bcm which is missing from the total 20 Bcm that is rumored to be planned to be exported to Europe must come from the original Shah Deniz 1 project. For the purpose of this analysis, I will only include the 16 Bcm which will come from Shah Deniz 2, given that the capital spending that made the other 4 Bcm happen is not included in the $45 billion needed to complete Shah Deniz 2.
The average price of natural gas in Europe at the moment is about $200/1000 Bcm. I expect in the longer run the average price to be about $300/1000 Bcm. Natural gas prices in the region are largely tied to the price of oil, therefore $300/1000 Bcm is what I think should be expected given that when the price of oil was $100/barrel, natural gas was being sold at an average price of about $350/1000 Bcm in the EU.
Making the reasonable assumption of an average long-term gas price of $300/1000 Bcm in Europe, Shah Deniz 2 will provide $4.8 billion in yearly revenue. Assuming longer term debt costs of 3%, interest on the $45 billion startup capital cost will be about $1.35 billion per year, which takes up almost 30% of revenue. It is hard to tell how much other costs will take away from revenue, but we have to keep in mind that there will be pipeline and field operation and maintenance, royalties and many other costs involved. If there will be some left over to allocate toward recovering the sunk cost, therefore pay back the debt incurred, it will not be much at all.
Using current accounting rules and principles, after subtracting operating costs, the project might seem to be profitable. But interest on debt incurred is not included and neither are capital costs involved in maintaining the flow of gas. That is why I like to step back and contemplate such projects from a more simplified and somewhat more unconventional point of view. I like to include costs, including the initial capital costs and the resulting interest on the debt incurred, which are considered to be sunk costs, therefore not included. I prefer to subtract such items as depreciation and amortization from total operating costs, because it distorts the picture in regards to what is going into the production process. While this approach may cause my former economics and accounting professors to cry heresy, I find it to be a very useful approach in evaluating a company for investment purposes, because it provides for an additional perspective, which is not available by only using conventional accounting.
We need an additional perspective in order to get a handle on the worrying trend of debt accumulation in the global oil and gas industry. An interesting FT article points out that between 2006 and 2014 global oil and gas industry debt almost tripled. Some people attribute it to the rise in oil prices which led to an increase in capital spending. The same article I cited above points out the fact that capital spending among the 18 largest oil and gas companies increased from $90 billion in 2004 to $365 billion in 2013. While capital spending quadrupled, oil production only increased by about 12%, while natural gas production increased by about 35%.
What this says about the global oil and gas industry is that it is becoming increasingly unprofitable in the upstream sector. There is one more piece of the puzzle which helps explain the phenomenon we are seeing in the case of projects such as BP's Shah Deniz 2. It was just recently reported that global oil discoveries in 2015 were the lowest since 1952. The record outside of the United States was especially bad, with only 2.8 billion barrels discovered versus about 30 billion barrels produced. Even if the 2.8 billion barrel figure will turn out to be a very conservative estimate, it is clear that the world outside of the US is now producing many times more petroleum than it is discovering. It is no wonder then that despite the many years of oil prices in the $100/barrel range for about half a decade, global oil production outside North America did not increase much since 2005. In fact, EIA data suggests that there was only an increase of about 2 mb/d if we exclude the US and Canada. As we now know, while production increased greatly in North America, the economics of the projects which led to the increase are now being called into question.
The economics of BP's Shah Deniz project also is highly suspect. I do not have the exact breakdown of costs, other than an approximate estimate for revenue and interest on debt incurred in order to finance the initial capital investment meant to produce and transport the gas to the market. But that information alone is enough to at the very least raise some alarm bells given that it looks like interest on debt alone will take up as much as 30% of revenue. So, while current accounting practices may perhaps show the project to be profitable, in reality, if we are to move away from that and consider the spending it will take to get the gas out in an all-inclusive way and then look at the prospects for revenue, in reality it looks like a project which has very little chance of recovering the initial capital investment going forward.
One might ask why companies would engage in investing in such projects? The reality of ever fewer and in many cases smaller and more remote and more expensive to develop discoveries is giving companies like BP no choice but to tackle such projects. The reality of the leftover debt incurred at the initial stages of the project never being fully paid back, even as the flow of gas from the field will start to decline and then eventually cease significant production altogether, is not going to be a factor for a few decades. In the meantime, the company will be able to show some positive operating cash flow from the project if the price of gas will collaborate, which I do believe it will. The presence of some positive cash flow will be viewed as a positive by investors. Definitely more positive than a company entering severe production decline due to it not opting to develop such projects.
For the longer term however, we will see a continuation of debt accumulation throughout the industry. Assuming that the era of permanently low interest rates is a reality, the increase in debt will not seem like such a heavy burden initially. It will start taking a toll eventually and as the trend of more and more debt accumulation even as production will at best stay flat or increase only marginally will become apparent to investors as a permanent rather than a temporary trend. But for now, projects like BP's Shah Deniz will continue to be the new norm. In the past year or so, we learned that much of the shale industry was unsustainable and mainly the result of cheap money chasing yield. There are now some first signs emerging of this trend being more global and widespread than we thought. If the price of oil will not return to the $100/barrel plateau we saw a few years back, it is likely that we will see the consequences of it rather soon.
Disclosure: I/we have no positions in any stocks mentioned, and no plans to initiate any positions within the next 72 hours.
I wrote this article myself, and it expresses my own opinions. I am not receiving compensation for it (other than from Seeking Alpha). I have no business relationship with any company whose stock is mentioned in this article.