I previously covered BDCs, for example here and here.
BDC Overview
Business Development Companies (BDCs) focus on investing in private companies rather than publicly traded companies. They mostly invest in debt instruments. Equity investments play a smaller role, but they provide additional profits that come from capital gains when they exit a position. Thus, by investing in a BDC, shareholders enjoy the liquidity of a publicly traded stock while participating in the private equity industry. Most BDCs are registered as regulated investment companies (RICs), which requires them to pay out at least 90% of their profits in dividends. Compared to other financial firms, BDCs use very modest leverage. In fact, they are only permitted to be leveraged on a 1:1 basis.
I point out that there is proposed legislation that would effectively double the leverage cap for business development companies.
Internally vs. Externally Managed
BDCs can be internally managed or externally managed.
Internally Managed BDCs
All operating expenses, including compensation, are paid directly by the BDC, and compensation information is disclosed to shareholders via quarterly and annual SEC filings. Shareholders have the ability to vote on compensation issues.
As an internally managed BDC's assets grow, a greater percentage of each incremental dollar of revenue can fall to the bottom line as dividend income available to shareholders.
Generally internally managed BDCs' total operating expense ratios (1) (net of interest expense) average approximately 2.75% - 3.25% of total assets under management and approximately 17% - 27% of revenue.
Externally Managed BDCs
Externally managed BDCs pay expenses and fees to a management company that is not required to provide shareholders with compensation information. The management fee is calculated based on a fixed percentage of assets under management (generally ranging from 1.75% to 2.0% of gross assets under management). Compensation information is not disclosed, and shareholders do not have the ability to vote on compensation issues.
Other annual operating expenses are generally calculated in addition to the base management fee.
Incentive fees of 20% of net investment income and realized capital gains are paid to management after a "hurdle rate" is achieved.
Generally externally managed BDCs' total operating expense ratios (1) (net of interest expense) average approximately 4.00% - 4.50% of total assets under management and approximately 30% - 40% of revenue (source: BDCs At A Glance).
The List
As I find it somewhat difficult to find on the web an exhaustive list of BDCs, a list which says which BDCs are externally managed and which ones are internally managed, here's the breakdown:
Note: Externally managed = Ext.
Internally managed = Int.
List is as of May 26, 2016.
NEWT is an internally managed BDC but it is somewhat an awkward one. It is basically a holding company which elected to be treated like a BDC.
I Want To Own An Internally Managed BDC
I recall our (in my opinion) undisputed best resident BDC expert, Factoids, wrote that he does not have a preference for internally vs. externally managed BDCs, but I was not able to track down where he posted that, so I sent him a private message asking for help, and he graciously answered:
I do not have a preference for internally vs. externally managed BDCs. As a rule of thumb, internally managed BDCs have lower expenses that result in superior NII/TII ratios. (1) I like superior NII/TII ratios - but internal management is not the only place where one can find superior ratios. (2) I like strong dividend coverage. Historically, there has been an over lap between dividend coverage and internally managed. That is not so much the case today. (3) I like rising NAVs. Historically, there has been an over lap between rising NAVs and internally managed. That is not so much the case today. (4) I like BDCs with superior long term returns because there is 'performance inertia'. It is still the case that HTGC, MAIN and TCAP have sector beating returns since the beginning of 2012.

Since 2012. MAIN and HTGC have been the best two BDCs on total return. FDUS is a strong third. PFLT is forth. AINV, ARCC, BKCC, GBDC, NMFC, SUNS and TCAP are in a tight contest for fifth through eleventh. And then there is KCAP - which has been a next egg eating snake.

None of the internally managed BDCs are currently on my buy list. Three of the four have been dividend cutters. I believe the 'good three' historically had the metrics to justify selling at a premium on Price/NAV. But when dividend coverage dissipates and NAV growth dies - there should logically be a reduction in the Price/NAV. That has yet to happen. It is my opinion that this disconnect makes them vulnerable.
I've been burned by past investments into externally managed BDCs. I owned FSC, PNNT and PSEC, and they did very badly while in my portfolio. On the other hand, I owned MAIN and TCAP, and I did very well with both (I don't own any BDC at the time of writing this article).
I don't have the time to collect the data that allow a successful giant like Factoids to be so hardly data-driven. I don't want to depend on someone else's due diligence to copy his or her investment allocation.
I make a living running a business. I know how people and numbers work and I know I want honest managements and alignment of interests between management and shareholders.
Externally managed BDCs are incentivized to grow assets under management (AUM) for higher fees. This usually is good for external managers (they do make money even when assets don't perform well) but not so good for shareholders (they don't make money when assets don't perform well).
In light of the above, it is my opinion that, broadly speaking, externally managed companies enrich the managers and leave the shareholders with poorer returns.
Here's a chart: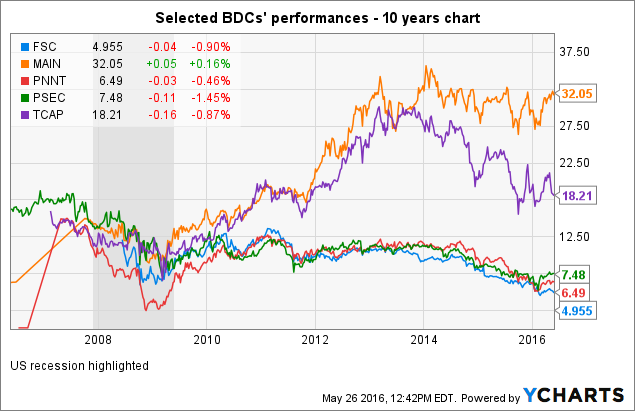 Please notice they all went down during the last recession, so you might want to wait for the current bubble to bust, then buy low (and sell the next high or keep for the dividend income stream).
BDC Efficiency
I wanted to show a tendency, I'm aware the following image is old. Slide below shows selected BDC companies' efficiency (image courtesy BDC Buzz -- it's the most recent I found around):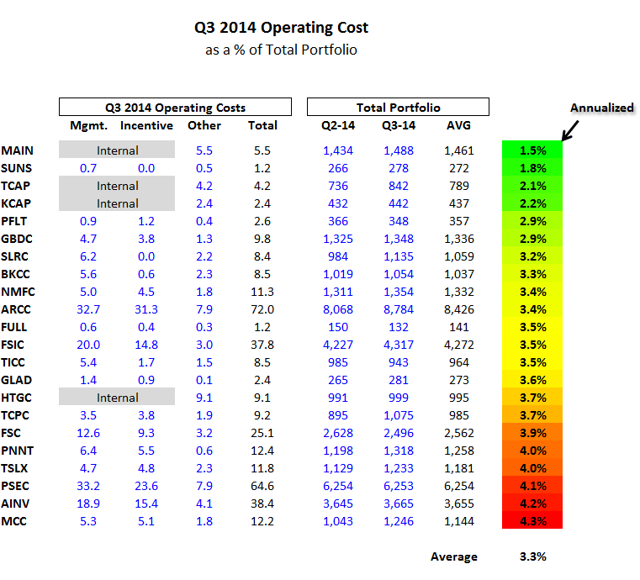 Total Value To Shareholders
While a chunky dividend yield is good, what about some good old stock price appreciation? Slide below provides some visual insight: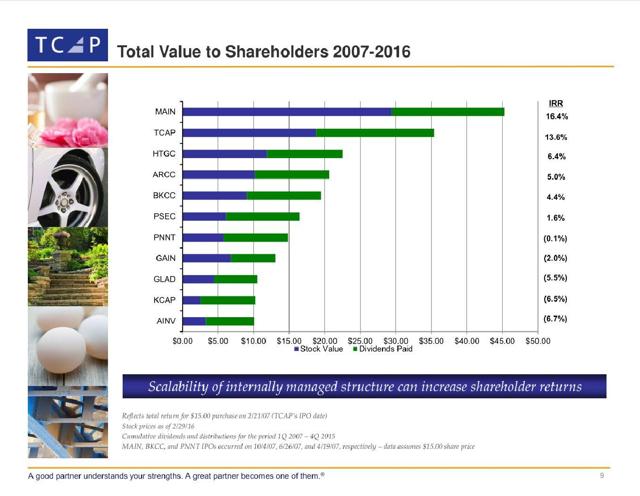 Source: (TCAP, Mar 8, 2016 4th Quarter and Full Year 2015 Investor Presentation)
Bottom Line
It is my studied opinion that the stock market currently is in a bubble. Possibly a giant bubble. There are and there will be credit issues, which will touch BDCs. BDCs' prices will go down along with the rest of the market. I tried to show you how to separate the wheat from the chaff, so to speak. You might want to have some cash available and to be ready to pick up the best companies when their times come.
Disclosure: I/we have no positions in any stocks mentioned, and no plans to initiate any positions within the next 72 hours.
I wrote this article myself, and it expresses my own opinions. I am not receiving compensation for it (other than from Seeking Alpha). I have no business relationship with any company whose stock is mentioned in this article.
Additional disclosure: Material presented here is for teaching and entertaining purposes only. It is not intended to be taken as financial advice, a recommendation to buy or sell the stocks mentioned above. Investing includes risks, including loss of principal.