Drilling, fracture stimulation, and completion technology for shale oil have made leaps forward over the past ten years regarding productivity. Since 2012, costs have begun to turn in a clear downward trajectory for oil companies. I recently wrote a pair of articles that broadly discussed the changes occurring in the drilling and fracking portions of the shale oil supply chain. Interested readers can find them here.
What we didn't discuss in those articles was how the companies that provide the bulk of those services, oil service companies such as Baker Hughes (NYSE:BHI), Halliburton (NYSE:HAL), and Schlumberger (NYSE:SLB), are going to fare as a result. Difficulties lie in how the industry is going to continue to operate as a result of technological change.
The Impact Of Efficiency On Oil Services
I have pointed out before, as the majority of shale rigs, completions rigs, and frac spreads have been idled on standby (or scrapped) the most efficient equipment has remained in service. Millions of research dollars have gone into increasing efficiency across the services spectrum, and it has paid off. The issue for service companies such as Halliburton is that in the event of an oil price recovery, not nearly as much equipment will be required to reach the same production growth seen in the U.S. up until 2014. Furthermore, much of the idled equipment will return to service, fighting for market share and drawing down the day rates across the country.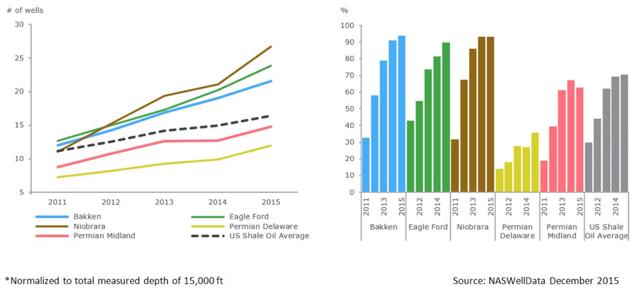 Source : Rystad Energy
Even before oil prices began to drop oil services margins were pressured downwards by increased competition. After all, high oil prices encouraged a surge in rig production and competition - inevitably putting pricing pressure on the entire market. It will take years for equipment to be mothballed at low prices as the scrap value is a fraction of the operating value of those assets. High oil prices encouraged such an excessive number of rigs and services equipment to move into the market that the oversupply for oil services is many times more oversupplied than the oil market itself.
Unlikely Recovery In Oil Services Priced Into Oil Services
Schlumberger is priced at a P/E ratio over 50, Baker Hughes and Halliburton both posted negative earnings. Yet Baker Hughes and Halliburton, as the hardest hit among the three, have lost less than half of their share price - this hardly seems to reflect the changing circumstances, rising debt, and drawn out pain these oil services companies will endure. The failed merger between Baker Hughes and Halliburton means they can not realize the benefits of the combined group. As both companies are fundamentally weaker than Schlumberger, they now must refocus on themselves. Both companies have lost a substantial amount of time on this merger; that time could have been spent reorganizing the business structure.
Takeaway
To be sure, many small companies operating independent drilling rigs, completion rigs, and frac spreads will go bankrupt over the years. However, it is a certainty that speculative companies will purchase oil services equipment in an attempt to invest in an oil recovery. I doubt we will ever see the same degree of production growth we saw in shale leading up to 2014. And, while I do expect the cost of shale production to continue to decline, a slower growth rate due to a price cap by OPEC (Saudi Arabia) will limit the resurgence of the rig count to 50-75% of its former glory. Oil services will continue to languish as a result, even in the event of a price recovery. Without arguing whether or not they are worth more or less than today's prices, the commonality of these stocks is the lack of risk priced into their shares. Buyers Beware.
Afterword - If you found this article interesting and have an interest in future articles, head to the top of the article next to my name and hit follow. It will always be free, and allows me to continue to reach a broader audience and keep writing. PM me if there are any specific aspects of the oil and gas industry you would be like to know more about.
Disclosure: I/we have no positions in any stocks mentioned, and no plans to initiate any positions within the next 72 hours.
I wrote this article myself, and it expresses my own opinions. I am not receiving compensation for it (other than from Seeking Alpha). I have no business relationship with any company whose stock is mentioned in this article.
Additional disclosure: This article is based on opinions and are subject to error. It is not investment advice and should not be used as such.