We constructed a heat map that contains most of Latin America's ADRs. We also included country ETFs. We will provide you with a weekly update and some basic analysis on what is happening in our all-LatAm sample. Comments are based on closing prices for the previous week (i.e., May 27).
We begin with Argentina. During the week, Cresud (NASDAQ:CRESY) rallied 9.9% and Pampa (NYSE:PAM) gained 8.9% in the week. Pampa has displayed the best 1-month performance among the sample. It has also posted the best 1-year performance, with a 65.7% rally in the period. Meanwhile, Edenor (NYSE:EDN), the other electricity company, remained practically flat in the 12-month span. Aside from these companies, most ADRs stood on the green during the week. In macro news, President Mauricio Macri vetoed the law on occupational emergency, warning that such a law would freeze job creation and increase poverty. Union leaders warned the government that such a move would entail union mobilization. Aside from that, according to official data of Ministry of Labor, "during 1Q16 the number of registered private employees showed an increase of 0.4% YOY".
Moving on to Brazil, most of the sample stood on negative ground in the week. The latest survey by the central bank showed that the private sector improved slightly its 2016 GDP growth forecast to -3.83% year-on-year (YoY), versus -3.88% YOY a week ago. As for 2017, analysts expect the Brazilian economy to grow 0.5% (unchanged from last week's survey). While economists increased their 2016 inflation forecast by 4bps to 7.04%, their 2017 inflation forecast remained at 5.5%. Finally, regarding the Selic rate, analysts see it ending the year at 12.75%, 25 bps below the previous survey. In corporate news, Petrobras (NYSE:PBR) declined 9.5% in the week. Although oil prices have rebounded nicely, political turmoil in Brazil continues. Transcripts of taped conversations published by the local media revealed incriminating statements between the new Planning Minister, Romero Jucá, and former oil executive, Sergio Machado,-both of whom are formal targets of the "Lava Jato" corruption investigation-about the real goals of impeachment and who was behind it.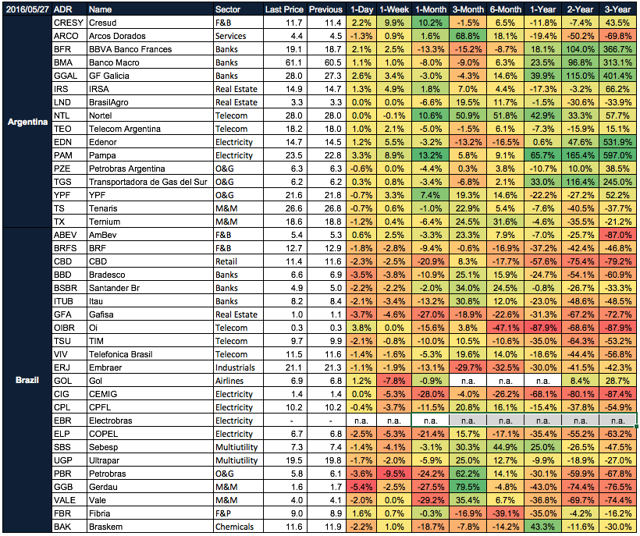 In Chile, SQM (NYSE:SQM) fell 3.1%, as it faces a new arbitration proceeding due to new lawsuit by CORFO. The state-run agency sued SQM for breaching the second contract (Salar de Atacama Project Agreement), as the company didn't properly safeguard CORFO's mining properties. SQM and CORFO met to potentially manage their differences. Nonetheless, an agreement was not reached. A new arbitration proceeding will start. In our view, CORFO's current claim confirms our stance regarding the low chance that the state-run company could win at least the first arbitration proceeding, since the dispute has been politicized. On the other hand, Cencosud (NYSE:CNCO) rallied 5.5% in the week. The shares' positive reaction followed the company's quarterly release, which showed business resilience and better than expected earnings growth. Chilean operations should continue to drive results, whereas the Argentinean and Brazilian self-service businesses will likely remain pressured in light of fierce competition coming from wholesalers. Despite the ongoing deleveraging cycle, lowering current indebtedness will continue to be a key priority. Cencosud is close to sealing the sale of gas stations in Colombia as part of its non-core asset divestiture plan.
In Mexico, ICA (NYSE:ICA) finally published 1Q earnings. The company surged 28.3% on Friday to close the week at +37.2%. The company is now trying to recover overdue cash flows from government contracts. In particular, the Mexico City government owes the company over P$600 million upon completion of the L12 subway repairs. Meanwhile, KOF (NYSE:KOF) confirmed to local media the temporary halt in the production of sugary beverages in Venezuela due to the sugar shortage that the country is experiencing. However, non-sugar-sweetened beverages, such as Coca-Cola Light, are still under production. The company expects sugar inventories to recover in the short term. The stock gained 2.0% in the week but was down 8.4% in the month.
As for equity index ETFs, Brazil's bullish ETF (NYSEARCA:EWZ) fell 3.9% in the week and now accumulates an 11.9% decline, close to Colombia's 10.9% retreat (NYSEARCA:GXG). At the macro level, Brazil's CAGED job creation report posted 62,844 layoffs in April (vs. 118,776 layoffs in March). Breaking the figure down for the month, retail (-30.5k), manufacturing (-15.9k), construction (-16k), and services (-9.9k). While Brazil's unemployment rate hovers around 10%, regional contrasts are present, as Mexico marked its lowest jobless rate for April (3.8%) in the last 8 years. Mexico's bullish index gained 1.2% in the week but was still down 5.3% in the month.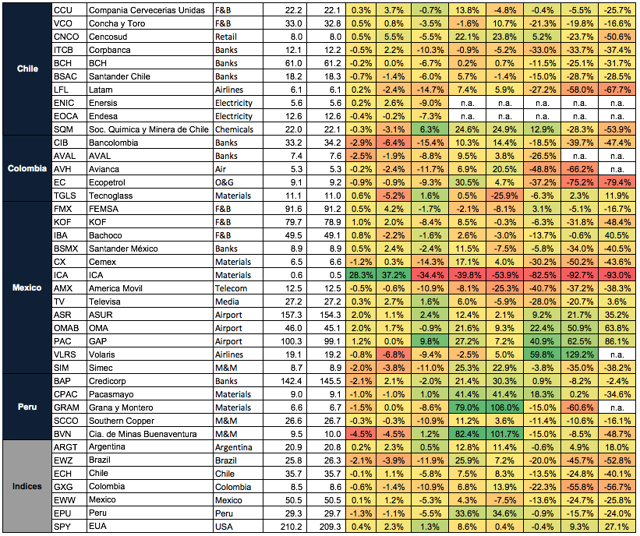 Disclosure: I/we have no positions in any stocks mentioned, and no plans to initiate any positions within the next 72 hours.
I wrote this article myself, and it expresses my own opinions. I am not receiving compensation for it (other than from Seeking Alpha). I have no business relationship with any company whose stock is mentioned in this article.
Editor's Note: This article covers one or more stocks trading at less than $1 per share and/or with less than a $100 million market cap. Please be aware of the risks associated with these stocks.