Who doesn't love Dividend pay days? Yours Truly from the Buy the Dips Portfolio
Unbelievable! Time flies. The last update for this portfolio was about buying Healthcare REITs on the dip, and that was in November!
Since then, Ventas (NYSE:VTR), that was bought on the dip at the time has risen 30%. More importantly, many pay days have occurred and dividends have been received.
I want to document the dividends received before going into what the Buy the Dips Portfolio will buy next. First, let's recall what this portfolio is about and what's in it.
The Buy the Dips Portfolio
The Buy the Dips Portfolio started off with $100,000 and aimed to diversify across quality companies in different industries and sectors.
Originally, the portfolio identified sector dips of 15-20% before buying. However, it has evolved to look for industry-wide or pullbacks that happen in groups and are not company-specific.
The portfolio aims to buy quality dividend growth stocks which would yield higher income after pullbacks. You can follow The Buy the Dips Portfolio progress in this instablog.
Unfortunately, you'll notice that 4 of 11 companies have frozen their dividends and 1 has even slashed it. At the end of the article, there's a reflection on the lessons learned.
Currently, the portfolio includes these companies: Exxon Mobil (NYSE:XOM), Chevron (NYSE:CVX), Schlumberger (NYSE:SLB), Kinder Morgan (NYSE:KMI), General Electric (NYSE:GE), W W Grainger (NYSE:GWW), Union Pacific (NYSE:UNP), Southern Co (NYSE:SO), ITC Holdings (ITC), and Ventas.
What?! This portfolio holds so many energy companies that aren't a joy to see in general. And Kinder Morgan cut its dividend! Yes, yes, I know.
It's impossible to pick winners all the time. So, let's see how the portfolio performed as a whole.
I will show the number of shares held for each company as well as their projected income later on in the article.
First, let's get excited about the pay days. Dividends!
Pay Days
Over the past six months, the following holdings added a total of $1,183.09 to the cash reserve of this demonstrative portfolio. The cash reserve is now at $50,008.05.
Here are dividend payments to add to the portfolio's cash reserves since the last update in November from the Energy holdings.
$232.05 from 105 shares of Exxon Mobil (in Nov, Feb, May),

$279.27 from 87 shares of Chevron (in Nov, Feb, May),

$92 from 92 shares of Schlumberger (in Dec, Mar), and

$17.75 from 71 shares of Kinder Morgan (in Jan, Apr)
Exxon Mobil is the brightest star in the energy portfolio. It raised its dividend by 2.7% in May. Then, there are Chevron and Schlumberger that have frozen their dividends for 9 quarters and 6 quarters, respectively. And of course, Kinder Morgan had a 75% dividend cut at the start of the year.
And from Industrial holdings:
$55.20 from 120 shares of General Electric (in Dec, Feb),

$75.52 from 53 shares of Emerson Electric (in Nov, Feb, May),

$31.07 from 13 shares of W W Grainger (in Feb, May), and

$46.20 from 28 shares of Union Pacific (in Nov, Feb, May)
General Electric has frozen its dividend for 6 quarters. At the end of last year, Emerson Electric raised its dividend by almost 1.1%, still better than no raise.
W W Grainger hiked its dividend almost 4.3% in May. And Union Pacific has maintained the same dividend for 6 consecutive quarters due to slow growth.
And from Utility holdings:
$113.50 from 69 shares of Southern (in Nov, Feb, May), and

$47.81 from 85 shares of ITC Holdings (in Nov, Feb, May)
In May, Southern hiked its dividend by 3.2%. It's interesting how some investors underweight or avoid utilities altogether because of their slow growth, but Southern beat all of the energy and industrial holdings in dividend growth this past year, except for W W Grainger.
ITC Holdings is a rare high-growth utility that hiked its dividend by 15.4% in August last year. It'd be interesting to see how the acquisition by Fortis (FRTSF) plays out.
So, there certainly should be a place for stable utilities in a diversified income portfolio. They should be bought when valuations are reasonable.
And finally, from our Healthcare REIT holding:
$192.72 from 88 shares of Ventas (in Dec, Mar)
How Does the Buy the Dips Portfolio Look Like Now?
The demonstrative portfolio has over $52,000 invested with roughly $1,700 projected annual income, or a yield of 3.3%, with $50,000 of cash waiting to be deployed.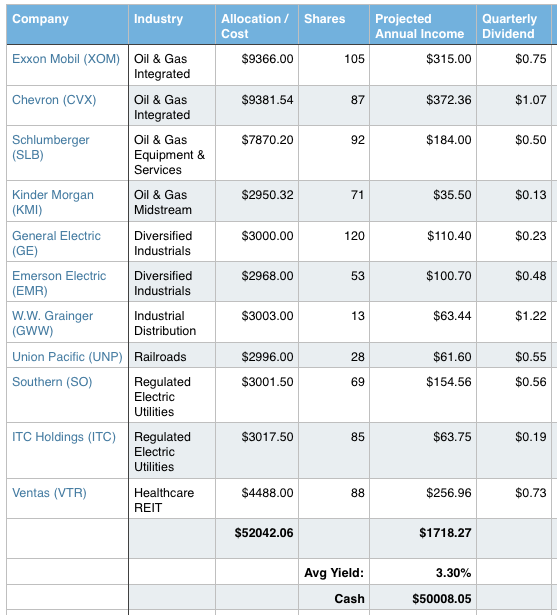 Compared to the point in time in the November update, the projected income is $92 lower and the portfolio yield is about 5.2% lower. This is thanks (or no thanks) to Kinder Morgan's dividend cut.
Learning & Reflection
Based on May 30 closing prices, the Buy the Dips portfolio has 26.3% in Energy, 11.5% in Industrials, 7.1% in Utilities, 5.8% in Healthcare REITs.
All were bought on dips, but the Energy holdings have done badly overall. Kinder Morgan was the worst performer by falling 57%.
The Industrials as a whole did alright compared to the Energy holdings. Union Pacific was the worst performer, having gone down 22%, but General Electric went up 20%.
The bright spots are the Utilities and Ventas. The former are up 19% as a whole and as mentioned before, Ventas is up 30%.
So far, the companies chosen from slow-growth sectors of Utilities and REITs have been the best performers. They pay the highest yields, too!
I bought all these companies on "dips" but in hindsight, I should have waited for a bigger margin of safety before buying Energy and Industrial companies since Energy companies are somewhat dependent on commodity prices and Industrial companies experience cycles of growth and slow growth.
On the other hand, because of their stability, it may be alright to buy Utilities at a fair valuation. For example, I felt Southern was bought at roughly a fair valuation at $43.50 per share or roughly a multiple of 15 at the time. At 17.1 times its earnings, the utility is fully valued today.
Investing is a continuous learning process, of which, reflecting on experiences and new knowledge are of utmost importance.
What's Next?
Finally, we're up-to-date with the dividends received. With close to 50% of the portfolio in cash, I'm ready to deploy some into an industry that has dipped. Which will it be? Stay tuned for the next article.
Share in the comments below!
Do you like any of these companies? If so, at what valuations or price ranges will you consider them?

Are there any companies you want to buy because they've dipped?
If you like what you've just read, you can also follow me for free! Simply click on the "Follow" link at the top of the page to receive an email notification when I publish a new article.
Disclaimer: This article consists of my opinions and is for educational purposes only. Please do your own research and due diligence and consult a financial advisor and or tax professional if necessary before making any investment decisions.
Disclosure: I am/we are long CVX, FRTSF, KMI, UNP, VTR, SLB, XOM.
I wrote this article myself, and it expresses my own opinions. I am not receiving compensation for it (other than from Seeking Alpha). I have no business relationship with any company whose stock is mentioned in this article.
Editor's Note: This article discusses one or more securities that do not trade on a major U.S. exchange. Please be aware of the risks associated with these stocks.