Kimberly-Clark (NYSE:KMB) is one of the oldest companies in U.S. history. Established in 1872, the Dallas, Texas-quartered KMB engages in the manufacturing and marketing of personal care products worldwide. The company hosts several well-known brands in its portfolio. Recently, its Kotex brand crossed over $1 billion in revenues. This remarkable achievement is a natural extension of company's global feminine care business's double-digit growth over the last few years. KMB has been extremely resistant to the recent global economic downturn. Not only it was able to boost its profits, the stock has shown a strong performance in the market during volatile times. KMB returned 15% in the last year alone.
As of the time of writing, Kimberly-Clark stock was trading at $71.85 with a 52-week range of $61 - $74.25. It has a market cap of $28.3 billion. Trailing twelve month P/E ratio is 18, and forward P/E ratio is 13. P/B, P/S, and P/CF ratios stand at 5.5, 1.4, and 10.6, respectively. Operating margin is 12.2% and net profit margin is 8.1%. The company has some debt issues. Debt/equity ratio is 1.1. Kimberly-Clark has been one of the best dividend payers among its peers. Based on a quarterly dividend of 70 cents, current yield is 3.9%.
Kimberly-Clark has a 3-star rating from Morningstar. Interestingly, all of the analysts covering the company have hold ratings. Average five-year annualized growth forecast estimate is 6.4%. This is a very reasonable estimate given the company's past 5 year EPS growth rate of 6.5%
What is the fair value of Kimberly-Clark given the forecast estimates? We can estimate Kimberly-Clark's fair value using discounted earnings plus equity model as follows.
Discounted Earnings Plus Equity Model
This model is primarily used for estimating the returns from long-term projects. It is also frequently used to price fair-valued IPOs. The methodology is based on discounting the present value of the future earnings to the current period:
V = E0 + E1 /(1+r) + E2 /(1+r)2 + E3/(1+r)3 + E4/(1+r)4 + E5/(1+r)5 + Disposal Value
V = E0 + E0 (1+g)/(1+r) + E0(1+g)2/(1+r)2 + … + E0(1+g)5/(1+r)5 + E0(1+g)5/[r(1+r)5]
The earnings after the last period act as a perpetuity that creates regular earnings:
Disposal Value = D = E0(1+g)5/[r(1+r)5] = E5 / r
While this formula might look scary for many of us, it easily calculates the fair value of a stock. All we need is the current-period earnings, earnings growth estimate, and the discount rate. To be as objective as possible, I use Morningstar data for my growth estimates. You can set these parameters as you wish, according to your own diligence.
Valuation
Historically, the average return of the DJI has been around 11% (including dividends). Therefore, I will use 11% as my discount rate. In order to smooth the results, I will also take the average of ttm EPS along with the mean EPS estimate for the next year.
E0 = EPS = ($3.99 + $5.54) / 2 = $4.77
Wall Street holds diversified opinions on the company's future. While analysts tend to impose subjective opinions on their estimates, the average analyst estimate is a good starting point. Average five-year growth forecast is 6.4%. Book value per share is $13.97. The rest is as follows:
Fair Value Estimator

V (t=0)

E0

$4.77

V (t=1)

E0 (1+g)/(1+r)

$4.57

V (t=2)

E0((1+g)/(1+r))2

$4.38

V (t=3)

E0((1+g)/(1+r))3

$4.20

V (t=4)

E0((1+g)/(1+r))4

$4.02

V (t=5)

E0((1+g)/(1+r))5

$3.86

Disposal Value

E0(1+g)5/[r(1+r)5]

$35.06

Book Value

BV

$13.97

Fair Value Range

Lower Boundary

$61

Upper Boundary

$75

Minimum Potential

-15%

Maximum Potential

4%
I decided to add the book value per share so that we can distinguish between a low-debt and debt-loaded company. The lower boundary does not include the book value. According to my 5-year discounted-earnings-plus-book-value model, the fair-value range for Kimberly-Clark is between $61 and $75 per share. At a price of $71.8, Kimberly-Clark is trading at the upper end of its fair value range. However, with a solid yield of 3.9%, it is natural for the stock to be priced with a slight premium.
Peer Performance
Kimberly-Clark is not only the consumer stock that outperformed the broad market indices. Estee Lauder (NYSE:EL) was the top performer with a yearly return of 25.5%. Its performance is closely followed by Colgate-Palmolive (NYSE:CL), which returned 23.3% in the last year. The industry leader, Proctor & Gamble (NYSE:PG) returned 9.3%, most of which can be attributed to the stock's last quarter performance. Avon (NYSE:AVP) was the only loser among its peers. Although it is one of the top performers of 2012, it returned -29% in year period.
| | | | | | | |
| --- | --- | --- | --- | --- | --- | --- |
| Ticker | Performance (Week) | Performance (Month) | Performance (Quarter) | Performance (Half Year) | Performance (Year) | Performance (YTD) |
| | -2.42% | 4.01% | 15.44% | -10.75% | -28.98% | 9.62% |
| | -0.02% | 4.32% | 6.47% | 8.25% | 23.36% | 1.65% |
| | 1.36% | -4.00% | 3.40% | 23.03% | 25.47% | 1.21% |
| | 0.53% | -0.08% | 4.51% | 7.87% | 15.51% | -2.38% |
| | 2.32% | 2.66% | 9.00% | 7.08% | 9.31% | 0.80% |
Based on my FED+ valuation, both KMB, and P&G are fairly valued, whereas Colgate-Palmolive and Estee Lauder are trading with a significant premium. While Estee-Lauder has the highest growth expectation, this is more than fairly priced by the market. Avon also looks like a good deal after its market cap is slashed by almost one-third. Avon also offers the top yield of 4.86%, which is followed by KMB's yield of 3.9%. P & G offers a yield of 3.15%, whereas Colgate-Palmolive has a yield of 2.5%. Estee Lauder pays a yield of 0.9%, which is negligible compared to others' yield in the industry.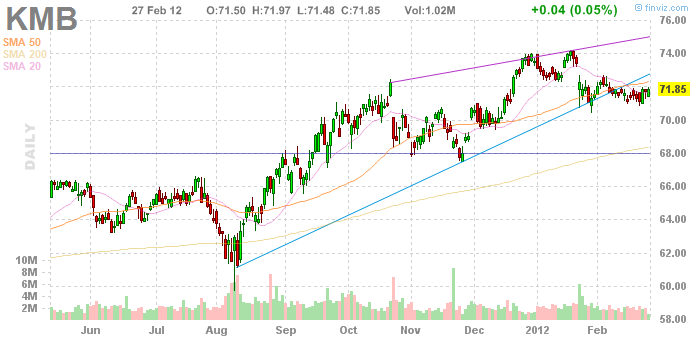 Summary
From a technical perspective, Kimberly-Clark is trading above a strong support level. $68 looks like a strong support level. Thus, it is very unlikely that Kimberly-Clark will fall below $68. However, at a price of $72, it is on the pricey side of the market. I think a price level of around $68-$69 region offers a better price.
From an investor's perspective, Kimberly-Clark's closest alternative is Proctor & Gamble. While there is no organic connection between these two companies, their stock prices are highly correlated with each other. Their balance sheets also show significant similarities in terms of fundamental ratios.
Based on trailing and forward P/E ratios, KMB is trading at a slight discount compared to the industry leader. Its yield of 3.9% is higher than P&G's yield of 3.15% as well. Analysts have a higher EPS growth estimation for P&G, which explains the premium ratios in the balance sheet. I think both stocks are more or less fairly-valued. However, the market is in the overbought territory. Therefore, a pull-back might create a better entry point.
Disclosure: I have no positions in any stocks mentioned, and no plans to initiate any positions within the next 72 hours.