, if you dare)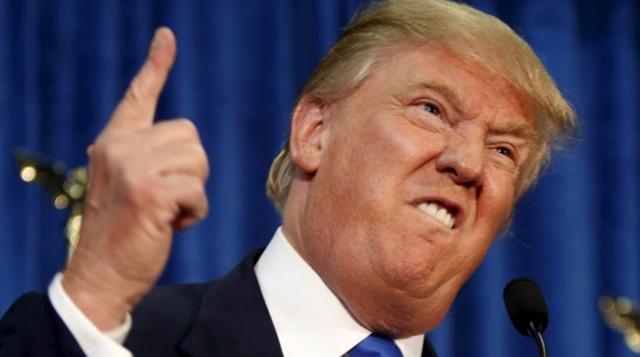 We recently profiled eight high yielding stocks that we think will get a bump when the Fed does not move on rates in June. In a sea of mixed data, the clearest data point is that inflation is stubbornly below target, and the Fed is very unlikely to move to send inflation lower.
Each of the eight gets most of its sales internationally, is yielding better than 3%, and has underperformed the S&P 500 since the May 18th FOMC minutes were released that sent these "weak dollar plays" lower. The stocks were General Electric (NYSE:GE), Caterpillar (NYSE:CAT), Boeing (NYSE:BA), Procter & Gamble (NYSE:PG), Chevron (NYSE:CVX), Exxon (NYSE:XOM), Dow Chemical (NYSE:DOW), and Philip Morris (NYSE:PM).
We had a commenter ask how these stocks would do with a Trump presidency. From an "isolationist" point of view, these stocks would either be hurt by a more challenging international sales environment, or maybe more likely, hurt by the uncertainty surrounding the international sales environment.
We like the eight stocks above for the bump we think they will get on no Fed rate hike, and think that for investors that like these stocks the market is throwing a sale.
But we have long advocated the US as the best place to invest for a long time to come, for six main reasons:
Military Might - The US military is unparalleled in the world, all of its strategic missions are accomplished and likely to remain so (strictly from a perspective of securing the US economy - not from making the world a nice place). The US Navy watches the entire world from space, and no vessel or caravan moves without the tacit blessing of the US military. The sheer size of the US economy guarantees that no other country in the world could dream of such dominance, and the trends favoring the US economy going forward should only make this more so as the decades roll along in the 21st century.
Currency Independence - The US prints its own currency and has an independent central bank in the Federal Reserve, looking after the economy to see that it does not overheat or lose steam for lack of demand.
Land - Virtually no country in the world can boast the land resources that the United States has. The US has a very low population density - land resources will allow the US to grow unrestrained for centuries.
Geography - Water transport is by far the most efficient means of moving goods. With Asia on one side of the US and Europe on the other, both plainly accessible via the sea, the US has the world's most enviable geography. Compare this for example to Europe and China. Both have their largest cities on the coasts, and in between the European and Chinese cities is not an ocean, but vast jungles, swamps, and mountains.
Stability - The oldest constitution in the world belongs to the United States of America. The government and institutions of the US are remarkably stable.
Demographics - Relative to the other large economies of the world, the US has the most working age people. The baby boom retirement is hitting the other economies of the world much harder, and the enviable economy of the US keeps it freshly supplied with a stream new working age people coming for the opportunities that are only to be found in the US.
So the US looks like it will continue to be the hands-down best economy for a long time. And with a Trump presidency, US-centric companies should do even better than their more global counterparts, if only for the uncertainty in international matters.
Domestic Trumps International
With that, we present eight high yielders for a Donald Trump presidency. Each of these stocks yields at least 3%, and gets the vast majority of its sales in the US (yields from SA):
1) Armanino Foods of Distinction (OTCPK:AMNF)
Yield: 3.53%
Armanino does some Asian business, but it's chiefly an American company. The small purveyor of fine foods recently announced expansion plans, and even though it pays a hefty dividend, it has saved about $4 million in cash to fund the expansion.
Armanino is an OTC stock, but is not your average OTC stock. Armanino's sales, profits, and dividends have grown for eleven consecutive years, including right through the Great Recession. Now, with growth accelerating, the company is expanding to meet demand. Armanino is a healthy American play with a shareholder-friendly management.
2) B&G Foods (NYSE:BGS)
Yield: 3.91%
B&G did about 9% of its sales outside the US last quarter, mostly in Canada. The high yielding American company comes with risk, as it does use equity to finance expansion, but it also comes with growth.
The management team has proven its excellence in operations, incorporating its acquisitions with aplomb. The company recently did a major acquisition of Green Giant, and when it reported its results last month, the stock shot up 30%.
But the management team could do a better job raising funds -- it diluted shareholders by about 8% two months into its great quarter, but before it reported. Still, we like this company in its own right, its dividend is hefty, and an isolationist president should not hurt it. Could isolationism help? Potentially it could, if it keeps out the competition.
3) CF Industries (NYSE:CF)
Yield: 4.14%
A cyclical that is currently beaten down, the maker of nitrogen fertilizer does about 81% of its sales (per ycharts.com) in the US. A few years ago the pricing of nitrogen fertilizers was much stronger, which caused companies to expand their output. This of course led inevitably to weaker prices, which is where we are now. CF is a low cost producer, and can weather this storm better than most.
It looks like a good time to catch the bottom of the cycle and wait it out with that hefty yield. In addition, CF competes with China selling nitrogen fertilizer, and an isolationist President Trump could be good for shutting out the competition.
4) Donegal Group (DGICA)
Yield: 3.42%
The mid-Atlantic property and casualty insurer is all American and just reported a great Q1, with earnings per share up 72.9% from last year. That one quarter almost covers the whole year of dividends. Donegal also had 8.6% organic growth in net premiums, and its combined ratio (a measure of insurance profitability, under 100% is profitable) dropped to 92.1%.
Donegal does not do business internationally, and uncertainty in international trade should have no effect on the company.
5) HCI Group (NYSE:HCI)
Yield: 3.80%
HCI is also an American P&C insurer, doing Florida homeowners and flood insurance. Right now the company is very profitable and cheap, with a trailing PE under 8, and a forward PE of 7.
Management has been anticipating losing clients to increased competition due to the regulatory environment, and this is dampening the share price. But that increased competition should have happened by now, and it looks like the effects will not be as bad as once thought.
6) Altria (NYSE:MO)
Yield: 3.53%
Altria is all American. The maker of cigarettes and smokeless tobacco has been steady Eddie in the face of myriad headwinds, and should continue to pay a good yield.
The United States grows plenty of tobacco, with lots of farmland to produce more if needed. Altria should not be hurt by pricing of its source tobacco, and could benefit if international competition is kept out, like the products from British American Tobacco (NYSE:BTI).
7) PetMed Express (NASDAQ:PETS)
Yield: 4.06%
The Amazon for pet meds company is doing well, as shopping for pet medicine is not a "browse around to see what they have" kind of retail business. Sales are almost entirely domestic, and were up 11% for the company in the latest quarter. Its PE ratio sits at 18.38, very palatable for the online pet play.
Isolationism may not help the company much -- shipping is obviously one of the main costs, and American companies are already at a distinct advantage -- but it will not hurt either.
8) Wisconsin Energy Corporation (NYSE:WEC)
Yield: 3.32%
Domestic regulated utilities will be just fine, whatever happens with international trade. If jobs do indeed come back to the US, that would be a boon for power suppliers as well, especially those in formerly large manufacturing locales, like the Midwest.
Conclusion
The United States looks like the best place to invest for many years to come, regardless of who is president. If we get a President Trump and an isolationist foreign policy, then international companies could be hurt, but the domestic plays like these eight high yielders should be just fine or even better off.
Get More Ideas Like This One
If you like this idea and would like to find more of our favorite ideas in the market, check out our newly launched Best Overall Return Assets subscription service.
Please follow us by clicking "follow" next to "Premium Research" at the top of the page under the article's title.
Disclosure: I am/we are long AMNF, WEC. I wrote this article myself, and it expresses my own opinions. I am not receiving compensation for it (other than from Seeking Alpha). I have no business relationship with any company whose stock is mentioned in this article.
Editor's Note: This article covers one or more microcap stocks. Please be aware of the risks associated with these stocks.