Legacy Moats & Reinvestment Moats in Canada
Last week John Huber at BaseHit Investing published a post by a guest author, Connor Leonard of Investors Management Corporation. The article reviewed one of the more interesting topics in investment: Return on Invested Capital and Moats.
Mr. Leonard classifies moats into two buckets, Legacy Moats and Reinvestment Moats. In his words, Legacy Moats "earn strong returns on invested capital but do not have compelling opportunities to deploy incremental capital at similar rates." They have durable competitive advantages but, without an abundance of reinvestment opportunities, pay out a lot of cash as dividends. He puts McDonald's (NYSE:MCD), Hershey's (NYSE:HSY), Coca-Cola (NYSE:KO) and Proctor & Gamble (NYSE:PG) in this bucket.
In contrast, Reinvestment Moats have all the benefits of Legacy Moats but, again in his words, "have opportunities to deploy capital at high rates." Mr. Leonard argues, in addition to the Legacy Moat protecting existing profits, these companies can reinvest in opportunities that have a "high likelihood of producing high returns." He cites Wal-Mart (NYSE:WMT) in 1972 with just 51 locations, a high-return on tangible assets and a long runway for capital allocation as one such example. Perhaps most importantly is the following idea underpinning the concept: "management team's capital allocation prowess must become the Reinvestment Moat."
The author emphasizes that he sees nothing wrong with Legacy Moats. In many cases, they are great for dividends and preservation of capital. I would add they are also good compounders - businesses who deliver good, consistent results annually and, when coupled with patience, can generate great results over time. Reinvestment Moats, however, offer, what Mr. Leonard describes as, the opportunity to deploy capital and compound earning at very high rates.
For investors, the difference is very material: earning 25% annually on 100% retained earnings vs. 10% on 50% retained earnings magnifies over time. The following, reproduced from the original article, demonstrates the effect of compounding at a high-rate versus compounding at a good rate. Specifically, it can more than make up for paying a higher multiple - in this case 20x vs. 10x - and generate a far higher return.
This might be the simplest but most misunderstood math on Wall Street.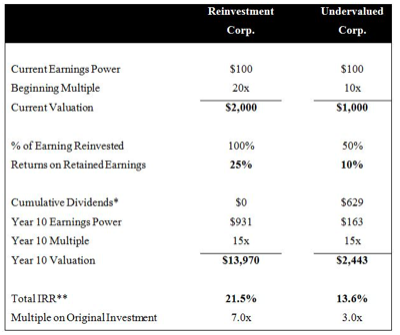 Legacy Moats
Inspired by Mr. Leonard's article, I thought I'd try to relate the concept to the Canadian market while also adding some personal perspectives.
One of the best Legacy Moats in Canada is held by the Canadian banks. Nearly every Canadian probably does business in one way or another with one of the 5 big banks. They are among the largest companies in the country, pay out handsome dividends to shareholders, and earn reasonably good returns on equity - although some, like Royal Bank (NYSE:RY) and TD (NYSE:TD), do much better than others.
However, they appear to be running out of good places to spend money. National Bank (NA) recently acquired a stake in an African bank. TD Bank's expansion into the Northeastern United States has been good but it earns lower returns than the legacy Canadian business. Royal tried to grow a U.S. business and failed. It's now trying gain (and it's costing them a pretty penny). Scotiabank (NYSE:BNS) has built a variety of good businesses around the world but ultimately none earn as high a return as Canada.
Similarly, Jean Coutu (OTCPK:JCOUF) is the dominant pharmacy chain in Quebec but has limited opportunities to reinvest cash. Despite being a much smaller company, its runway for growth is, like at the banks, quite short. In addition, Cineplex, which I discussed in my previous article Moats in Canada, controls 80% of the theatre market in Canada, However, owing to various challenges, they are diversifying into other ventures, such as digital advertising, and will likely see lower returns from less "moat-y" areas of business.
Legacy Moats exist elsewhere too. Telecoms like BCE (NYSE:BCE) have Legacy Moats. Life Insurance companies like Manulife (NYSE:MFC) and Sunlife (NYSE:SLF) do too. The widest Legacy Moats might be held by railroads, CN (NYSE:CNI) and CP (NYSE:CP).
Reinvestment Moats
In contrast, Reinvestment Moats in Canada are less obvious - or in other words, they aren't universally accepted. It's easy to say Royal Bank has a Legacy Moat because nearly everyone would agree with you. Their moat is a universally accepted truth, i.e. conventional wisdom.
Reinvestment Moats, which are built upon successful history capital allocation, generate a fair amount of skepticism. Most of the time they are anything but conventional wisdom. Often this is due to an elevated valuation multiple. Other times investors doubt the story, especially if its M&A driven (after-all the data suggests most M&A fails). As a result, the author argues these often remain hidden:
My theory is that these Reinvestment Moats tend to "hide in plain sight" because most investors underappreciate the impact of compounding.
Despite the math from our earlier example, investors remain skeptical of high-returning businesses.
For example, Dollarama (OTC:DLMAF) has had a attractive Reinvestment Moat for several years and only recently has this become universally accepted. Led by Larry Rossy, Dollarama aggressively replicated its high-returning box across the country and generated exceptional returns for shareholders. While the runway for new growth is now shorter, management still emphasizes stores payback in 2 years! Compared to a grocery store, which often sees paybacks ranging from 5-7 years, this is an outstanding accomplishment that has yet to be replicated.
Amazingly, investors focused (and still do) more on the valuation multiple as opposed to the return on tangible assets and, for awhile, Dollarama remained, as the author suggests, hidden in plain sight. Another example is A&W, which is Canada's second largest burger chain. They are leading with a better ingredients focus and increasingly finding a receptive customer. As a result, store count continues to aggressively expand - yet no one of size is replicating the process.
One feature I notice with Reinvestment Moat businesses is that they often have a low dividend payout ratio. In other words, management has so many great reinvestment opportunities that they'd rather retain earnings than return it to shareholders as a dividend. Perhaps the best example is Couche-Tard. Management has arguably done a far better job reinvesting retained earnings - they currently payout less than 10% of earnings - than if earnings were returned to shareholders as a dividend.
Like with Dollarama, Couche-Tard remained hidden in plain sight for many years despite having a successful process of acquiring and integrating companies. In short, its Reinvestment Moat was misunderstood.
Importance of M&A
While the previous examples contrasted an organic vs. M&A Reinvestment Moat, the author emphasizes we often find Reinvestment Moats in the capital allocation process from acquisitions.
While the research on the negative consequences of M&A for corporations is extensive, I think there are a select group of management teams that can actually reinvest the company's capital better than individual shareholders could do on their own. They tend to operate solely within their circle of competence, which is typically the sector where the underlying business resides. With deep industry knowledge, access to deal flow, and the ability to achieve operational synergies, these companies can operate like a private equity fund with permanent capital (and without the fee structure). Notable examples include TransDigm Group, Danaher Corporation, and Constellation Software.
Canada has several of these hidden in plain sight. One of the largest, which I recently reviewed, is IT services company CGI Group (NYSE:GIB). CGI has compounded earnings at ~20% per year and outperformed many of its more well-known IT services peers, including Accenture (NYSE:ACN). Amazingly, the company still operates in Blackberry's (BBRY) technology shadow (among both investors and mainstream media). For example, on Seeking Alpha, Blackberry has ~116,000 followers while CGI has ~3,000. My recent article generated 4 comments while the previous 5 Blackberry articles all had more than 100 comments.
The same can be said for two other technology companies with Reinvestment Moats: Enghouse Systems (OTC:ENGFF) and Constellation Software (OTCPK:CNSWF) both have impressive track records of compounding earnings (including through the recession) while minimizing balance sheet risk. Arguably, Constellation Software is gaining more notoriety but all three, in my view, remain heavily misunderstood by the media and institutional investors despite compounding earnings at a far higher rate than Blackberry.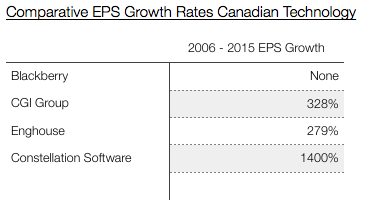 Reinvestment Moats are found in many other sectors too. Stanley Ma at MTY Food Group (OTC:MTYFF), Jonathan Goodman at Knight Therapeutics, Eric Lafleche at Metro (OTCPK:MTRAF), Lino Saputo Jr. at Saputo (OTCPK:SAPIF) and the list goes on.
Perhaps the Reinvestment Moat phenomenon is best summarized as the following:
Compounding can more than offset a higher multiple paid.
Despite track-records of success being available for everyone to see, few actually see them.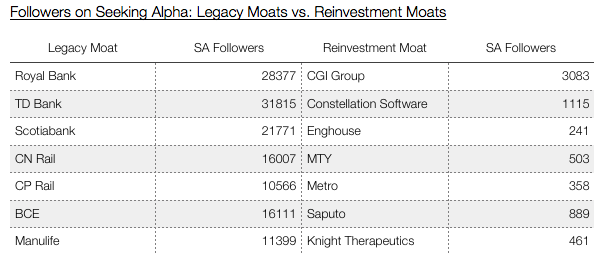 Hidden in Plain Sight
One of the reasons these companies "hide in plain sight" for so long is many Canadian mutual fund managers, institutional investors, brokerages and mainstream media outlets are focused on banks, energy and mining companies. Institutional investors care about these sectors because they make up a large part of their benchmark. Brokers care about these sectors because they represent a reliable form of investment banking fees - never underestimate a Canadian investor's willingness to continually provide equity to a low-returning energy or mining company.
As a result, these companies and sectors dominate the investment narrative in Canada. Newspapers, media outlets and investing sites, hunting for advertising fees, take the bait and report repeatedly on these businesses while arguably under-reporting on Reinvestment Moats. In the end, we realize Canada has many great companies - i.e. unconventional leaders in unconventional places - that are under the radar of institutional investors, brokers and media outlets due to index composition, their size and/ or a misunderstood business model. Sometimes they are obvious and other times they remain hidden in plain sight.
With that said, I'd love to hear from readers:
Why do these inefficiencies persist?
Do you agree that many investors, media outlets and brokerages misunderstand Reinvestment Moats?
What other Reinvestment Moats - organic or M&A - exist in Canada?
Do you think they are hard to identify?
Disclosure: I am/we are long CNSWF, EGHSF, GIB, SAPIF.
I wrote this article myself, and it expresses my own opinions. I am not receiving compensation for it (other than from Seeking Alpha). I have no business relationship with any company whose stock is mentioned in this article.
Editor's Note: This article covers one or more stocks trading at less than $1 per share and/or with less than a $100 million market cap. Please be aware of the risks associated with these stocks.