New Home Sales
The housing market continues to be a consistent positive for US economic growth. Last week, the Commerce Department reported that new-home sales registered their largest monthly gain in more than eight years, jumping 16.6% from the previous month to a seasonally adjusted rate of 619k. This jump does seem to be rather extreme, and it is important to remember that the margin for error in this estimate, according to the Commerce Department, is a plus or minus 15.4%, which equates to nearly the entire gain. For this reason, we prefer to focus on year-over-year statistics and longer-term trends rather than one month of data.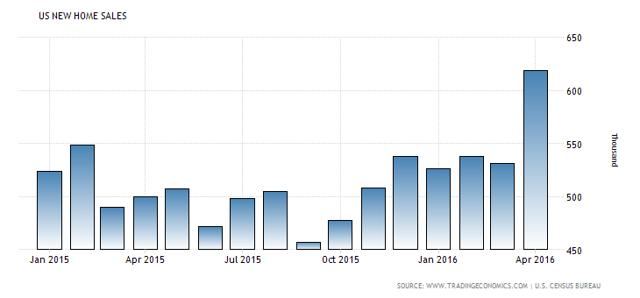 A longer-term view of new home sales shows that they remain relatively depressed in comparison to sales prior to the financial crisis. This can be looked at as a positive from the standpoint of future demand, or as a negative in terms of current demand and lack of affordability.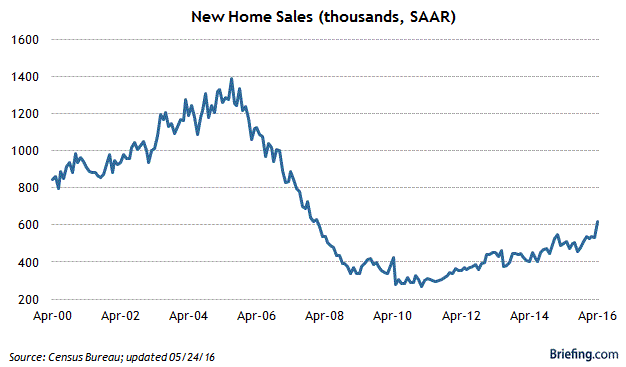 New home sales account for only approximately 10% of overall home sales, but this is a significant data point because new home construction leads to construction jobs and increased demand for goods and services that fuel overall economic growth. Meanwhile, existing home sales have returned to pre-crisis levels, although I suspect they will level off as we move forward.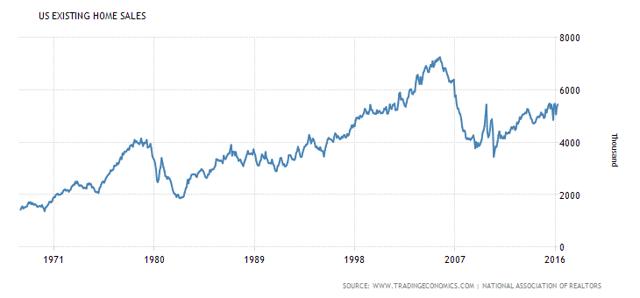 The median price of a new home rose 9.7% on a year-over-year basis to $321k, which is the highest level on record. This is not the price of your typical starter home. Home sales are clearly being driven by demand for higher priced homes, which is evidenced by the fact that the home ownership rate has fallen to multi-decade lows. A significant decline in home ownership was warranted after the housing bubble burst, but I would have thought that one of the longest expansions on record would lead to a bottoming, followed by eventual recovery, in the home ownership rate.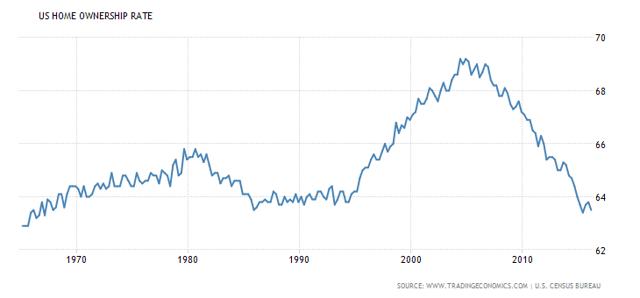 I think these housing statistics show that credit is not as readily available for lower- to middle-income households to purchase new or existing homes as a healthy economic recovery would dictate. It also explains the much higher rate of inflation for rents (+3%) that we see relative to the overall Consumer Price Index. At prevailing mortgage rates, it is far less expensive to purchase a home than it is to rent one, but for those that can't obtain credit to buy, renting is their only option.
Purchasing Manager's Surveys
Markit Economics reported its initial survey results of purchasing managers for the services and manufacturing sectors in May, which together form the Markit Composite PMI Index. The results of both surveys and the composite show a rate of US economic growth that weakened modestly in May. The current level is just barely above 50, which is the line of demarcation between growth and contraction. The survey results for the composite have been in a downtrend since mid-2014, as can be seen below.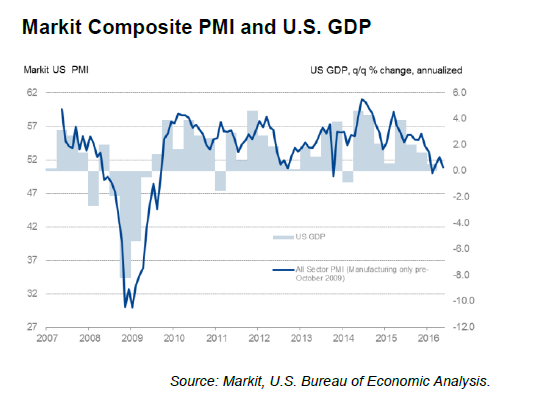 Durable Goods Orders
The durable goods orders report was a mixed bag for April. The 3.4% rise in orders was well ahead of estimates, but a 65% increase in civilian aircraft orders was responsible for 85% of the gain. The year-over-year gain in durable goods orders is now a modest 1.4%, but if we exclude the volatile transportation sector, the gain becomes a decline of 1.4%.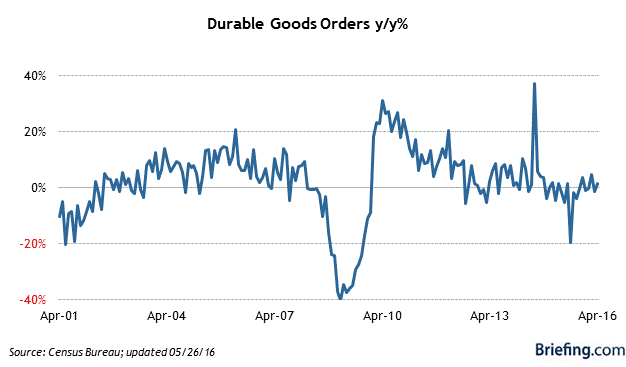 The key measure of business spending, known as non-defense capital goods excluding aircraft, continued to decline. It has fallen five out of the last six months, is down 5.0% on a year-over-year basis and 4.1% through the first four months of this year when compared to last year. This steady decline has negative ramifications for economic growth moving forward because a degrading rate of growth in capital spending leads to weaker rates of productivity growth.
First-Quarter GDP - Second Estimate
In its second estimate, the Commerce Department reported the US economy grew at a slightly faster rate of 0.8% in the first quarter than its initial estimate of 0.5%. This was partly due to an upward revision in spending on residential construction, which has been validated by the strength we have seen in recent housing data. An upward revision in inventories accumulated by businesses accounted for nearly half the increase, which does not bode well for future rates of growth because these inventories need to be worked down before the production of new goods can advance. Lastly, a downward revision in imports combined with an upward revision in exports led to an improved trade deficit that also contributed modestly to the rate of economic growth.
The Atlanta Fed's GDPNow forecasting model is expecting a rate of growth of 2.9% for the second quarter, driven primarily by what it now expects to be a 3.6% rate of increase in real consumer spending, based on the most recent personal income and spending reports. We think this rate of consumer spending growth is not consistent with the much slower rate of growth in real incomes, and will be revised significantly lower in the months ahead. There is clearly a pickup in the rate of growth, but not enough to cause us to revise our outlook for 1% in 2016.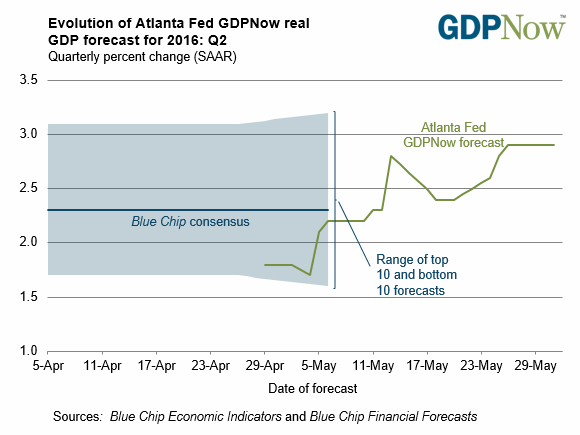 Disclosure: I/we have no positions in any stocks mentioned, and no plans to initiate any positions within the next 72 hours.
I wrote this article myself, and it expresses my own opinions. I am not receiving compensation for it (other than from Seeking Alpha). I have no business relationship with any company whose stock is mentioned in this article.