Business Summary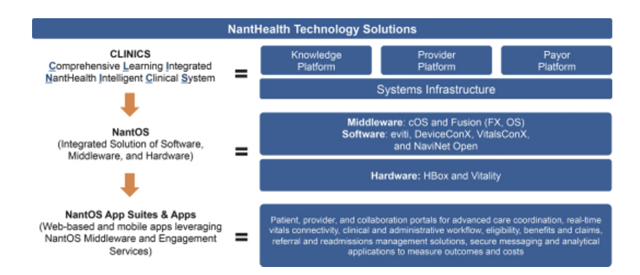 (Source)
NantHealth (NANT) is an evidence-based healthcare company that uses its own adaptive learning program, CLINICS, to collect and analyze data from a variety of sources in order to improve and optimize clinical decisions over time. The company is focused on improving outcomes for patients by improving treatment decisions for those who are suffering from critical illnesses. CLINICS uses a big data approach involving software, hardware and middleware systems infrastructure. The underwriters for the offering are Cowen, Jefferies, Canaccord Genuity, FBR and First Analysis Securities.
Executive Management Overview
The founder, chairman and chief executive of the company is Patrick Soon-Shiong, M.D., FRCS (C), FACS. He is a medical doctor, scientist and surgeon who has developed new therapeutic approaches for the treatment of cancer and diabetes. Dr. Soon-Shiong is one of the wealthiest people in the city of Los Angeles due to his multiple innovations. Before founding NantHealh, Dr. Soon-Shiong previously founded and served as the CEO for Abraxis Bioscience and American Pharmaceutical Partners. Both companies were acquired in multibillion-dollar deals in 2008 and 2010.
Financial Highlights and Potential Risks
For the year ending on Dec. 31, 2015, NantHealth reports it had net revenues of $58.3 million and net losses of $72 million. During the first three months of 2016, the company reports net revenues of $19.5 million and net losses of $33.1 million. The company stated in its S1/A that it would have had net revenues of $112 million and net losses of $96 million without its equity investment in NantOmics, its LLC conversion and its acquisition of NaviNet, Inc., for the year ending on Dec. 31, 2015.
The company lists a number of risk factors involved with investing in it. NantHealth states that the success of CLINICS depends on the quality of information that is inputted into it. The company also indicates it has a history of experiencing significant losses and expects to continue to do so for the foreseeable future. The company also said it may never reach profitability.
Conclusion: Caution on NantHealth
NantHealth is lead by billionaire Patrick Soon-Shiong, who has had a history of innovation and founding strong companies. NantHealth does not have a significantly long operating history and has posted losses, which it foresees to continue into the future.
In the last twelve months, 65 healthcare deals have raised $5.7B. Last week, healthcare firm RETA had a solid IPO (in addition to USFD and GMS); these positive performances could buoy NH this week.
At present, we suggest investors hold off or consider a very modest allocation.
Disclosure: I/we have no positions in any stocks mentioned, and no plans to initiate any positions within the next 72 hours. I wrote this article myself, and it expresses my own opinions. I am not receiving compensation for it (other than from Seeking Alpha). I have no business relationship with any company whose stock is mentioned in this article.