There are several clear reasons why shorting Alibaba (NYSE:BABA) is a viable trade in the current market. There is a SEC investigation underway that is searching for signs of fraud within the company's financial statements. China continues to slow, and economic reports missing expectations could fuel a downtrend in the Shanghai Composite, and subsequently, Alibaba. Additionally, the fact that Yahoo (YHOO) remains a principal stakeholder as a target company after SoftBank (OTCPK:SFTBY) sold off shares has me concerned about a potential snowball effect occurring.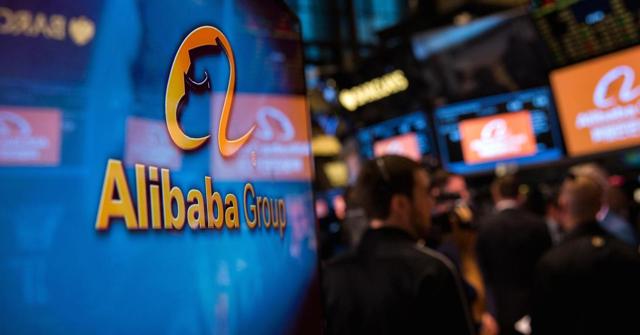 Source: Retail Detail
The SEC Investigation
SEC investigations can be death sentences for growing companies. The investigation into Alibaba's financials is only at its beginning, but so far, the results have been largely benign. The SEC will be looking for either evidence of fraud or the intent to defraud. If either of these come up throughout the course of the investigation, expect massive losses for BABA. Shareholder confidence in this equity would be highly diminished; however, trying to calculate the probability of the outcome of this investigation is a fool's game. In this kind of a situation, it's best to be conservative with the uncertainty and not be bullish on the outcome.
To be fair, Alibaba is not required to cooperate with the SEC because this investigation is so early on, and no subpoenas have been issued, nor has that been deemed even necessary. However, a lack of cooperation moving forward would signal strength to the shorts. Fortunately, Alibaba is voluntarily cooperating, as of right now, as established in its recent 20-F.
The timeline to a final decision from this investigation is uncertain and could take several years. That means one of two things: either investors start avoiding the stock because of this looming headwind or they ignore the background headwind and focus on the company's key growth drivers. It's possible that, right now, BABA is hampered by this investigation from breaking out and acting more like a positive tech stock, like Facebook (NASDAQ:FB) or Amazon (NASDAQ:AMZN). Perhaps, this is why the stock is stagnating a few dollars above its 200 DMA, seen below.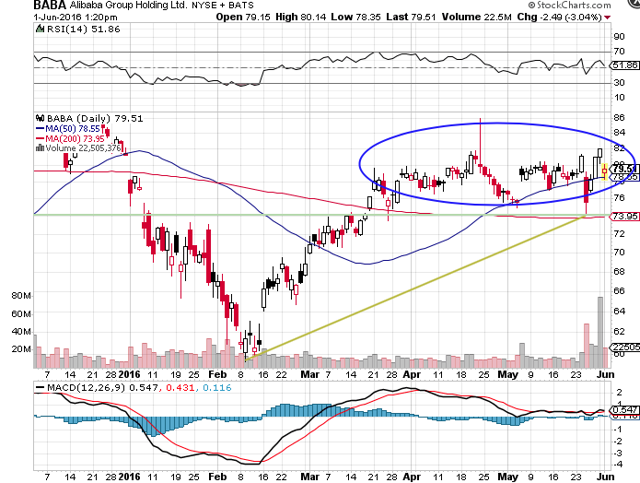 Source: StockCharts
A true contrarian may suggest that based upon today's dip in BABA of 6%+, fueled by the SEC investigation and a sale of shares from a major shareholder, that buying in now for the long term is a solid investment decision. BABA has had a lot of difficulty in breaching the $82 resistance level, and now that the risk/reward scenario has been marginally improved, this is an ideal time to enter. However, there are still other headwinds in place.
China Is Still Slowing
Are investors so quick to forget that China is slowing considerably? This is the very factor that caused such a strong dip in the Shanghai Composite back in January and, subsequently, Alibaba. If the target GDP rate has to be revised in the coming quarters, then Chinese markets, and consequently, American markets are going to experience significant downside. It was just reported that Non-Manufacturing PMI hit a three-month low. This is concerning considering stimulus measures are being directed towards housing and infrastructure projects, not startups or tech development. So, despite the positivity surrounding the word "stimulus," Alibaba doesn't stand to be a direct beneficiary.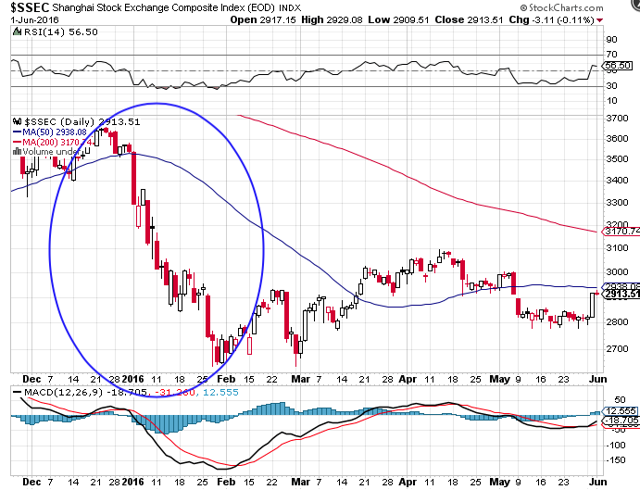 Source: StockCharts
As is, Hong Kong is feeling the weakness from China as its GDP shrank in Q1 for the first time since 2010, seen below. Nearby economies of Taipei and Macau, as well as Mongolia, continue to exhibit weakness. A revisiting of the January lows experienced by BABA will likely be on the back of poor growth from China.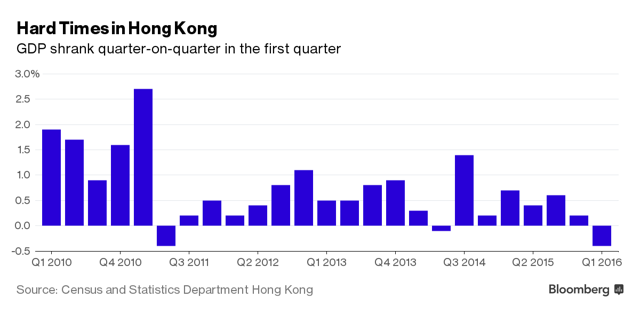 Source: Bloomberg
A Sell-Off In The Making?
A flight to quality will occur if a major market event causes a broader market downturn. In that case, a clear 15.4% of the float from Yahoo and 32% of the float from SoftBank is at risk of being sold off in pieces as these investors will want more cash assets. The catalyst to a downturn? Profit taking like what SoftBank just did, more reports indicating China is slowing as just discussed, or potential selling of shares from Yahoo, another principal shareholder of Alibaba. Now that SoftBank has announced that it is selling $7.9 billion worth of shares, their effective ownership stake reigns in at 28%.
Increasing complications with Yahoo arise in that its stake amounts to $31 billion. Depending on what ends up happening with that company, Alibaba's shareholders could really witness a strong exhibit. This is a very real risk that could counter-trend any positive growth initiatives taken by Alibaba over the next couple of months. Like the SEC investigation, the timeline to resolution on Yahoo's situation is unknown. Bids are already coming in below expectations even with a variety of suitors, making this stake all the more important.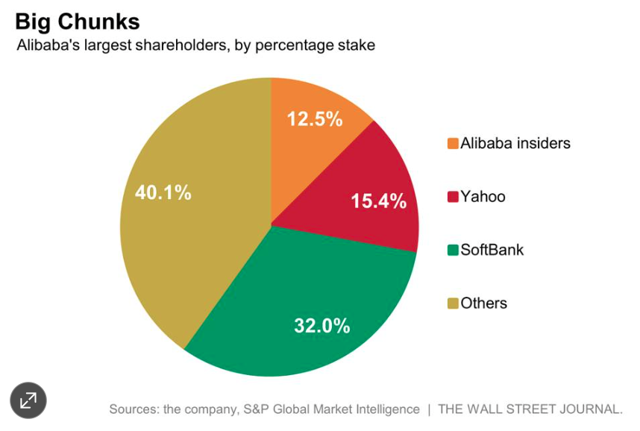 Source: WSJ
An important piece of information to consider when thinking about Yahoo's potential sell off of shares over the next few months is that 15% ownership is the minimum amount in order for a stakeholder to retain a board seat. If Yahoo sells just over 0.4% of the total float, it'll lose its board seat. This could very well be something that an acquiring company may try to prevent Yahoo from doing given the long list of growth catalysts that Alibaba has. Retaining such a stake is pivotal towards long-term earnings generation for any acquirer.
Conclusion
With all of this negativity, I am still long Alibaba. While my shares have seen decent appreciation since the $60 level, which was below the IPO level of $68, there are still a multitude of medium- and long-term growth catalysts that make this equity seem undervalued. For example, Alibaba's future U.S. expansion, cloud capabilities, Ant Financial's future IPO, and improving expectations all point to a bright future. That being said, the risks outlined in this article are clear, and hedging my long position at the present time isn't a bad idea. I'm staying cautious with BABA, for now.
Disclosure: I am/we are long BABA.
I wrote this article myself, and it expresses my own opinions. I am not receiving compensation for it (other than from Seeking Alpha). I have no business relationship with any company whose stock is mentioned in this article.