Legendary Apple (NASDAQ:AAPL) CEO Steve Jobs once likened Apple to a ship with a hole in the bottom and quipped that his job was to point it in the right direction.
Jobs may have been right. Today Apple's direction seems to be down.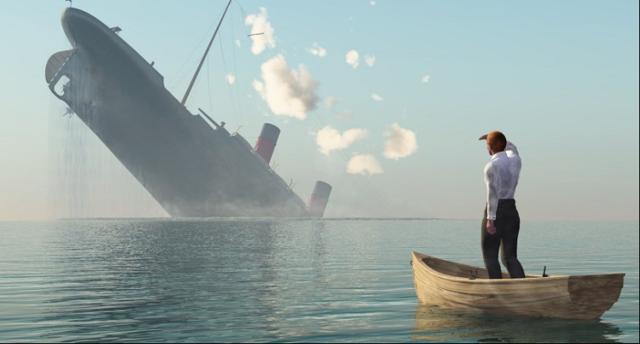 Source: Knowledgenuts.com
Apple has a lot riding on the success of the iPhone 7. Supplier forecasts suggest that demand will be tepid, and that they are looking at a "grim year" as a result.
Ming-Chi Kuo of KGI Securities predicts that Apple will be the only top five smartphone supplier to see volumes decline, citing the lack of attractive selling points for the iPhone 7.
While seeing reasonably robust demand for the iPhone SE of 12 to 18 million units, Kuo projects total-year iPhone sales of 190 to 205 million units, a sharp decline from 232 million units last year.
UBS analyst Steven Milunovich disagrees, seeing 5% to 10% higher iPhone shipments on a strong upgrade cycle.
I am with Kuo. Apple has a long history of introducing barely incremental upgrades while competitors make real progress in improving their devices and the better Android OS phones outclass the iPhone on pretty well every metric in my opinion.
In any event, while the world awaits the "next big thing" from Apple, iPhone's market share continues to plunge.
Of course, Apple is more than the iPhone, but not much more. SA Author Mark Hibben sees upward momentum in the Apple Watch, which hopefully will breathe new life into Apple's shares.
I am doubtful. I visited the Apple Store in Newmarket, Ontario, the other day. The store was busy with many customers poring over the iPhone SE and Apple's line of iPads. Interest in the Apple Watch was nil as demonstrated by this photo I took at the time.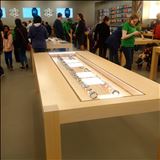 The Daily Mail minced no words in calling the device a flop.
IDC saw Apple Watch sales plunge some 60% to 1.5 million units in the first quarter of this year, although it reported that Apple's volume came in at a respectable third place for "wearables" behind Fitbit's (NYSE:FIT) and Xiaomi's (BATS:XI) device.
The Apple Watch is a nice gimmick, but it is not going to move the needle for Apple. At an average selling price of somewhere around $500 (Apple does not report unit or dollar sales of the device, which is itself not an encouraging sign), Apple Watch sales of less than $1 billion a quarter are irrelevant in Apple's world.
The venerable iPad is of not much help. The newly released iPad Pro is receiving serious competition from Microsoft's (NASDAQ:MSFT) Surface Pro, which outsold the Apple device two to one in Q1 2016 in the U.K. according to reports.
Part of the problem may be a buggy release of Apple's latest version of iOS, which reportedly turns the iPad Pro into a "brick" in the hands of many users. Steve Jobs would never have let buggy software get into the hands of users, a failing that threatens user loyalty under Tim Cook in my opinion.
Apple's June quarter is headed for declining sales and profits as I see it, and September quarter forecasts will be hard to assess given the iPhone 7 release is likely to be late in the period and hard to gauge. Investors will likely give Apple a pass until Q1 2017 when any shortfall in the key Christmas season could turn into a rout of AAPL's shares.
Barclay's Mark Moskowitz sees nothing exciting about the iPhone 7, which suggests sales might underwhelm.
Apple was looking to China for long-term growth. That vision is fading a bit. Xiaomi sold three times as many smartphones in April as Apple did in China, and the iPhone market share in that country fell to the 8% range. Xiaomi and Huawei together held almost 50% of the Chinese smartphone market in April.
Goldman Sachs has joined the throng of Apple bears, calling for earnings per share of just over $8 this year. That approaches my $8 per share Apple earnings forecast published last January.
Tim Cook is taking it all in stride, and even joked that he was unsure when the iPhone was invented when shown a 346-year-old painting that appears to show an iPhone in the hands of one of its subjects.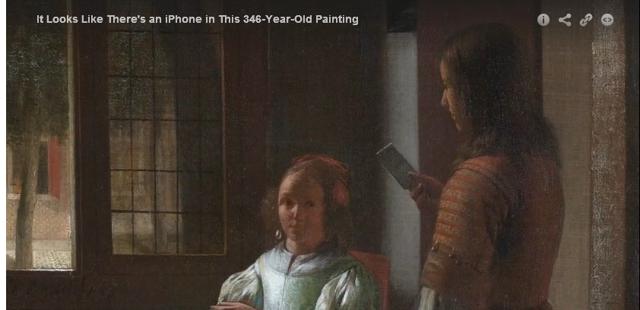 Source: Fortune
All joking aside, investors who choose to be long AAPL this year may be putting themselves more at risk than usual with the Cupertino giant. I would avoid the shares.
Disclosure: I/we have no positions in any stocks mentioned, and no plans to initiate any positions within the next 72 hours.
I wrote this article myself, and it expresses my own opinions. I am not receiving compensation for it (other than from Seeking Alpha). I have no business relationship with any company whose stock is mentioned in this article.