When IDC offers their updated forecast for Wearables and Smartwatch unit shipments for the Q2 2016 period it will be interesting to see who is positioned where in their respective grouping/s. It is important to understand that IDC forecast can and often are found inaccurate and not void of constant and consistent revisions. They do their best to forecast based on proliferating results generated from supply lines, but often overshoot and are found ratcheting down estimates, especially for new products in new categories. I have always, 100% of the time found IDC forecasts and units shipped to be in error, which is why Capital Ladder Advisory Group tracks point of sale data instead. Point of sale data is more real time oriented and offers a great deal of sell-through information. Without further ado let us look at their latest rendering for wearables and smartwatches during the Q1 2016 period and build our understanding as to why and how the top 5 participating vendors may move ahead and behind their competitors.

From IDC shipment tracking data noted in the charts above, Fitbit (NYSE:FIT) maintains a leading market share for wearables followed closely by Xiaomi. It is important to note that almost ALL of Xiaomi sales proliferate in China and through its U.S./Europe e-commerce site. What Xiaomi has done is widen the total addressable market for wearable devices to include China. It is with this in mind that Fitbit has entered the Chinese marketplace via its partnership with Tmall.

This entrance is only 2-3 weeks new and most obviously has no participating sales in IDC's Q1 2016 tracking. I do not expect any relevant change in market share from Fitbit's participation in China near-term as Tmall can't provide enough sales volume to offset Xiaomi's dominant e-commerce and brick and mortar sales reach in the region.
From IDC Smartwatch shipment tracking data concerning Q1 2016 it is most obvious that Fitbit is not registered in their data tracking as the Blaze did not begin shipping until late Q1 and early Q2. Given the numerous disclosures put forth by Fitbit and press releases concerning the Fitbit Blaze fitness smartwatch sales, I would expect Fitbit to show a Top 3 position in IDC's Q2 2016 tracking results for smartwatch vendors. It's probable they are positioned ahead of Apple (NASDAQ:AAPL) come the next update. I suggest this as Fitbit shipped at least a million units during the period and the sell-through of Apple Watches has proven to erode during this time period, not warranting replenishment/greater shipments of significance. Having said that it is presently unclear as to Apple expanding distribution of the Apple Watch, which could be a determining factor in the rankings.
With Samsung launching the Gear Fit and Samsung Gear S2 Classic smartwatch during the 2 nd quarter, it is hard to put a unit shipment forecast together for Samsung wearables presently. This is especially true since AT&T (NYSE:T) has adopted the Samsung smartwatch as it is untethered from the android operating system smartphone finally. Nonetheless, I would be of the opinion that the Samsung Gear S2 Classic will perform as poorly as its predecessors with respect to fitness trackers and smartphones due to the general lack of utility offered in the smartwatch. Smartwatches for all their intended greatness lack attractive price points and the necessary functions we use our smartphones for today. Just try to take a picture with your smartwatch and tell me how that works out for you. Samsung shipped 1.2mm units of its original smartwatch when it launched in late 2013. They only shipped 700,000 units for their latest iterations according to IDC. The smartwatch makers don't seem to get what would drive consumer purchases for smartwatches, greater utility at reasonable price points. I don't consider Fitbit's Blaze "smartwatch" to be akin to the Apple Watch or Samsung Gear smartwatch in that the Blaze does away with the high priced applications that are seemingly obsolete for wearable devices. As such the Blaze can be distributed at many more points of retail sale and offer Fitbit an advantage with regards to branding and further dominating the wearables category. According to NPD Group, Fitbit garnered 85% of total wearable sales during the Q1 2016 period. The right functionality and price point goes further with retailers and consumers. Having said that, even with a lesser price point than its proposed smartwatch peers, Fitbit's Blaze faces other challenges to further penetrate markets.
With a better understanding of the latest IDC tracking numbers and rankings out of the way, let's move on to a rather important topic related to sell-through. Actually it's not related it is sell-through. Tavis McCourt of Raymond James published his latest sales tracking methodology aptly named consumer electronics strength index or "CESI" for short. Within the CESI, McCourt had some promising sell-through findings for Garmin (NASDAQ:GRMN) and Fitbit wearable devices and some rather disappointing sell-through findings for Apple's Apple Watch. McCourt explains the CESI modeling as follows:
We compile the CESI by tracking a number of variables from Google Trends, app downloads, online best seller lists and other available third-party data that we have found helpful in tracking y/y sell-through trends in the past, and then backwards test this data to make sure it has been directionally accurate at capturing real time sell-through trends over the past 1-2 years.
McCourt's specific sell-through results for the aforementioned products are noted as follows:
Apple's Apple Watch smartwatch underperforming sharply the data for both Garmin and Fitbit devices. For example, in April, the "first meaningful month of Apple watch data" he could compare, since the device came out a year ago, "our CESI is consistent with Apple Watch sell-through being down quite significantly y/y," with a CESI score of 30.
Below are the CESI table results that constitute multiple quarters of sales tracking. While McCourt's model maintains various aspects of sell-through resources, it is not within keeping of sku count disparity YOY or a perfect correlation with respect to new product introductions by vendors that can sku results.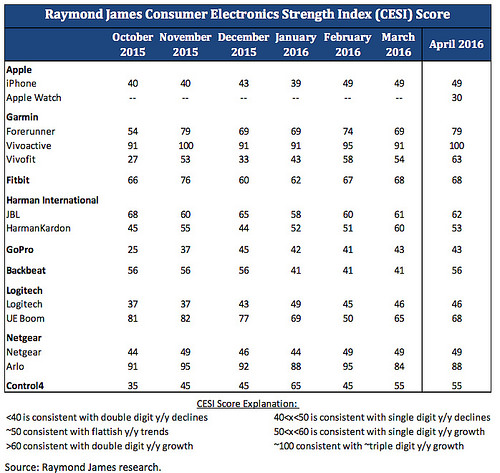 It is important to understand that whether it be IDC, NPD Group or Raymond James CESI, what is being discussed is sales and not with respect to overall profitability. As markets become more saturated with wearables products from multiple suppliers, sales require greater maintenance and generally lead to less profitable sales. This will likely impact all wearable suppliers going forward. Sales are great, but profits are better as they can be more generously shared with investors.
There has been a good deal of headlines concerning wearables and market competitors this week and in recent weeks. Fitbit gets most of the category attention given its market leading sales. But recently Xiaomi has given greater details surrounding its launch of the Mi Band 2. The launch is set for June 7 th. With Xiaomi being China's biggest smartphone competitive threat to international players like Apple and Samsung in the smartphone market, it is naturally concluded that the firm will compete on equal footing in the wearables market.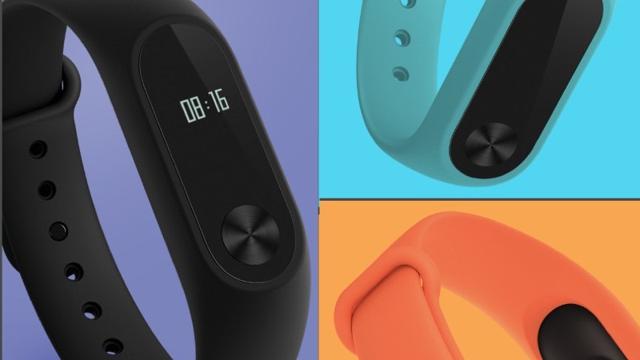 The Mi Band 2 24/7 activity tracker will come with a 0.42-inch OLED screen that's covered by scratch resistant glass and an anti-fingerprint coating for that extra layer of protection. The device is equipped with an IP67 water and dust-resistance certification, offering consumers a layer of water resistance or proofing. Mi Band 2 will come with an optical heart rate monitor. The device also offers sleep tracking for light and deep sleep patterns. Like many other activity trackers the newest Mi Band will offer buzz alerts. Mi Band 2 is only for sale in China starting June 7 th for $22 in contrast to its predecessor Mi Band, which is $15. More and improved features have undeniably proven to increase cost.
Jawbone has made headlines as well with the seemingly discontinuation of its UP wearables product line. Tech Insider offers the following on the subject matter:
Jawbone has three major fitness trackers: The UP2, UP3, and UP4. The company has struggled to sell the devices and was forced to offload them at a discount to a reseller in order to get the revenue it needed to keep the business going, according to the source.

Representatives for Jawbone provided the following comment three days after this story published: "Jawbone has not ceased working on the production of UP products nor do we intend to. Each and every employee at Jawbone is currently focused on the design, development, marketing and production of either our current, or our next generation, UP wearables product line.
In addition to this aspect of Jawbone's business, the company is reportedly working on developing a more health oriented wearable product line. Jawbone raised a new $165 million round of funding in January. The company's CEO Hosain Rahman told Tech Insider a few months ago that the plan is to use that money to develop clinical-grade fitness trackers. This will take some years of development certainly as a clinical/medical grade fitness tracker will come under greater scrutiny from the FDA and require a series of timely tests that prove out Class II certification from the FDA and possibly align the device for medical reimbursement under the Affordable Care Act's new billing codes.
Moreover, other company's have already efforted in this direction speculated upon by Jawbone, which may find the company once again behind the curve. Without an acquisition of necessary equipment and intellectual properties designated for medical grade status most companies are looking at supplementary products to wearables. Apple's Tim Cook has already offered the company doesn't desire to take the Apple Watch down this long and winding road for its smartwatch. Here is what Tim Cook offered last year regarding this very subject matter:
We don't want to put the watch through the Food and Drug Administration (FDA) process. I wouldn't mind putting something adjacent to the watch through it, but not the watch, because it would hold us back from innovating too much, the cycles are too long. But you can begin to envision other things that might be adjacent to it-maybe an app, maybe something else," Tim Cook said in the interview for the Telegraph.
Samsung has an FDA approved app designated for wearable devices, but the patient compliance rate has been pretty poor, rendering such an application with little efficacy. It will take some time to see how this aspect of the wearables category plays out, but investors should always keep in mind the greatest revenues and profit dollars will always come from the consumer market for wearables. Having said that, it should be of little surprise that Fitbit hasn't spoken at length recently and regarding its corporate account sales and growth. As I've stated in the past, while this is a reasonably decent extension of the business model, the corporate revenue sector for wearables like that of the clinical sector simply can't offer what the consumer market offers to Fitbit in terms of revenues and profits.
In rounding out this latest update and analysis of offered data points and competitive market positions for wearable devices, Fitbit announced only two days ago new additions to its Board of Directors.
Laura Alber, CEO of home products retailer Williams-Sonoma, has joined Fitbit's Board. So has Glenda Flanagan, CFO of grocery chain Whole Foods Market (NASDAQ:WFM).

Fitbit's board now has seven members. "Laura and Glenda each bring a wealth of experience driving the growth and transformation of leading consumer and health-related brands," says CEO James Park.
Akin to my sentiment regarding Fitbit's hiring practices for numerous engineers, I see minimal relevance for this latest action by the company other than adding diversity to the Board. From an investor's perspective, if they aid in driving revenues, profits and positive cheer from the community at large, all the better. I would offer this action by Fitbit to be less provocative than what Target's executive team outlined in their bathroom policy as I digress. And with that being said I'm still awaiting shares of FIT to appreciate as I indicated in a previous article titled "Fitbit Shares Could Climb 10%".
Disclosure: I am/we are long FIT.
I wrote this article myself, and it expresses my own opinions. I am not receiving compensation for it (other than from Seeking Alpha). I have no business relationship with any company whose stock is mentioned in this article.