By Tony Termini
BOC Aviation just raised $1.1 billion in its IPO and I think that this is going to be a positive development for Embraer (NYSE:ERJ). BOC Aviation buys airplanes and leases them to airlines around the world. The interesting thing is that they currently have just 13 ERJ planes in their fleet.
I'm not saying this will be the event that gets ERJ soaring in the near term. But, in my opinion, it is one of the reasons you want to be long ERJ right now, even though there are a lot of negatives reflected in the stock's price.
The Brazilian economic and political situations are clearly messy. Military sales are weaker than analysts expect. ERJ is in the midst of a couple of US investigations for bribing officials in the Dominican Republic. And, ERJ is also kind of a mystery to US investors. Announcements and press releases issued in the United States are in English, but to me they read as if they are computer-generated translations from the original Portuguese. You have to go over them a few times to get a real sense of what's being communicated. And, ERJ's financials are reported in IFRS (International Financial Reporting Standards), not GAAP (Generally Accepted Accounting Principles), so interpreting them the way you would a US-based company requires its own translation.
In my opinion, it's these things that keep individual investors away from ERJ. But, that's part of the opportunity here. Now, before I go any further, I have to note that in its Q1 2016 earnings announcement ERJ reported a loss. The number started out as a gain of $0.569, but, thanks to the weak Real the number translates into a loss of $0.01. I think that this is part of the reason that the stock drifted to a new low. But, I think it was overblown. I like the stock for the long-term. Here' why.
Even though ERJ reported a loss for the first quarter, according to Zacks Equity Research, revenues were actually about 10% higher than analysts were expecting. Moving forward, the consensus is that ERJ will have a couple more negative quarters. But, looking to 2017 the numbers should begin to firm up and analysts expect ERJ to show a better than 32% increase in EPS for 2016. Then in 2017 they expect an additional 14.2% increase over this year.

(Source: Zacks Equity Research)
My view is that the next two quarters' bad news is already priced into the stock, so I see limited downside from here as we look forward to improvement year-over-year and then into 2017 and beyond.
Said another way, at the current price of about $21.00, you're looking at paying less than 11 times forward estimates in a market that's trading at more than 17. What's more, you're getting ERJ for less than book value and paying just $0.63 for every dollar of sales the company generated in the trailing twelve months! So, I like the value of ERJ.

(Source: Zacks Equity Research)
Looking beyond next year I think things get more interesting. The Federal Aviation Administration (NYSEARCA:FAA) is forecasting that airline capacity in the US will grow at an average of 1.9% per year through 2035 and that general aviation will grow at an average pace of 1.4% during the same period. ERJ's internal estimates for commercial aviation in the US and Europe are more optimistic. They expect growth in passenger traffic to increase by 4.9% over the next 20 years. Their growth estimates in emerging markets are even higher.
I say these are reasonable assumptions given that the IMF's most recent World Economic Outlook pegs growth at better than 3% into the foreseeable future. So, we have an environment where the middle class (you know, the folks that take vacations and fly on business trips) is expected to continue growing. And, this is going to put a strain on current capacity. That's why Flightglobal predicts that some 41,000 commercial airplanes will be delivered over the next 20 years.
The future looks pretty promising for general aviation too. According to Honeywell Aerospace (NYSE:HON), deliveries of new business aircraft should be better than 9,000 units through 2025. And, as it so happens, this mirrors ERJ's forecast as depicted in the chart below.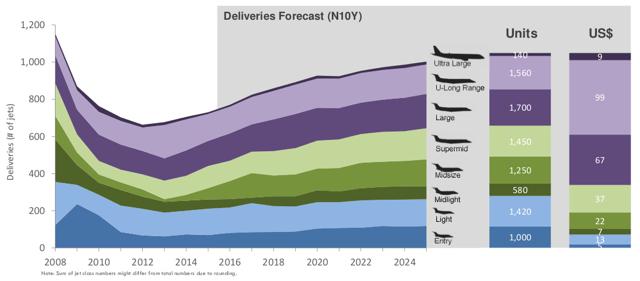 (Source: Sherpareport.com)
I think this means lots of new orders for ERJ, which had a nearly $23 billion backlog (orders on the books waiting to be filled) at the end of last year as shown in the chart below. That backlog has been growing for the last 3 years and given the secular trends mentioned above, I expect it to continue to grow into the next few years.

(Source: Company website)
According to ERJ's most recent Market Outlook, they see deliveries of new jets reaching nearly 6,400 units in the next 20 years with the majority of that coming from the rising air traffic that will result from an expanding global market.
Finally, let's look at the BOC Aviation IPO. Beyond the fact that BOC has a bundle of cash to go out and buy more planes - giving ERJ a potential opportunity to sell a few more to them, I believe that it represents a clearer view of the future opportunities in China. And, I know that everyone-and-his-cousin goes on and on about how great the Chinese market will be for this company or that. But, the reality is that China has a burgeoning middle class. And, those folks are indeed going to be getting on planes and traveling for business and pleasure for decades to come. I do not discount the potential power of that economic growth machine and I expect that it is going to translate into long-term positive results for ERJ. And, that means long-term positive returns for investors. ERJ is a buy in my opinion.
Conclusion
The fundamentals look good beyond the next two quarters and ERJ trades at a nice discount to the overall market. The future looks great for the industry and for ERJ in particular. The growing order backlog supports the notion that revenues will continue to grow even if the Brazilian economy continues to falter and the Real continues to weaken.
Disclosure: I/we have no positions in any stocks mentioned, and no plans to initiate any positions within the next 72 hours.
I wrote this article myself, and it expresses my own opinions. I am not receiving compensation for it (other than from Seeking Alpha). I have no business relationship with any company whose stock is mentioned in this article.