Introduction
I mentioned it in other articles such as this one, which has a similar investment thesis. As per my opinion, you can research stocks in a faster mood checking the kind of institutional investors inside the firm than looking directly at the balance sheet. In just first 2 minutes of my research about this company, I knew that I have found a hidden gem. After that, I checked the fundamental value of the firm to confirm it.
In this case, I found a potential buyer namely Vector Capital, a private equity, which has already sent a letter to the firm, and several activists that may force the company to sell itself. It is the beginning of a sale; I have seen such situations many times. In this article, I will give more hints.
Covisint, business and M&A analysis
Covisint Corporation (NASDAQ:COVS) provides a cloud platform, which is offered as a service. It is termed as a "Platform-as-a-Service (PAAS)". The company has focused on its solutions on the automotive, healthcare and energy industries.
The company's key growth strategies include the following:
- Continued innovation and enhancement of our platform
- Acquire new customers
- Penetrate new vertical markets
- Expand channels and strategic alliances
(10-k)
For further analysis of these growth strategies, you should check the last annual report. As per my opinion, the most important key elements for this company are R&D and S&GA. Thanks to the expenses in R&D, the company has built $10 million intangible assets as mentioned in the last 10-Q. They are described in the following way in the annual report.
- Expand within our current customer base
"We hold a patent in the U.S. on our core technology, in the context of an industry-wide business-to-business exchange. This patent will expire in 2028. In addition, we pursue the registration of our domain names, trademarks and service marks in the United States and in certain locations outside the United States."
(10-k)
This intellectual property may be important for a strategic acquirer, thus we should underestimate its value. This kind of buyer can create new outstanding software with this know-how and make the company very profitable.
The company has many customers, but a high percentage of the revenue comes from a few of them:
"While we have over 3,000 customers, we have approximately 150 core platform customers, representing 93%, 93% and 91% of our total revenue for the years ended March 31, 2014 , 2013 and 2012 . Our core platform customers include large, globally distributed organizations in the automotive, energy, travel, life sciences, consumer goods and financial services industries, as well as national and regional insurance companies, health systems and hospitals in the U.S. healthcare industry. Our remaining customers include a variety of organizations that pay us a relatively nominal fee to either connect to one of our core platform customers or use one of our industry-specific solutions. "

(10-k)
In addition, Covisint works with relevant players and big names:
"For the year ended March 31, 2014, the two customers providing over 10% of our revenue were General Motors Company and AT&T. Our relationship with General Motors consists of multiple, separate business initiatives for different business segments within General Motors, including supply chain, marketing and OnStar. AT&T is a reseller of our platform to its customers in the healthcare industry."
(10-k)
As per my opinion, the fact that the revenue is concentrated in a few big corporations is really risky. The company remarks also that General Motors is its biggest client. 26% of the total sales come from this client, which represents a large risk:
"Our revenue from General Motors during fiscal 2014 was $24.9 million or 26% of our total revenue. Our revenue from General Motors decreased in fiscal 2014 as a percentage of our total revenue from 33% in fiscal 2013."
(10-k)
Just to give an idea of the software that Covisint sells, the initial subscription period is 36 months. So, in relatively short period of time, Covisint could lose a lot of revenue from its customers. As per my opinion, the company must focus on diversifying and maybe negotiating long term contracts.
This industry is quite competitive; a new solution emerges every day. Covisint describes the market in the following way in the last 10-k:
"The overall market for enterprise cloud-based platforms and solutions is emerging. While our primary competition currently comes from internal IT groups and established systems integrators, we expect that the competitive landscape will change as the market evolves and cloud computing is more broadly adopted. We believe that our competition fits into the following categories:

- Systems integrators, such as International Business Machines Corporation (NYSE:IBM), Hewlett-Packard and Dell
-Cloud-based platform vendors, such as Salesforce.com and Microsoft Azure
-Business-to-business integration and data exchange vendors, such as GXS and Sterling Commerce, a division of IBM
- Internally developed solutions"
(10-k)
This company completed its IPO on October 1, 2013. Covisint used to be a division of Compuware until Thoma Bravo bought it out. As pointed out in other seeking alpha articles, this is the typical spin-off company that the market did not appreciate. Since the workers of Covisint are used to work for a big company and the transaction is very recent, this is very good M&A target. Currently, the key individuals maybe quitting the company, so if there is going to be a new transaction, it has to be very soon.
Just a few weeks ago, I wrote two articles about a similar company (cloud computing): You made a 20% Return with Inforblox? - What now?. Please, take a look at them, then you will be able to understand the story that I expect here.
Financials
The current financial condition of the company is not great. The revenues declined in 2014 and 2015. Covisint has restructured in the last two years (the amount of employees dropped sharply), but could not decrease the amount of total expenses appropriately. During this period, the company increased the R&D expenses, which is very interesting. As per my opinion, the management truly believes in the future of the business model, as it is still building intellectual property.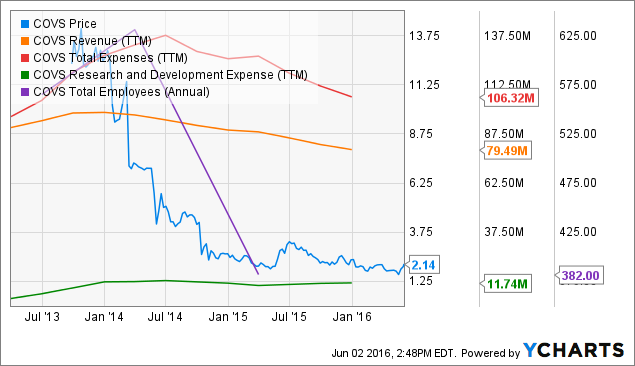 COVS data by YCharts
If we take a look at the balance sheet, we may see that the company is cash rich; it owns $37 million, mainly because of an increase in the total amount of outstanding shares. In addition, it does not have long term debt and owns about $8 million in PP&E. The market capitalization of the company is $86 million, so these last figures are important. I must say that it is an interesting candidate for a PE firm such as Vector Capital.

COVS data by YCharts
Board of Directors and Stock dilution
As per my opinion, the Board of Directors at the moment is not the best that the company can have. Some of the directors were elected at the time when Compuware was the main shareholder of the company. This is explained in the last 10-k:
"Some of our directors and executive officers own Compuware common stock, restricted shares of Compuware stock or options to purchase Compuware common stock. In addition, two members of our board of directors, Messrs. Paul and Grabe, are currently members of the Compuware board of directors. Mr. Paul is also the President and Chief Executive Officer of Compuware. Ownership of Compuware common stock, restricted shares of Compuware common stock and options to purchase Compuware common stock by our directors and officers after the IPO and the presence of executive officers or directors of Compuware on our board of directors could create, or appear to create, conflicts of interest with respect to matters involving both us and Compuware that could have different implications for Compuware than they do for us."
(10-k)
Bob Paul resigned from the Board of Directors. But, Mr Grabe is still there.
Bernard M. Goldsmith is one director whose profile I liked very much. He is director since November 2012. He is a general partner of another private equity firm. He will understand the needs of Vector Capital and may convince other directors to sell the business.
The fact that the stock price declined in the last two years may be partially because of the dilution of the shares.
"On May 23, 2013, the Company's board of directors approved a 30 -for-1 stock split of the Company's common shares and amended its articles of incorporation to increase the authorized shares of the Company's common stock from 9,000,000 to 50,000,000 and to increase the authorized shares of the Company's preferred stock from 1,000,000 to 5,000,000 . The stock split was in the form of a stock dividend, where holders of common shares issued by the Company and outstanding as of the date of the stock dividend received 29 newly issued common shares of the Company for each common share of the Company held at such date. The effect of the stock split has been retroactively reflected in these financial statements. "
(10-k)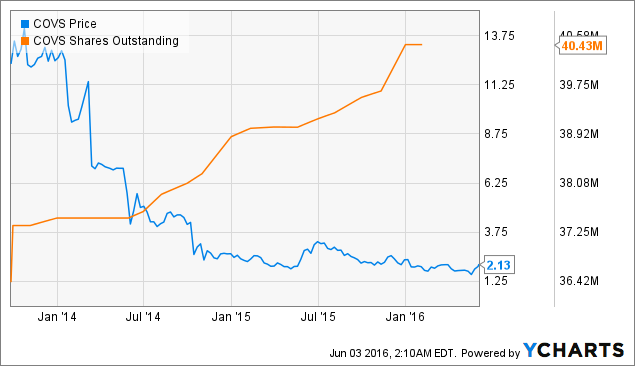 COVS data by YCharts
As per my opinion, this is not the best time to dilute the shareholders. The price of the share does not look good and the company is losing money. I think this is the right time to buy back shares, given that the company has a lot of cash in the balance sheet. I do not think the Board of Directors is acting appropriately here. Changing the Board of Directors may be a good idea.
Institutional investors
The amount of institutional investors and activists in the firm is very large.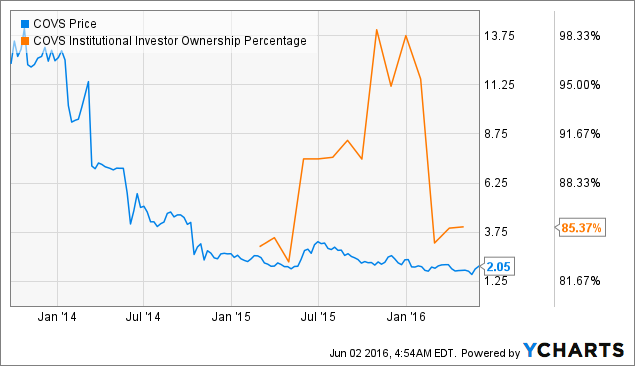 COVS data by YCharts
The shareholders are not only institutional investors, but the best in the class. There are many hedge funds and legendary investors here. Please take a look at the following. Here is a list of the SEC Filings filed in 2015 and 2016 by smart money managers:
- 13D Roumell Asset Management, LLC (please, read this article written by the founder of this firm).
- 13G Vector Capital (Private Equity)
- 13G BlackRock Inc.
- 13G Elliott International Capital Advisors Inc.
- 13D Dialectic Capital Partners, LP
Some of them recently sent letter to the shareholders and will try to locate some new director in the Board. In this kind of situations, you normally find one activist and some other shareholders. This time it is different. I could find three 13Ds filings (including the private equity Vector Carpital), which is impressive. Everybody in the market seems to agree: this Board of Directors does not work well for the shareholders.
PE firm, the buyer is in the room
In this case, Covisint will not have to pay any investment bank to look for strategic options. The buyer may have already arrived. Vector Capital sent a letter to the firm last month claiming that it is the right time to sell the company.
Vector Carpital makes investments in software developers and IT companies. This PE has invested $1.6 billion in more than 40 companies. The size of Covisint as compared to this financial buyer makes it an easy target.
Conclusion
This is an outstanding opportunity for my readers. At the moment, there is a huge demand for this stock. Many shareholders and activist investors have realized that this company has a bright future, cash in the balance sheet and no debt. Also, the Board of Directors is not the best the company can have and an urgent change is needed.
I do not want to give a target price for this company, but given the size of the company and the liquidity in the market, as per my opinion, the premium should be very high. The chances of making a lot of money in this story are very important.
Disclosure: I/we have no positions in any stocks mentioned, and no plans to initiate any positions within the next 72 hours.
I wrote this article myself, and it expresses my own opinions. I am not receiving compensation for it (other than from Seeking Alpha). I have no business relationship with any company whose stock is mentioned in this article.
Editor's Note: This article covers one or more stocks trading at less than $1 per share and/or with less than a $100 million market cap. Please be aware of the risks associated with these stocks.