By now investors are already aware of the new bull market in gold and one of the best ways to cash in on this is to buy high quality mining companies. In this article I want to introduce a gold exploration company that is still in its early stages of development: Balmoral Resources (OTCQX:BALMF).
The company is focused on 2 projects: the high-grade Martiniere gold system and the large H3 (Grasset) nickel-copper-PGE discovery (see map below). What I like very much is that the La Martiniere deposit is located just 40 km from Detour Gold's Detour Lake Mine, which has a production of 650k gold ounces per year and 16 million ounces of gold reserves. So there is a high chance that a partnership could materialize between Detour Gold and Balmoral Resources. There are examples of such partnerships where a producing mine buys the exploration company and hands out royalties: see my article on Golden Arrow Resources (OTCQB:GARWF). Other than Detour Gold, we have Hecla's Casa Berardi mine in the western part of Quebec and Glencore's Matagami mine to the east. So there are plenty of partnership and financing possibilities.
See following maps from the company's presentation.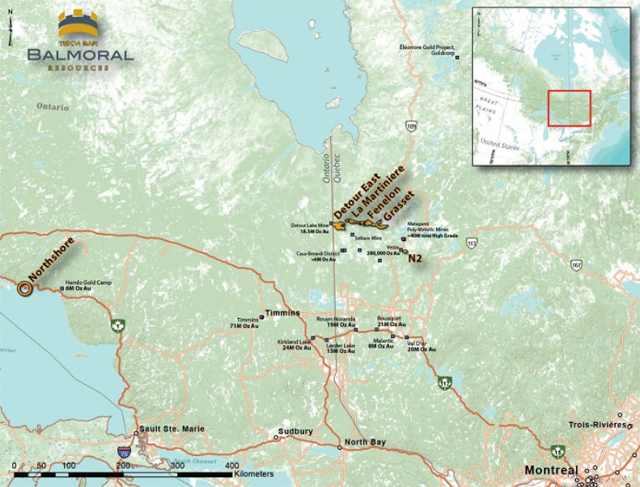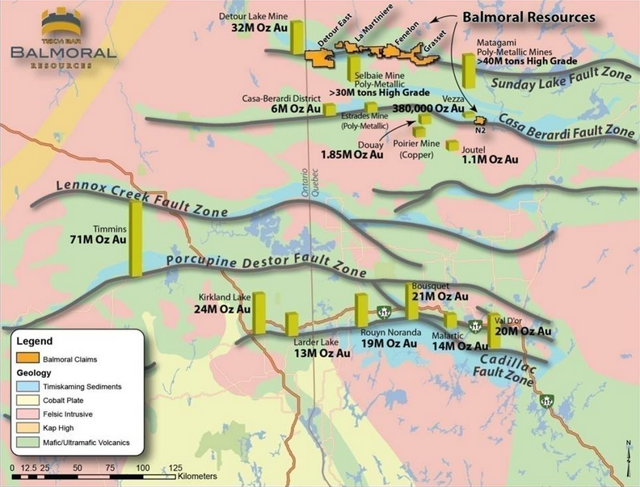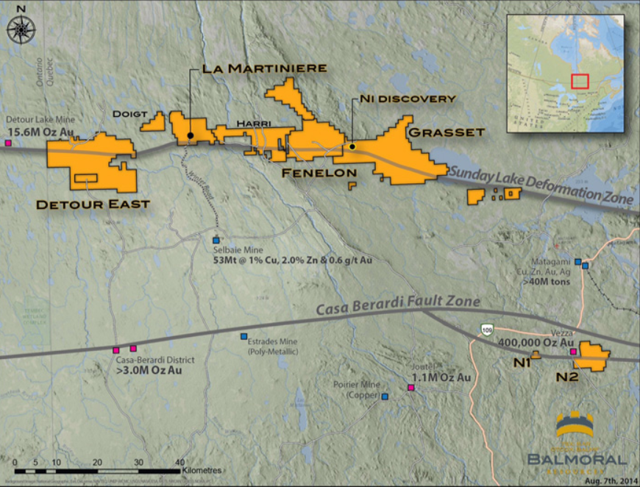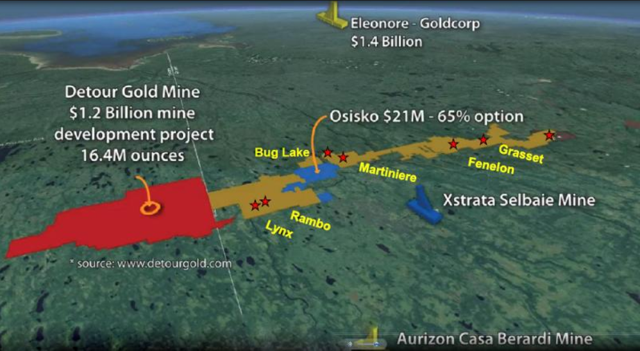 When we look at the reserves and resources of Detour Gold's Detour Lake Mine we are looking at a huge potential for finding gold at Bug Lake and the great thing is that we can expect extremely high grades compared to the low grade of the Detour Lake Mine which only has a grade of 0.82 g/tonnes.
Here are the grade highlights at the Bug Lake Footwall zone. Half of the drill holes have returned grades higher than 10 g/tonnes:
1,138 g/t gold over 4.87 m
273 g/t gold over 3.88 m
197 g/t gold over 0.83 m
35.15 g/t gold over 4.15 m
27.05 g/t gold over 6.22 m
22.89 g/t gold over 4.10 m
21.60 g/t gold over 6.30 m
19.55g/t gold over 44.45 m
11.17 g/t gold over 10.99 m
9.30 g/t gold over 15.75 m
9.05 g/t gold over 7.60 m
7.94 g/t gold over 19.70 m
To give an idea on what is meant by high grade, let's look at the top 10 highest grade underground gold mines in the following table.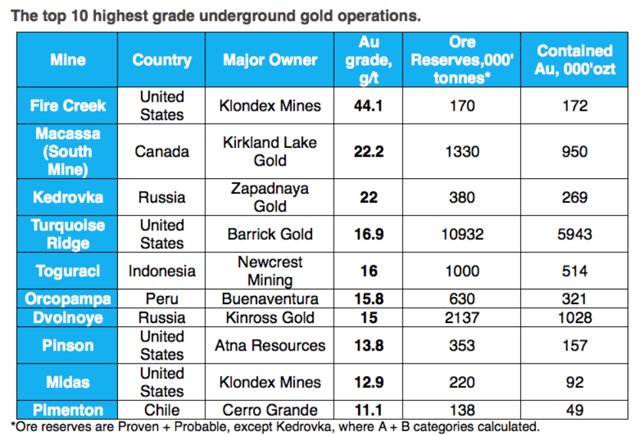 As for the highest grade open pit gold mines, we see the following situation: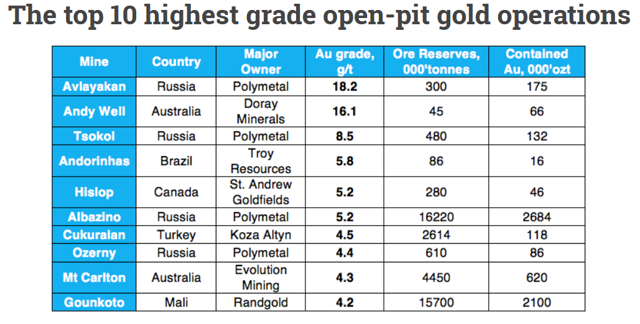 We can see that the higher grade is found deeper underground (grade > 10 g/tonnes), while lower grade is found at surface (grade > 4 g/tonnes). If you compare the surface grades from these tables (grade > 4 g/tonnes) with the preliminary drill results of Martiniere's shallow deposit (grade > 10 g/tonnes), we see that we are talking about a very high quality gold deposit. CEO Darin Wagner estimates that we have an 8 g/tonnes system which will be profitable regardless where the gold price is headed and we have not even mentioned the deep deposits which could be even higher grade.
The technical report of Martiniere for 2015 can be found here. Drilling at Martiniere is currently ongoing at the Bug Lake trend. They are drilling at higher than 250 meters to bet on shallow potential. This way, a potential future project can be financed at a low cost and this will justify the economics of the mine. A maiden mineral resource estimate is expected in the summer next year when resources are identified for the south part of the Bug Lake trend, which will be drilled out this winter. So today we are half way through this drilling exercise. Then longer term, the company will be drilling the deeper sections of the deposit. For investors it is especially important to get in now, while the maiden resource estimate isn't available yet. Once they post this resource estimate, we could be seeing a lot of upside.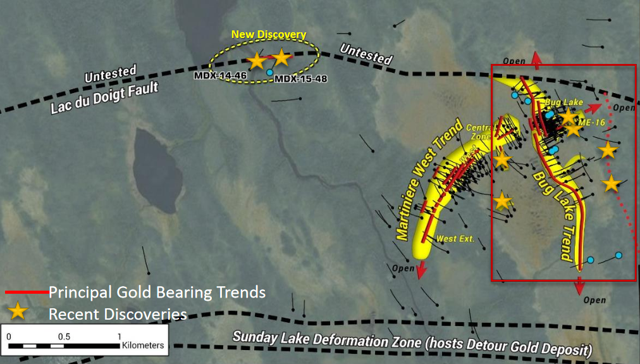 Besides the Martiniere deposit, we have the Grasset Ni-Cu deposit which has been under the radar because of falling nickel prices. But I expect to see nickel prices recover due to closure of a lot of nickel mines (Glencore and BHP). The forecast is a 7% fall in supply, driven mainly by a fall in production by the nickel pig iron producers in China. This fall in supply leads to an annual deficit of 34000 tonnes per annum going forward. As nickel prices recover, you will have an added bonus with this nickel-copper deposit. The grade of this resource is pretty high grade (1.8% nickel equivalent), when you compare it to gold it is about 7 g. The technical report has just been posted and you can find it here.
Other than these great deposits, Balmoral Resources has another 700 km of land which is still unexplored, so you are getting a lot of exploration potential when buying this company.
As for the balance sheet of the company, we note that there is $8 million of working capital as of May 2016, while expenditures are around $4 million per annum. So the company is well financed with additional options to sell non-core assets if needed.
The conclusion is that Balmoral Resources is a very early stage exploration company with very high grade gold and nickel-copper resources, where the catalysts will be coming through its drill results. The company's location is ideal for joint-ventures between companies like Glencore, Detour Gold and Hecla Mining. I will be looking forward to next year when the resource estimate will be published.
Disclosure: I am/we are long BALMF.
I wrote this article myself, and it expresses my own opinions. I am not receiving compensation for it (other than from Seeking Alpha). I have no business relationship with any company whose stock is mentioned in this article.
Editor's Note: This article covers one or more stocks trading at less than $1 per share and/or with less than a $100 million market cap. Please be aware of the risks associated with these stocks.